This decadent homemade version of everyone's favorite blended coffee drink with mocha is made lighter with almond milk, and is so easy once you get the ratio right. Here's how.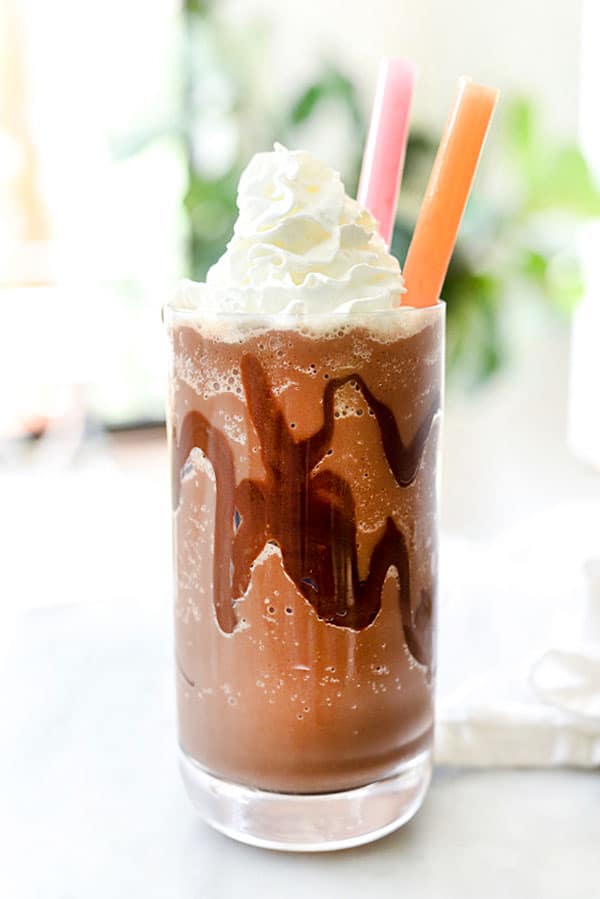 This year I'm partnering with Blue Diamond Almond Breeze to share healthful recipes made with almond milk, like this coffee-infused, frosty chocolate treat of a drink.
Because I may have made a mistake in my mothering tactics.
Earlier this year I introduced my Smudge to the wonderful world of ice blended mochas. Oh man, I LOVE THEM! But at almost $5 a drink, and a whole lot of calories that I we don't need, I'm not sure what I was thinking.
And so, now, just every single time we get into the car, she smiles that million-watt-just-got-the-braces-off-smile and as sweet as sugar asks me, "Can we go get a MO-KA?"
And then she winks. And then I cave.
I'm such a sucker. I fall for it just about every time. But now, I've come up with a solution that's going to be a lot easier on the old wallet (this ones my fave because it's so small), and still serve her craving.
AND! My "borrowed" sips are lower in calories, too. Score one for misfired mothering tactics!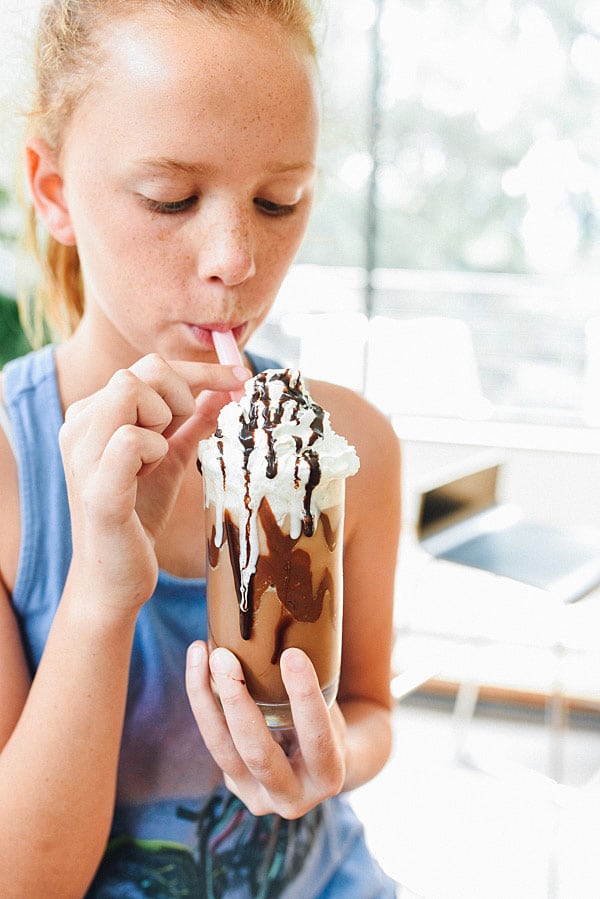 About the recipe
The essence of an ice blended mocha is two things: coffee and chocolate flavor. It's getting the rations right that makes or breaks a good mocha.
Because I use Almond Breeze® Almondmilk Chocolate as the base of this recipe, I've killed two birds with one stone by combining the creamy factor of almond milk with the chocolate flavoring in one package. It's lighter in calories and more economical, and I'm perfectly okay with that.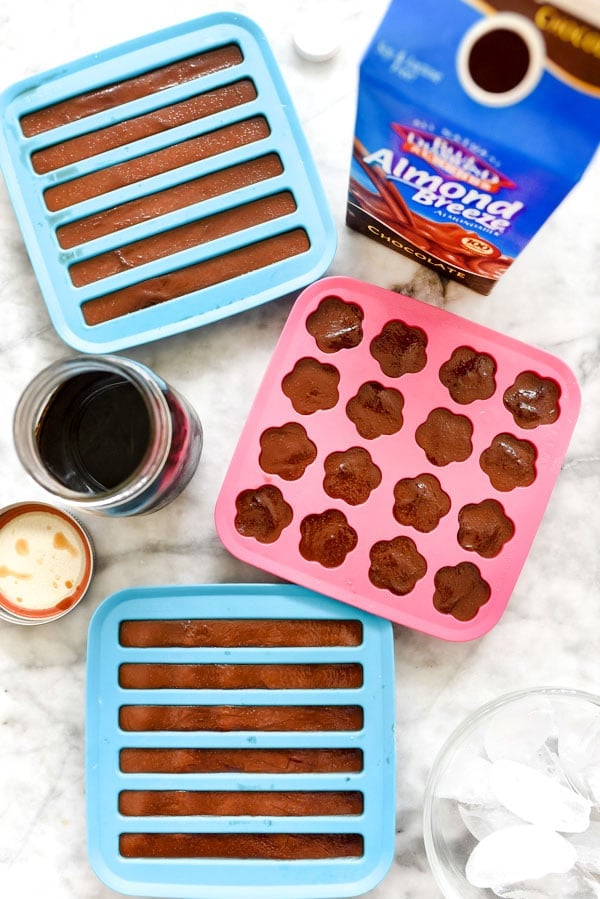 I've made this drink several different ways. I've used straight liquid and added ice. I've frozen the coffee into cubes and then added the almond milk. But my favorite way is to freeze the Almond Breeze® Chocolate first, then add to the blender with cold, liquid coffee. I've found this step simply makes the beverage creamier. Most often I'll need to add more Almondmilk after blending to thin it out, so have up to 4 ounces more on hand to do so. The amount will vary depending on the size and of your cubes, how frozen they are, and the power of your blender.
I discovered these silicone freezer trays at Ikea. Because they're slender and smaller, they whiz up easier in the blender than the larger blocks produced by traditional freezer trays. And they're flexible and bend, so popping out the frozen almond milk is…well…a breeze.
Get it? It's a breeze? With Almond Breeze? I know. I'm a terrible joke teller.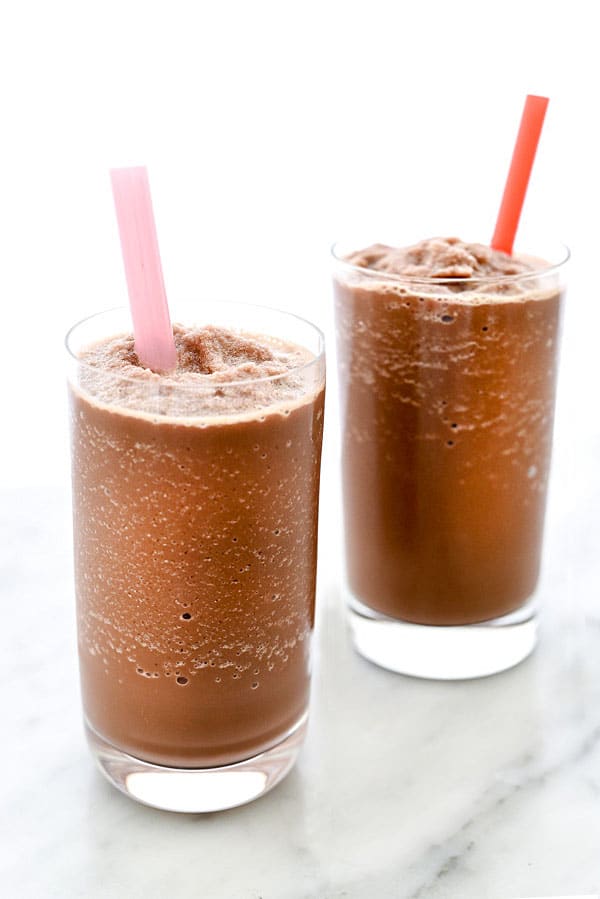 You'll want to use cold coffee in this drink so I often brew my coffee, then stick it in a mason jar and keep it in the fridge. I brew it at double strength to get a richer coffee flavor, using the ratio of 2 tablespoons coffee in 4 ounces of water for each drink. If the craving strikes and you don't want to brew a whole batch of coffee, use a pack of instant coffee, but add just 4 ounces of water (half of the normally suggested amount.)
I've found that sweetening the hot coffee with the sugar before letting it cool suits my sweet tastebuds. But if you prefer your mocha even sweeter, simply stir in a bit of simple syrup. To make simple syrup, stir 1 tablespoon of sugar into 1 tablespoon of boiling water, cool, and add to the drink. You don't want to add straight sugar into the blended drink because it won't dissolve.
And if you have a few more extra calories to spare, be like Smudge and add whipped cream and chocolate sauce, then slurp your way to the bottom through the biggest straws you can find.
If you make this recipe, please let me know! Leave a comment below or take a photo and tag me on Instagram with #foodiecrusheats.
How to Make a Blended Iced Mocha
This homemade version of everyone's favorite blended coffee drink with mocha is so easy once you get the ratio right. Here's how.
Servings
1
large mocha drink, or 2 small
Ingredients
1 1/3

cup

Almond Breeze Almondmilk Chocolate

about 10-12 ounces, frozen in cubes plus up to 4 ounces more Almondmilk Chocolate to desired consistency

4

ounces

strong coffee or espresso

chilled

1

tablespoon

simple syrup

Whipped cream and chocolate sauce if desired
Instructions
Add the frozen cubes of chocolate almond milk to the blender with the coffee and simple syrup. Blend until smooth. Add up to 4 ounces additional chocolate almond milk to desired consistency. Add whip cream and chocolate sauce to the top of the mocha if desired.

This post is part of a partnered series with Blue Diamond Almond Breeze. As always, thank you for reading and supporting companies I partner with, which allows me to create more unique content and recipes for you. All opinions are always my own.  
Are you following me on Instagram,  Twitter, Facebook and Pinterest? 
Thanks for reading and subscribe to FoodieCrush to have each post delivered straight to your e-mail box.
SIGN UP FOR FREE!
THANK YOU FOR VISITING FOODIECRUSH.COM

Subscribe to the FoodieCrush email newsletter and have every new post plus exclusive content delivered straight to your email box,
FOR FREE!