Whether its a celebratory lunch for a crowd or just a quick bite for one, making Avocado Caprese Wraps are a filling and healthy way to take a bite out of summer.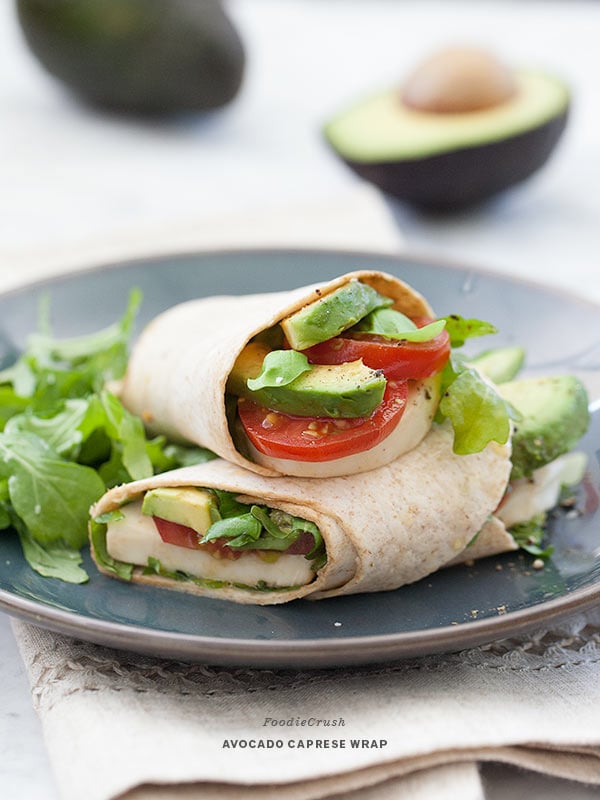 I'm guessing I'm like a lot of you round about this time of summer. Fresh flavors are being craved by my taste buds sending shockwaves of recipe ideas to my hot little head. But with the daydreams of swimsuits and pool time on this hot, dry days, lighter fare is always on my mind.
I don't know if I will ever tire of the classic caprese. Salads, sandwiches, pastas. You could turn this thing into a taco or french toast and I'd eat it. Weak in the knees. It's what I've become. Prepare to see more.
And now, this wrap. It tingles my palate.
I could eat one of these every day. In fact, I have. At least for 3 of the past 5. That's fair odds in my book. And shows my sincere caprese dedication.
When Avocados from Mexico asked me to come up with a recipe to share with their readers, it really wasn't much of a stretch for me to pull out my tomatoes and mozz and doctor it up with sweet balsamic and creamy avocados. You should think about it. Oh but why just think about it? Just go ahead and make it.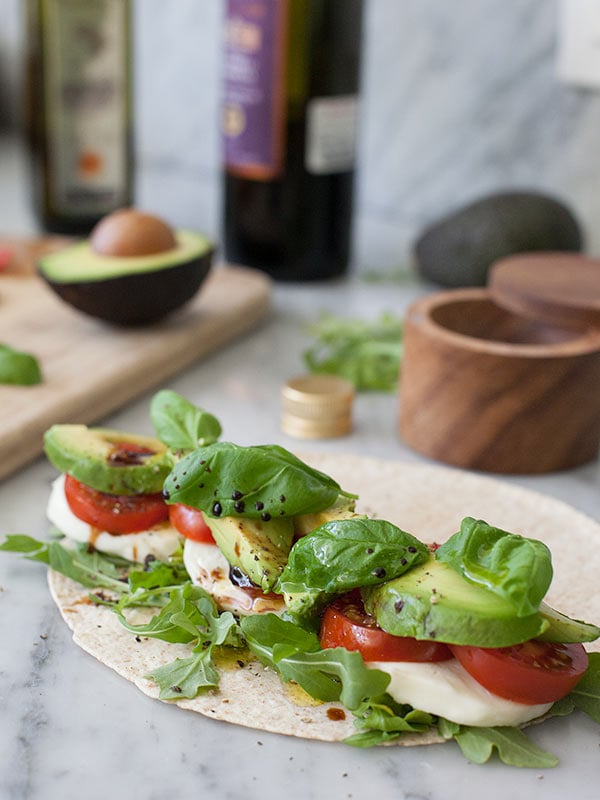 Print
Avocado Caprese Wrap
Ingredients
2

whole wheat tortillas

1/2

cup

or so of fresh arugula leaves

1

ball fresh mozzarella cheese

sliced

1 to

mato

sliced

1

avocado

pitted and sliced

basil leaves

olive oil

balsamic vinegar

kosher salt and freshly ground black pepper
Instructions
Layer slices of tomato, mozzarella cheese and avocado on 1/3 of the tortilla. Add a few torn pieces of basil leaves then drizzle with olive oil and balsamic vinegar. Season with kosher salt and pepper,

Fold the tortilla in thirds and serve.
While I was linking up my recipe for today's post I discovered their newly redesigned recipe section. It's pretty cool, more Pinterest-style in its display, so finding recipes—several from more food bloggers—is visual and easy to scroll through. More avocado recipes to love…
So.
While I usually do my round up of favorites each Friday, I'm taking a pass for this week because I have something even better to share with you for next week.
Keep your eyes peeled on Facebook, Twitter and the blog for the announcement of the next issue of FoodieCrush magazine set to go live next week, hot  off the presses, er, on the web. Get ready to kick your feet up in an air conditioned room, pour yourself a cool glass of cucumber water and chill out to some great food blogger fodder, photography and recipes.
Until then, have a great weekend friends. Make it a safe one and cook something good.
I was compensated by Avocados from Mexico for recipe development. Thanks for reading and supporting my partners which allows me to create new and special content like this for my you. Please keep in touch by subscribing to FoodieCrush and follow me on Twitter, Facebook and Pinterest. As always, all opinions are my own.