Pizza is the ultimate gathering food, and these 17 homemade pizza recipes are the best reason to forget all about delivery and make yours at home instead.
Raise your hand if you love pizza. Anyone? Everyone? YES, indeed, everyone! Ok, good.
It seems like Fridays are a popular pizza-prep night, but then come the weekend there's all the football games, and then Sunday turns into Monday and how easy is it to whip together a homemade pizza pie to cure those Monday night blues?
Pizza fits into every day.
Pizza is universally appealing, and not just because we're all trying to capture the perfectly Instagrammable cheese pull. (BTW, have you seen the new Instagram-worthy pizza pop-up museum for us perfectly crusty diehards?)
It's the ultimate delivery vehicle for innovative flavor combinations, complimentary textures, and beyond-infinite varieties suitable to any diet or taste preference—and season.
That's why I've put together this list of pizza night faves for fall, plus a few FoodieCrush favorites that'll make you forget all about dialing up to order your delivery-style pizza, and make it at home instead. 
Before we get to the recipes, here are a few basics to get you started: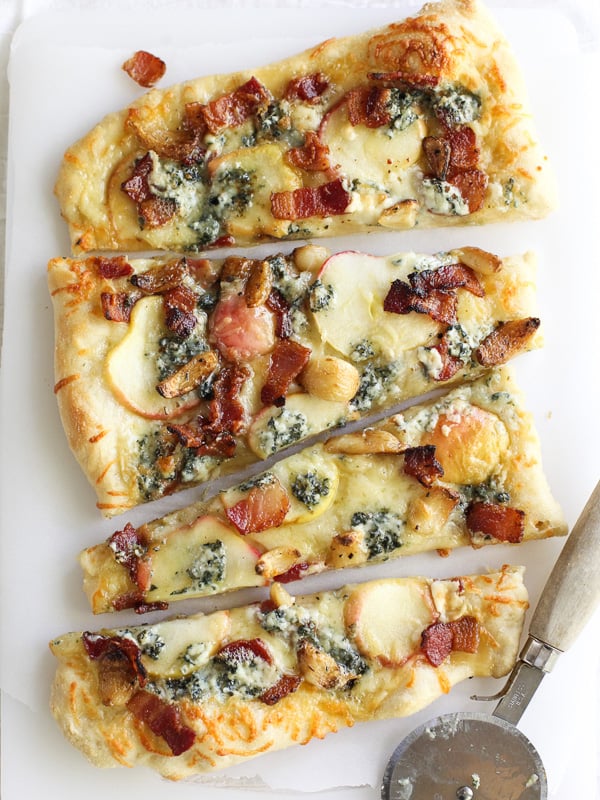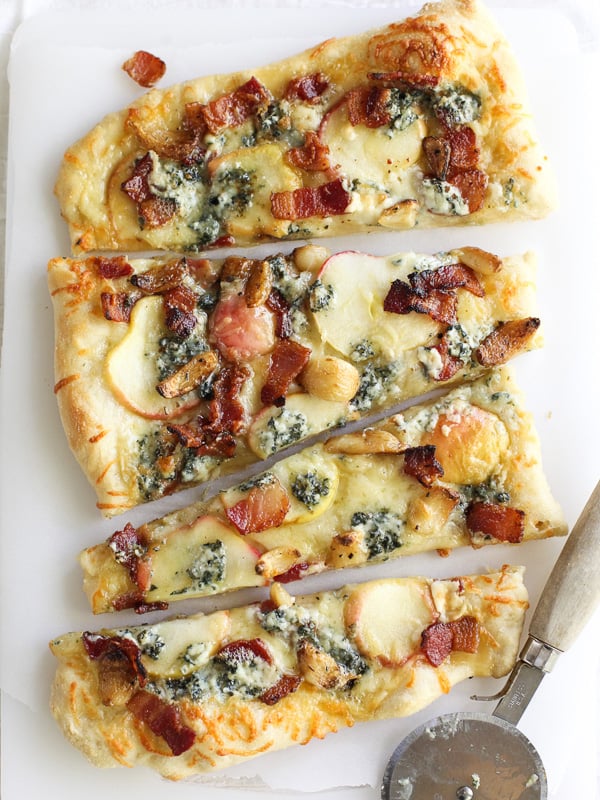 FoodieCrush
Don't save your apples for good old-fasihoned pie, try this savory seasonal pizza pie with bacon, blue cheese, and maple instead.
Kitchen Confidante
Fennel and sausage are as close a pair in Italian cooking as Thelma and Louise are on the road, and they deliver just as much of a delicious punch.
Love and Lemons
If you're not into veggies as your crust, pile them on TOP of your pizza for a healthy and colorful pie with a luscious cashew cream drizzle (or dunk–I won't judge).
Recipe Girl
A thick crust in a deep dish with a chunky sauce, this is a pizza diehard Chicagoans will never give up.
Minimalist Baker
Socca-it to yourslef (haha) with this chickpea-based pie. Don't be intimidated if you've never used garbanzo flour before–this comes together in under an hour with only 10 ingredients and one bowl.
Not Without Salt
Break out your cast iron skillet to serve up this showstopping authentic dish. Potatoes and salami are paired with a few time-saving ingredients for a unique dish with flair to spare.
FoodieCrush
There's no need for tomato sauce on this flavorful mushroom pie, and with a salad on top. it's a Friday night dinner that's one and done.
How Sweet Eats
Wrap your had around this sweet and spicy take on thick-crust pizza–your tastebuds will thank you!
What's Gaby Cooking
Whip up the white pizza of your dreams with loads of garlic, caramelized onions, mushrooms, spinach, and salty feta. A touch of lemon adds a sincere sophistication you won't want to miss out on.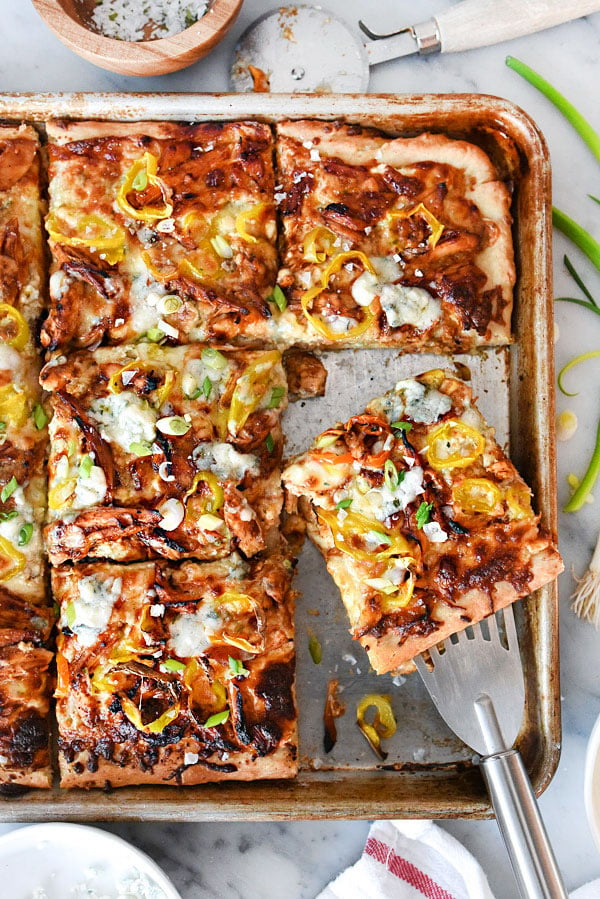 FoodieCrush
No need for wings here! Triple cheese, chicken, and spunky banana peppers make this easy sheet pan pizza extra special.

Snixy Kitchen
It's gluten-free but easy to do and doesn't require much fuss with the secret ingredient that yields a pie where you won't even miss the yeast.
Completely Delicious
Annaliese advises to let your dough rest after it's risen and punched down—it relaxes the gluten, making it a little less elastic and easier to mold and roll.
A Farmgirl's Dabbles
A hot cast-iron skillet creates a crispy crust topped with a chunky tomato sauce and everyone's favorite pizza topping: sausssssaaaage.
 A Couple Cooks
Italian for "devil", Diavola bring this veggie-topped pizza from Alex and Sonja's travels to the spicier slice of life when they make it at home.
Ambitious Kitchen
I have nothing against carbs. But if you're looking to add more veggies, or lighten things up a bit, I am ALL about this cauliflower crust alernative.
Nutmeg Nanny
My husband's favorite slice of pie, if you're a Hawaiian pizza hater, then you probably won't like the fact that we love it dipped in Ranch dressing, too.
FoodieCrush
Sweet, savory, and with all the right moves. If Chris Hemsworth were a pizza, this would be it.
Check out more of my pizza recipes here.
So here's the big question, what's your favorite pizza topping or the best pie you've ever had? Let me know what you think, and what other recipes you'd love to see.
As always, thank you for reading and supporting companies I partner with, which allows me to create more unique content and recipes for you. All opinions are always my own. 
Thanks for reading and subscribe to FoodieCrush to have each post delivered straight to your e-mail box.
Learn more about my printed day-planner Nourished Planner here, and sign up for free, emailed weekly meal plans.
Follow me on Instagram, Facebook, Pinterest and Twitter for more FoodieCrush inspiration.