The key to this irresistible sheet pan pizza with three kinds of cheese is a second rise of the crust in the pan for an easy, fool-proof, crowd favorite.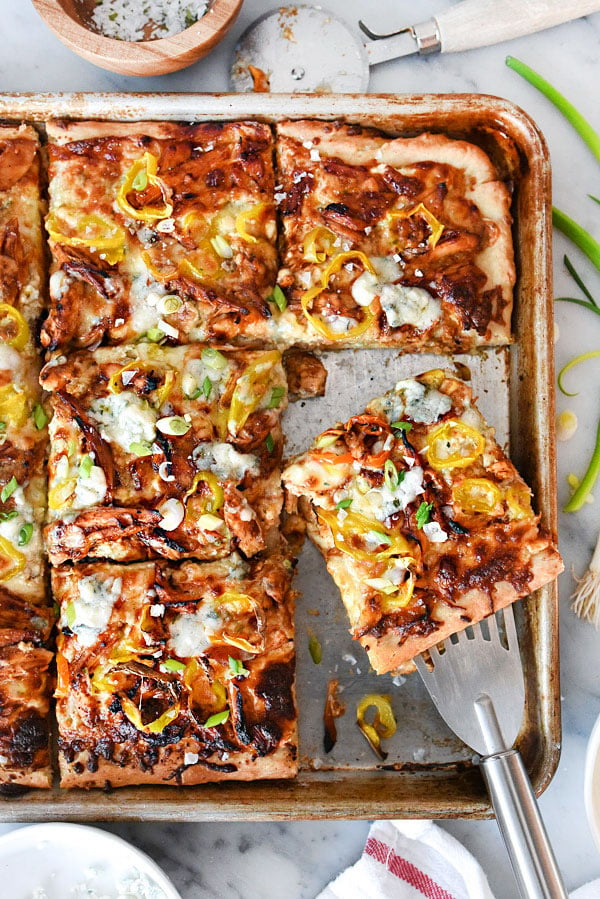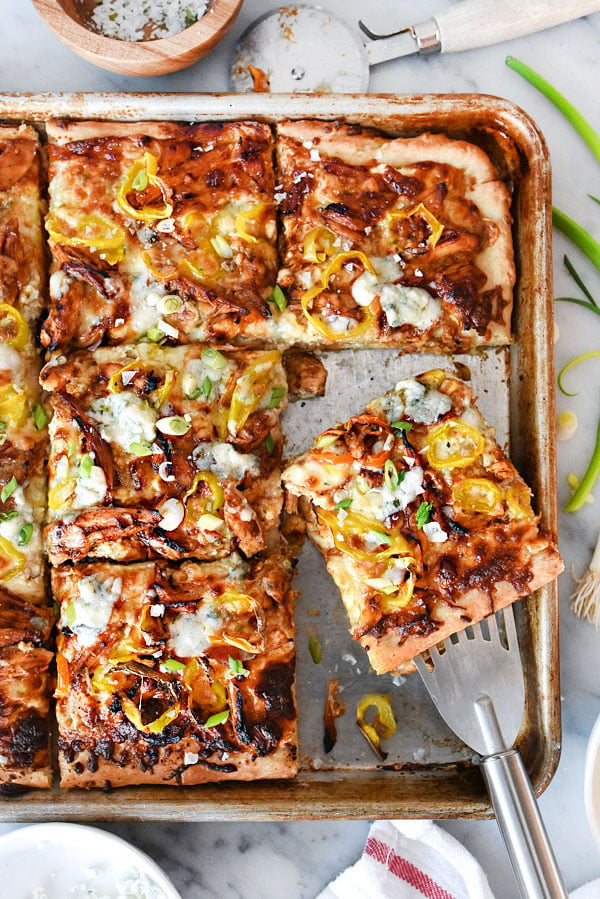 I had forgotten all about it until I pulled it out for my Smudge and her cousins to bake frozen cookie dough cookies with their grandpa. I didn't remember until I saw the lines etched in the "non-stick" glaze of the nearly non-existent-lip-of-a-cookie-sheet posturing as a baking sheet. That cookie sheet. It had memories. My memories. These are the lines of my youth that were made with a pizza cutter, or possibly a very sharp knife some 35+ years ago, separating pizza slices for this toe-headed blonde and my pig-tailed little sister. Back when my mom was a hard-working, self-employed teacher who had to get dinner on the table and knew what kids would actually eat. Those lines are testament that homemade pizza
then
 is not like homemade pizza
today
.
Then, there were no baking peels. No ceramic pizza stones to preheat in the oven. No fancy displays of perfectly round perfection, or shaggy, "rustic"-labeled looking pizzas meant to make misshapen pizza pies look perfectly acceptable because, hey! They're real. Instead, we had baking sheet pans (more likely called cookie sheets because what else did you use them for??) to make large, square pizzas for the whole family to devour. That's how you knew it was homemade. Back when pizza was hip to be square.
I pondered asking my mom if I could use that same cookie sheet to show off in this recipe, but hey, I'm just going with what I got. And that is exactly the thought behind this recipe. Go with what you got. A cookie sheet, perhaps?
About the Recipe
A good pizza dough should easily be pushed, prodded and gently pressed into the edges of the baking sheet or
jelly roll pan like this one
, much like a foccacia bread. We aren't flipping, spinning or rolling this dough. Just easily molding it into shape. I was too lazy to make
homemade dough
so I bought a grocery-store-made dough that SUCKED! Every time I tried to push the dough, to shape it into the rectangle to fit into my baking sheet, it sprung right back into a ball no matter how long I let it rest. So, I tossed the store-bought dough to the side, and I went for my tried and true
pizza dough kit
that always delivers, and made me wonder why the heck I didn't use it from the get-go because it was less work in the end anyway. Duh. The dough for this pizza is thicker and chewier than crusts I create on a stone. It holds up as a perfect foundation for a lot of toppings. The key is to allow the dough to rise twice, once in the bowl after mixing and then again once you've pushed it into shape in the pan. A few glugs of olive oil to grease the baking sheet ensures the bottom of the dough bakes and crisps for the bite you're going to crave. Don't skip this step.
Next comes a simple herbed cheese blend as the base on top of the crust. Sautéed onion, garlic and
my FAVORITE ricotta cheese
. Why do I love this brand so much? Because it is spoonable and soft and easily spreadable. If you can't find my favorite brand, and instead find yourself with a ricotta whose consistency is more like cranberry jelly from a can, mix a little cream into the ricotta to loosen it up so it's soft and supple. Onion, garlic and oregano add flavor to your herby cheese base. Add kosher salt, too.
I'm on the meal planning rotation of cooking a chicken every week and
this juicy whole chicken
 is my current favorite. If you're not up for baking your own, a store-bought rotisserie will do. I chose a honey sweetened spicy BBQ sauce to fold the chicken into, I love the spicy and sweet. Blue cheese adds a spunky punch but the pickled banana pepper are what really steal the show. Add more to the top after baking for an even bigger puckery punch.
If you make this recipe, please let me know! Leave a ⭐️⭐️⭐️⭐️⭐️ rating on this recipe below and leave a comment, take a photo and 
tag me on Instagram
 with #foodiecrusheats.
Print
Sheet Pan BBQ Blue Cheese Chicken Pizza
The key to this sheet pan pizza is a second rise of the crust in the pan for an easy, fool-proof, crowd favorite.
Ingredients
1

recipe pizza dough

4

tablespoons

olive oil

½

cup

yellow onion

, minced

2

cloves

garlic

, minced

1

cup

ricotta cheese

2

tablespoons

heavy cream

¼

teaspoon

dried oregano

kosher salt and freshly ground black pepper

2

cups

shredded mozzarella cheese

, about 8 ounces

3

cups

cooked chicken

, shredded

½

cup

store-bought sweet and spicy barbecue sauce

¾

cup

sliced banana peppers

, drained

¾

cup

crumbled blue cheese

,about 3 ounces

3

green onions

, chopped

Red pepper flakes

, optional
Instructions
Bring your store-bought or risen pizza dough to room temperature if it has been refrigerated. Drizzle 2 tablespoons of the olive oil in a 17" X 11.5" jelly roll pan or baking sheet. Gently press and poke the dough into the pan with your fingers, working it into the corners. if the dough springs back, let it rest for about 10 minutes for the gluten to relax. Cover with plastic wrap and set in a warm area of the kitchen to rise for another 30 minutes or until it has doubled in height.

Preheat the oven to 425°F.

While the dough is rising, heat the remaining tablespoon of olive oil in a sauté pan over medium heat. Cook the onion until translucent, about 4 minutes, stirring occasionally. Add the garlic to the pan and cook for 1 minutes, stirring so the garlic doesn't burn. Remove from the heat and transfer to a medium size bowl to cool. Stir in the ricotta cheese, heavy cream, oregano and 1 tablespoon of olive oil. Season with kosher salt and freshly ground black pepper.

Within a 1-inch border of the edge, gently press the middle of the dough down a bit. Spread the ricotta cheese mixture on the dough leaving a 1-inch border. Top with the mozzarella cheese.

Toss the chicken breast with barbecue sauce in a small bowl. Distribute the chicken, banana peppers and half of the blue cheese evenly over the pizza.

Bake for 20-25 minutes or until the bottom of the pizza is crisp and the cheese has melted. Top with the rest of the blue cheese and garnish with chopped green onion. Cut and serve.
We send good emails. Subscribe to FoodieCrush and have each post plus exclusive content only for our subscribers delivered straight to your e-mail box.
Follow me on Instagram, Facebook, Pinterest and Twitter for more FoodieCrush inspiration.
As always, thank you for reading and supporting companies I partner with, which allows me to create more unique content and recipes for you. There are affiliate links in this post of which I receive a small commission. All opinions are always my own.