This pizza started out as sushi. Well, sort of.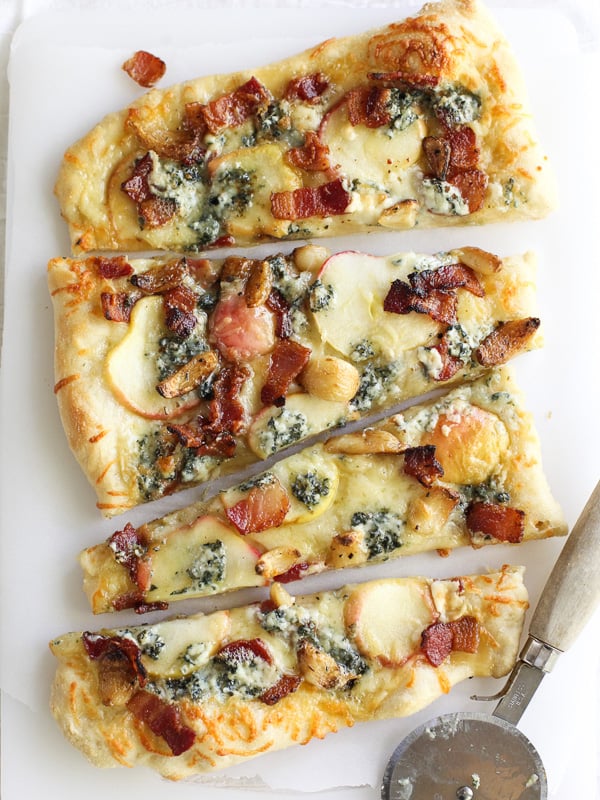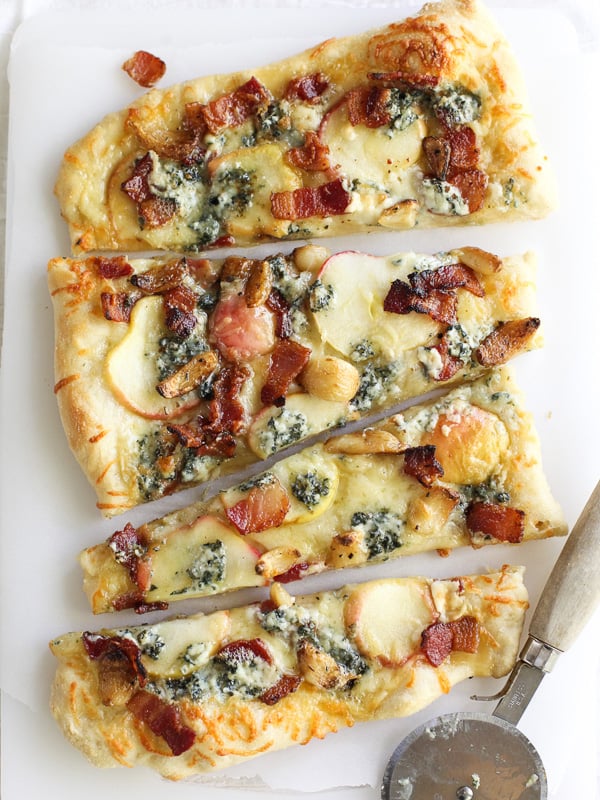 After getting my roots done this week (just in the nick of time) I hit the bookstore to try and find the latest issue of my favorite foodie inspiration Donna Hay magazine (to no avail) and ended up soaking in a few other publications (rags) instead. Mila and Ashton had their baby! Get ripped abs in 10 easy steps! Theresa and Joe go to jail! Celebrity beach bodies gone wrong! Who wore it best? For sure, she did!
Ugh, why did I wander away from the food magazines?
Afterward, I walked over to Whole Foods to cure my craving for lunch-on-the-go-sushi. Instead, I left with a new craving and all of the makings for this pizza.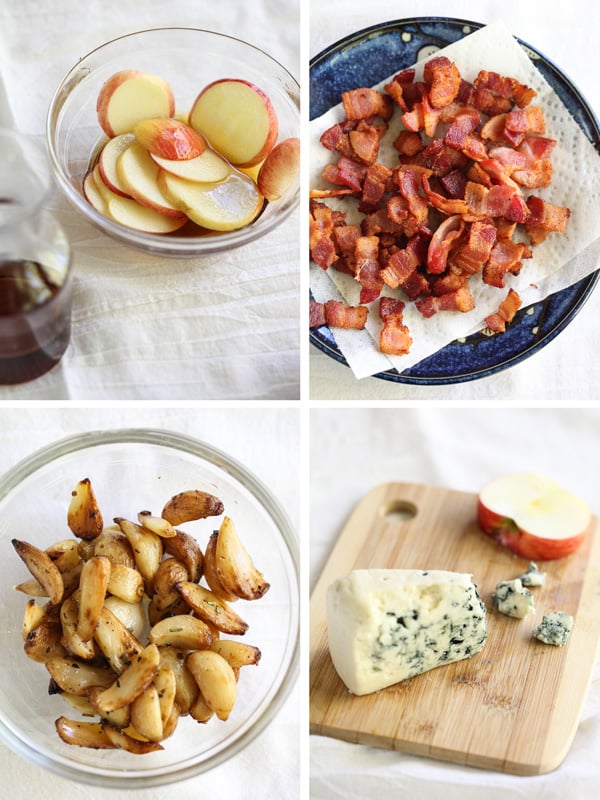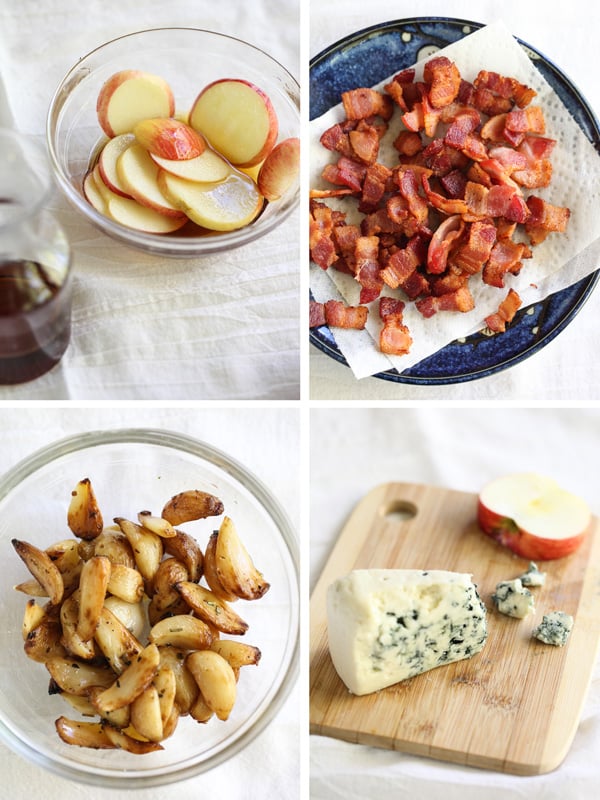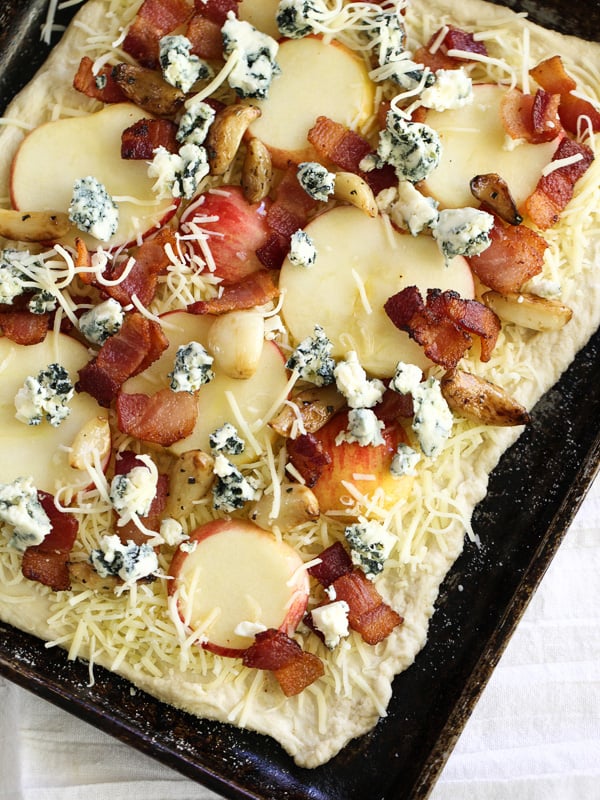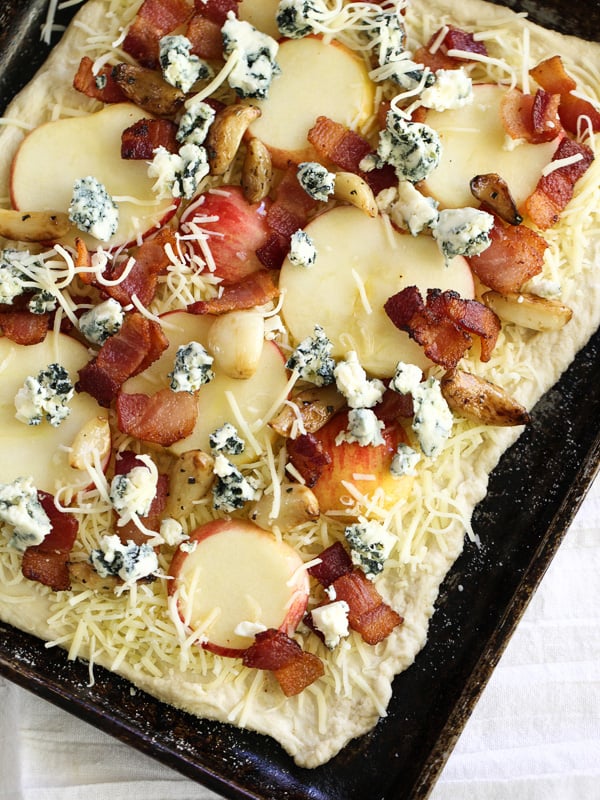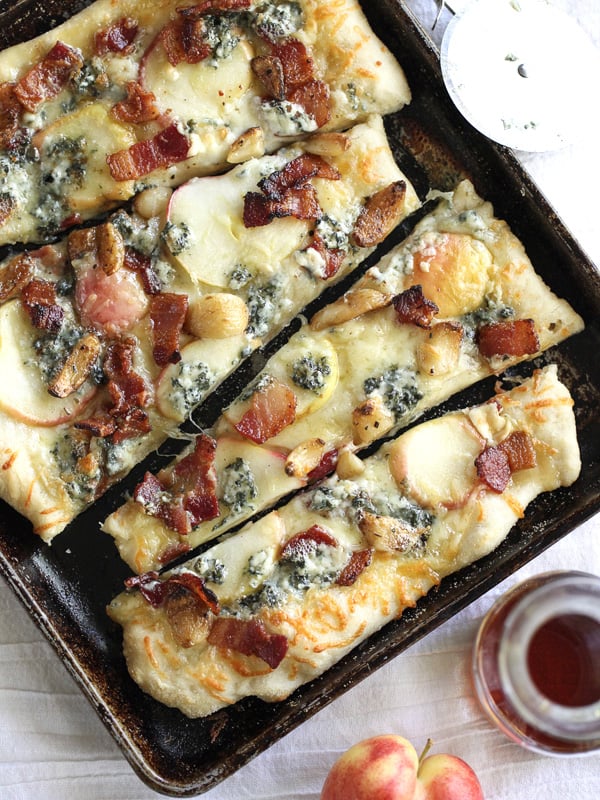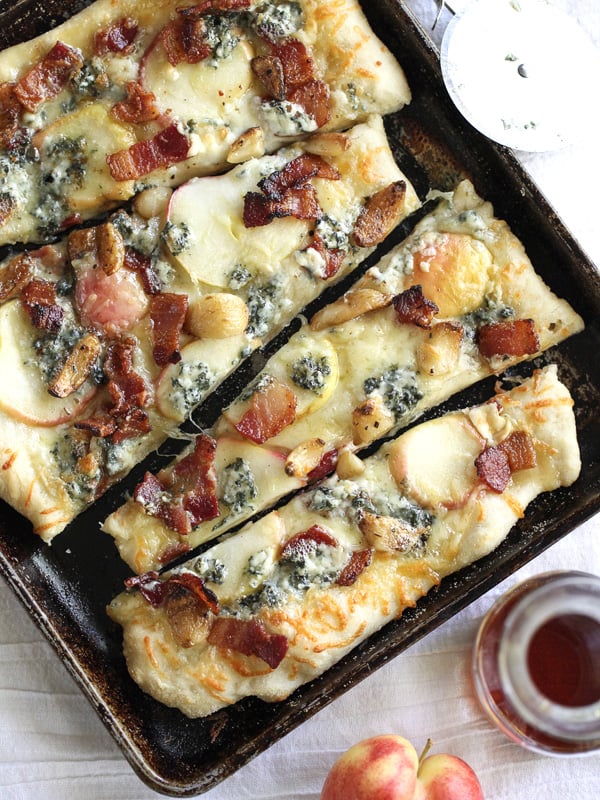 Back in the day when I had an out-of-the-house-job (I'm not going to call it "when I had a full-time job" because what I do now is definitely full-time+++), Whole Foods was right across the street from my office. It made bringing lunches from home far too hard to pull together when I could simply hit the crosswalk button and dodge the bad drivers who always ran the turn light for a lunch pit stop at the Whole Foods sushi counter.
Spicy tuna rolls with avocado and brown rice with a lime flavored Italian sparkling mineral water. That was my ritual.
So after my bookstore run I had a rekindling of those office work days and paid a visit to the WFM sushi counter.
But my sushi intentions were spoiled, because they were giving away samples of pizza. THIS pizza.
So I bought up all of the ingredients, minus the apples since I have a crisper full after over-zealously purchasing at the farmer's market, and said "see 'ya" to the sushi dude then came home and made me a pizza.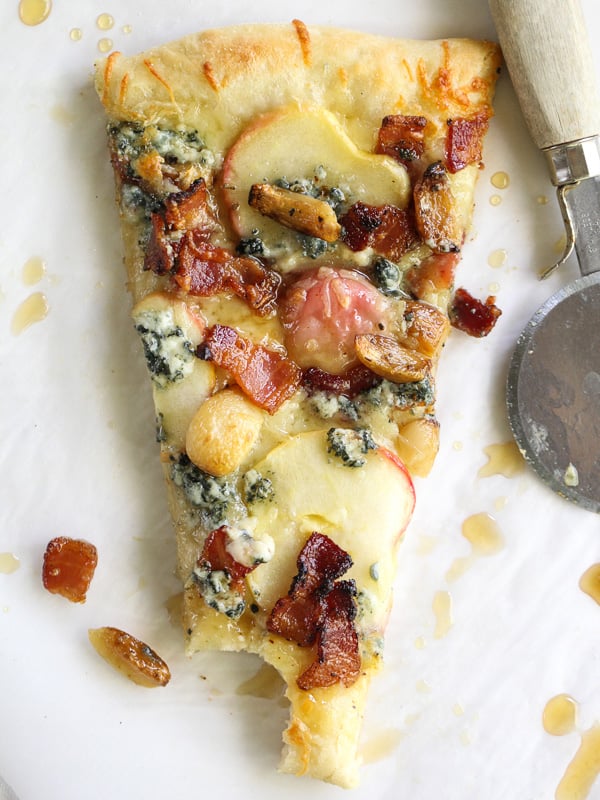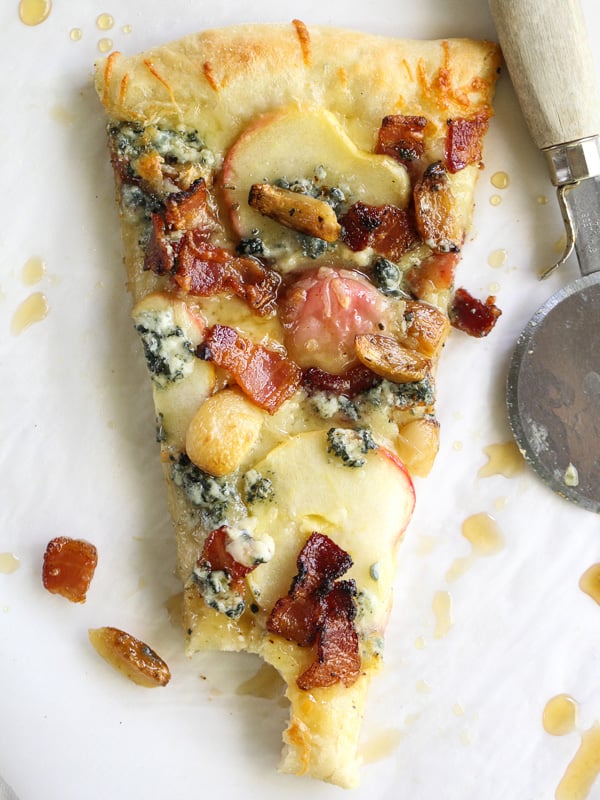 Thinly sliced apples soaked in maple syrup and topped with roasted garlic and blue cheese and gooed up with melty cheese. And bacon! All on a soft, supple, finally-I-cooked-it-perfectly pizza dough.
About the recipe:
While I usually make my dough from scratch, I saved myself some lunch break time and used the store-bought variety. You'll only use half of the dough for two 4-slice pizzas so save the rest for killer garlic rolls and stuffed pizza rolls.
I also considered roasting my own garlic, simply because I love the aroma in my kitchen, but with time of the essence, I cruised the olive bar and BOOM! I had 3 heads of roasted garlic in under a minute.
I was super happy to see my WFM carrying a Wisconsin-bred blue cheese from Roth Kase. Stinky cow's milk cheese makes me happy.
The apples are soaked in maple syrup before going on the pizza. Be sure to thinly slice the apples so they soften as they cook in the 8-10 minutes it takes for the pizza to bake. Then drizzle a little more syrup on the finished product for that bit of sweet to compliment the salty bacon and blue cheese.
I usually use a ceramic pizza round to cook my at-home pizza but this time around I borrowed form my mom's version of homemade pizza and used a baking sheet. Just like we used to do as a kid.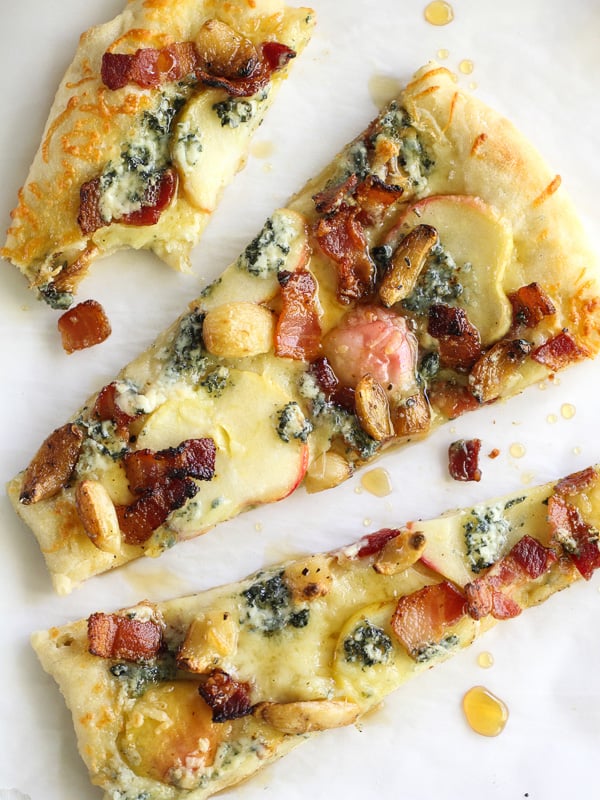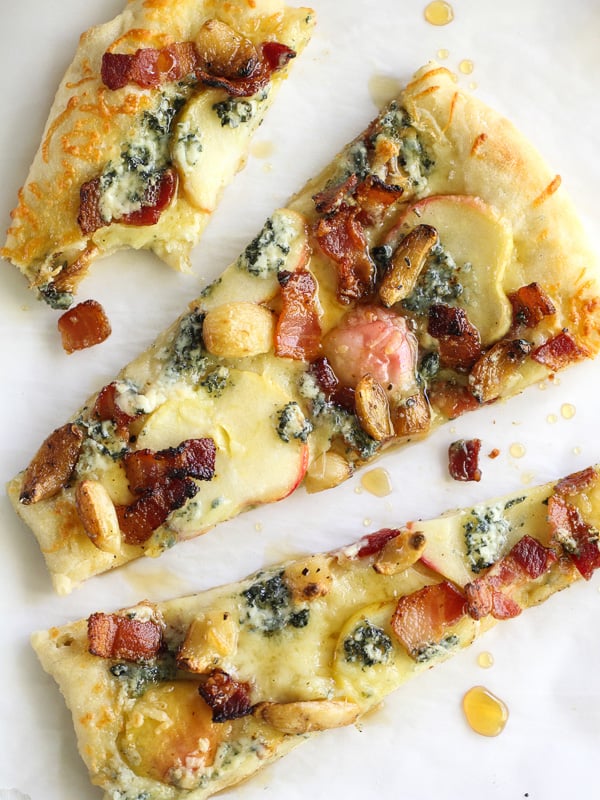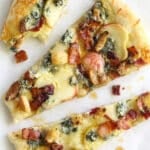 Print
Maple Apples, Blue Cheese and Bacon Pizza
Ingredients
Store-bought or homemade pizza dough

2

small apples

, thinly sliced

⅓

cup

maple syrup

12

ounces

shredded Italian blend cheese

4

slices

cooked bacon

, cut into thick pieces

½

cup

roasted garlic cloves

3

ounces

blue cheese
Instructions
Preheat oven to 475 degrees.

Place the sliced apples in a small bowl and pour the maple syrup on the sliced apples and set aside.

Divide the pizza dough ball into 4 sections, reserving half of the dough for another use. Stretch the dough and place on a small baking sheet, working the dough into a rectangle. If the dough springs back, let it rest for a few minutes then continue to spread it into the corners of the baking sheet.

Layer the dough with half of the shredded Italian cheese then top with slices of the apple, half of the bacon, garlic cloves and chunks of blue cheese.

Bake for 8-10 minutes or until the cheese is melted and the crust is golden. Drizzle with additional maple syrup, cut and serve immediately.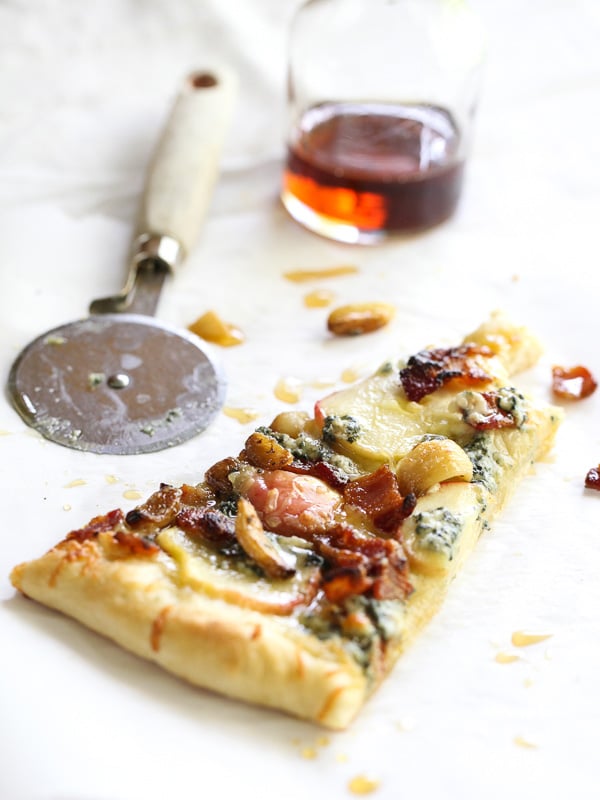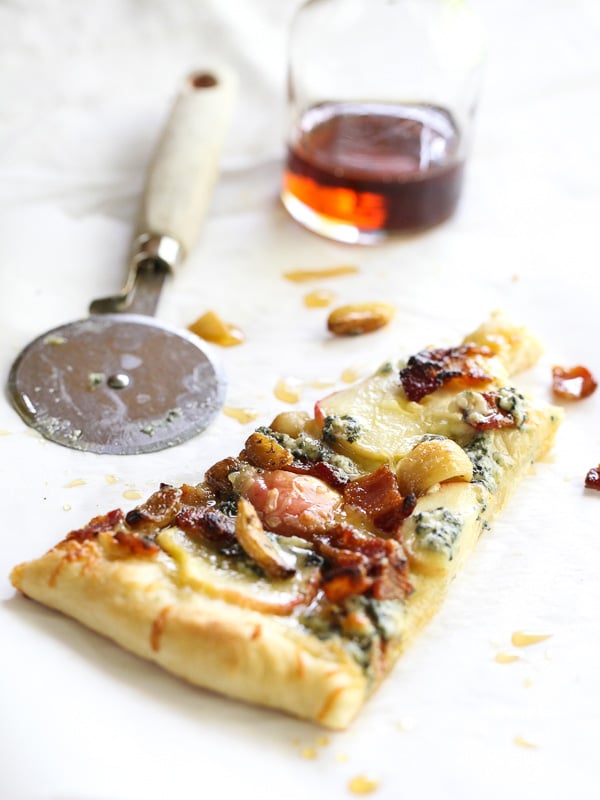 Now that's lunch. Happy dining, friends.
As always, thank you for reading and supporting companies I partner with, which allows me to create more unique content and recipes for you. As always, all opinions are my own.  
Are you following me on Instagram, Twitter, Facebook and Pinterest? Thanks for reading and  subscribe to FoodieCrush to have each post delivered straight to your e-mail box.