Top buns. Ombre. Glasses that don't really have lenses but make you look smart. It's all about what's hot at the moment. But don't be fooled, fashion isn't the only place trends make a statement. Food has its favorites too.
Take these two "it" ingredients of the moment: These days the mere mention of heart healthy pumpkin and superfood kale is nearly as buzz worthy as vampires or that funny cowboy dance to the Korean song I can't sing along to because I don't speak the language. But I can still move to the beat and do my best Rhinestone Cowboy impression while I do, much to the dismay and embarrassing looks from Smudge.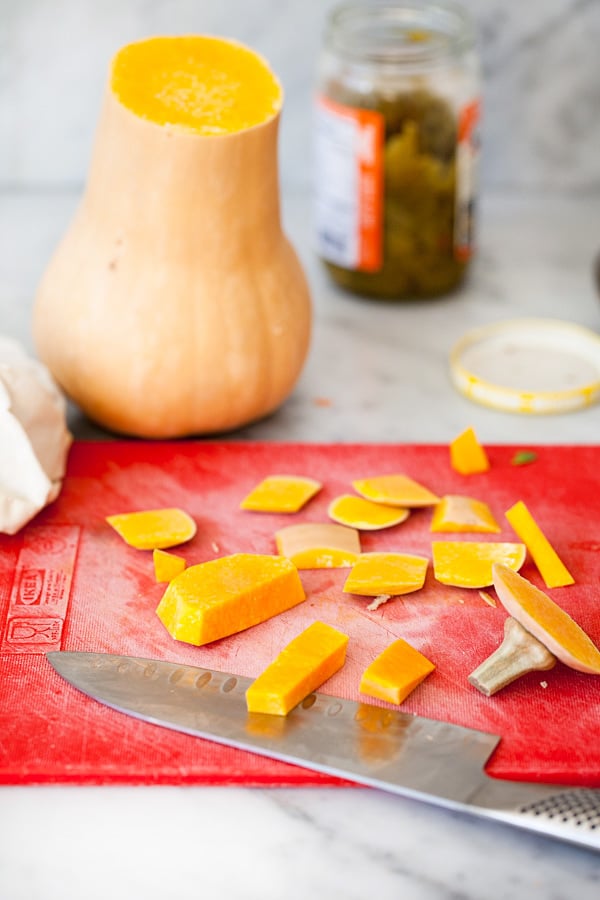 I recently threw a pork butt into the crockpot for my Crockpot Pork Posole Stew and had several cups of extra shredded pork in need of a recipe. We've been eating a lot of soup of late and since I had an extra sugar pumpkin hanging around after completing its Halloween table decor duties so I made a chili that riffed on one of my favorites: Roasted Butternut Squash and Turkey Chili using aforementioned pumpkin and kale.
Pumpkin IS the new black you know which means kale must be the new skinny jean. Or at least will help you get into them.
So what do you predict at the next HOT ingredient of 2013?
A few notes about the recipe:
This is a great dish for entertaining, all made ahead of time and ready to serve when you're guests are ready to eat. I served this to some family friends who have been requesting the recipe ever since and I'll soon be delivering it to some friends for dinner at their home.
Pumpkin is delicious in this recipe but can easily be substituted with butternut squash if that's easier to come by.
I cooked this on the stovetop but it could easily be a crockpot meal. To do so just place all ingredients up to kale in a crockpot, cover and cook on high for 4 hours or low for 7 hours. Add kale and cook for an additional half an hour and serve.
You could easily sway this chili to become a different type of savory by switching out the chiles and cumin for fresh sage leaves and freshly ground black pepper.
The chili fixins' would make a great filling for enchiladas or soft tacos topped with a dollop of guacamole.
Print
White Bean Pumpkin and Pork Chili
Ingredients
4 15-

ounce

cans White Great Northern beans

rinsed and drained

1

tablespoon

vegetable oil

2

cups

diced sugar pumpkin

seeded and peeled

2

cloves

garlic

diced

1

cup

white onion

chopped

½

cup

chopped canned or jarred roasted chiles

2

teaspoons

ground cumin

1

teaspoon

kosher salt

3

cups

chicken stock

3

cups

shredded pork

½

cup

half and half

2

cups

kale leaves
Instructions
Heat vegetable oil in a large dutch oven or stock pot over medium heat. Sauté garlic for one minute. Add chopped onion and sauté for 4-5 minutes or until onion becomes translucent. Add beans, pumpkin, chiles, cumin, salt and chicken stock and cook for 30 minutes or until stock has reduced and chili thickens. Add pork and half and half and cook for another 10 minutes or until pumpkin becomes tender and pork is warmed through. Add kale leaves and cook for another 5-10 minutes. Serve with corn chips or cornbread and shredded cheddar cheese.
Make sure to subscribe to FoodieCrush for sneak peeks and the first reveal of the Holiday issue. Follow me on Twitter, Facebook, Pinterest and Instagram too.