Farm Cred. Yep, I got it. I earned it. Farm credibility.
I dug up potatoes, I rode in a John Deere tractor. I tasted a potato chip made from a batch of potatoes that would later that day become a Classic Lay's Potato Chip to be shipped to a store for happy snackers to munch on the very next day.
I thought that was you.
And I dreamed about ways to cook, bake and eat red potatoes. Like in a potato and sausage pizza.
The only thing I didn't do on my trip to Black Gold Farms was leave a high school sweetheart broken hearted enough to write a good old country song about me. Maybe next time around.
Being a girl from Utah, you'd think that at some point during my years I'd have crossed the state line to Idaho to partake of potato digging there. I must admit, as my neighboring state, I've always thought potatoes were farmed pretty much exclusively in I-da-hoe.
Oh no. Not so my friends.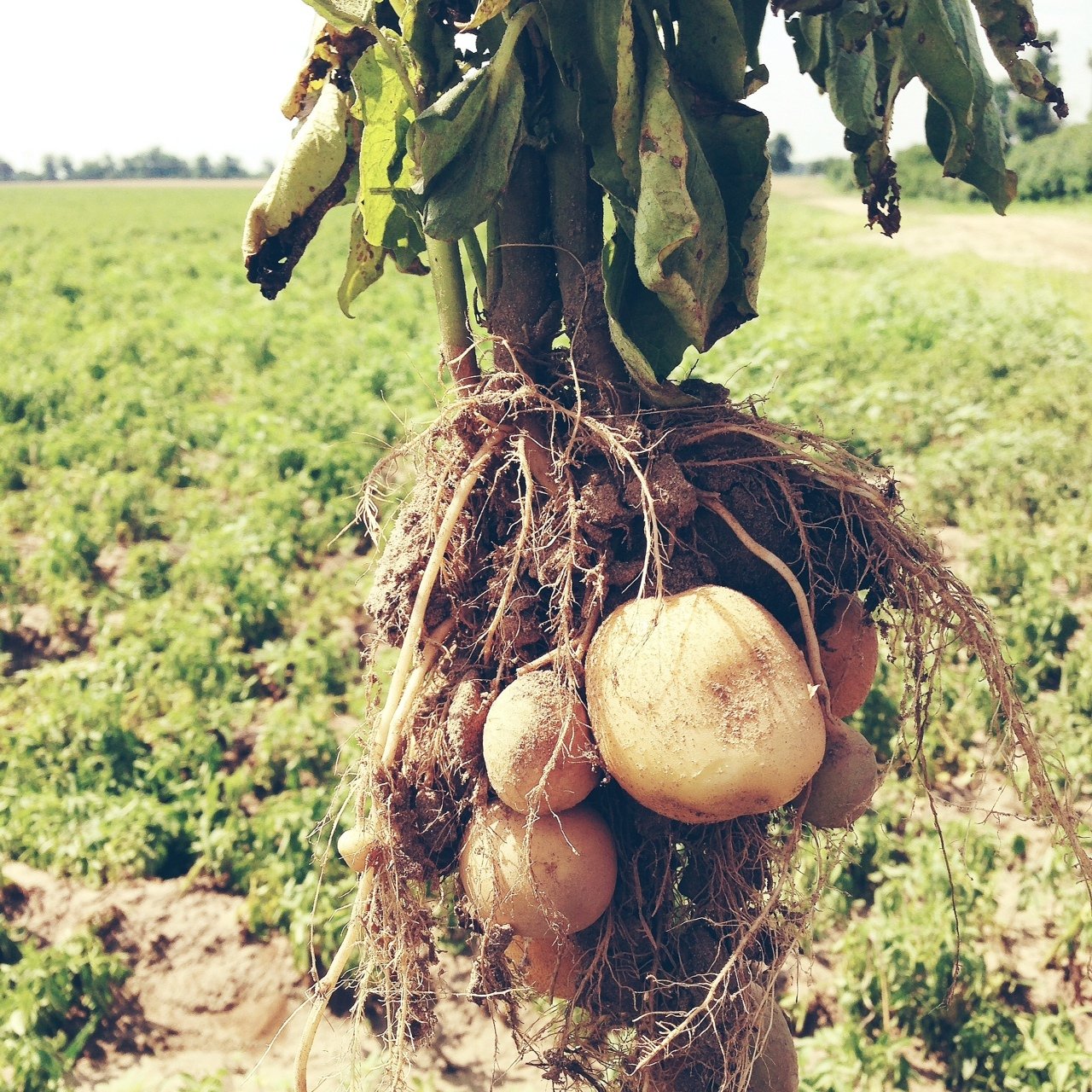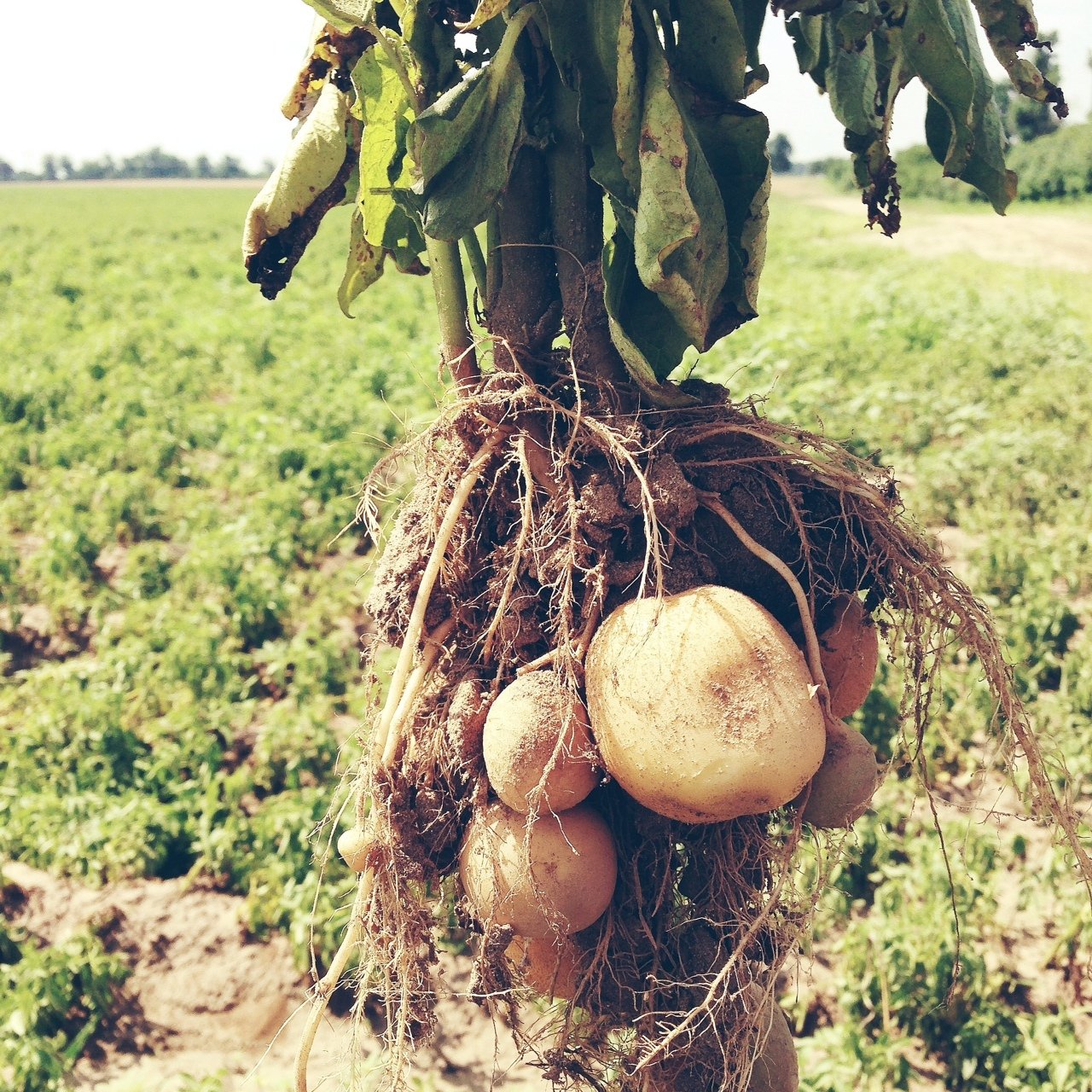 I discovered this truth when I was getting dirty in Missouri with a group of other friendly food bloggers, in the potato fields worked by the 4th generation, family-owned and operated Black Gold Farms.
Founded 85 years ago by Hallie Halverson and now run by his children and their children, Black Gold Farms is the largest supplier of potatoes to the largest potato chip company in the U.S., Lay's Potato Chips.
Black Gold Farms also provide table-stock potatoes, the kind you see at the grocery store, the beautiful little red potatoes that are so amazing roasted or boiled and coated in butter.
Or sliced paper thin and layered on pizza with sausage and rosemary. That's the real deal.
While I often think of fall as the height of potato season, I learned this summer that July is actually one of the high points for potato farmers. Hellllo! Who doesn't want all-American potato chips at their summer barbeque and definitely on the 4th of July?
Because the Halverson Family has Black Gold Farms locations in eleven states, their potato harvest runs from April to September with the bulk of their farming taking root in the Red River valley of North Dakota, know for some of the best soil in the world that just happens to be black in color, very rich and fertile and perfect for potatoes.
But this food blogger trip took us to the midwest, via a plane ride and then a car ride through three states where we arrived at the Arbyrd, Missouri farm where John Halverson and his sister Leah gave us a no-holds barred tour of their family's fields and facilities.
Thanks to my days as a Hostess Twinkie packer (during two college summer tours of duty) I'm always fascinated with production facilities, and Black Gold Farms showed off some crazy cool potato tech.
These are 21 potato facts, Jack:
1. Achieving true Farm Cred and testing freshly fried potato chips make food bloggers smile, as witnessed by Sandy of Reluctant Entertainer, me, Sommer of A Spicy Perspective and Ali from Gimme Some Oven.
2. Black Gold Farms harvests more than 500 billion pounds of potatoes each year with their biggest customer being Lay's Potato Chips. Black Golds Farms is the reason you can't eat just one.
3. White, thin-skinned potatoes are called "chippers" because the skin flakes off easily to be made into delicious, salty potato chips.
4. Potatoes take 100-110 days to mature. Once they've reached their prime, the green plants are "killed off" and the potatoes mature in the ground until harvested, about 14-20 days later while their soft skins set, making them stronger for shipping and a better shelf life.
5. Footwear in the field should always be a spectrum of the rainbow.
6. Potatoes have heart. Pass them along. That's because for the amount of effort and water it takes to produce a potato, according to John Halverson it is the most efficient calorie food in the world.
7. I'm much better at riding in a potato tractor than ever thinking of driving one.
8. Even John Deere tractors with huge tires get stuck in sandy potato harvested soil. Something to make me feel better next time I'm in a snowbank.
9. The Halverson family and Black Gold Farms partner with FFA and 4-H programs to teach kids how to plant and harvest their own gardens then providing produce to the local food banks in each farm's community.
10. While potatoes are part of "the dirty dozen" in regards to pesticides, fewer pesticides are used today than 20 years ago and Black Gold Farms potatoes are GMO free.
11. Deere Tractors have big tires, dwarfing Meghan, Cathy of Noble Pig, Ali of Gimme Some Oven, Angie of Big Bears Wife, Sommer of A Spicy Perspective, Sandy of Reluctant Entertainer, me and our great driver Jose.
12. Deep knee bends and strong quads create stand-out potato photographers. Sommer has exquisite form.
13. Black Gold Farms uses variable rate application fertilizers so they can pinpoint which plants need it most so run-off is at a minimum.
14. The Halverson family rents most of the land it farms on from land partners. In fact JT Moody is a 78-year-old land partner who still farms 7,000 acres of his own land and leases Black Gold Farms just 1,400 acres. The soil must run through his veins keeping him young.
15. Potatoes can be stored for up to 10 months. Hey, just like old-school farmers used to do, but not in cellars.
16. The Halversons take pride in how they've created a community within their company. These gals were the cutest and let me take 432 photos of them without losing a smile.
17. It takes 10 minutes to fill a semi trailer with 45,000 pounds of potatoes. Back them up to my front door please.
18. The Halverson family realized that growing Black Gold Farms potatoes closer to market and their largest buyers eliminated "food miles" or the need to haul products from, say, North Dakota, all the way to potato chip factories in the Midwest. Nice work on your carbon footprint BGF.
19. The potato packs can also be used as a handbag as modeled by the lovely Sandy.
20. Black Gold Farms created a packaging partnership with McCormick Spices knowing most consumers wouldn't know who Black Gold Farms is. But, the idea of pushing the needle to motivate consumers to eat more red potatoes is their mission as a whole because eating more reds makes for a healthy industry, and world overall. See #7 above.
21. Farmers have a really, really hard job. Physical, technical, scientific and all at the whim of mother nature. That's why God Made a (Potato) Farmer.
It's not surprising that being surrounded by potatoes in a field got me to thinking about recipes and one of my favorite ways to eat potatoes: on pizza.
Some may think potatoes as a pizza topping may be a tad unconventional, but in true Italian form it's actually really popular.
While we were at the farm, Leah shared a new product Black Gold Farms had created and partnered with McCormick Seasonings for a one stop shop to rustle up some potatoes.
Red potatoes sliced thin on homemade pizza dough and topped with Italian sausage and rosemary. Don't forget the melty Fontina cheese. Perfect for the pizza-cheese-tug-o-war of who gets the last piece.
I like to make individual pizzas, more on the rustic side since I'm hardly an Italian pizza thrower and could possibly never created a round pizza disc to save my life.
Thank goodness for "rustic" coming into foodie fashion. It's just a synonym for messy. But I own it like I made it.
Print
Red Potato, Sausage and Rosemary Fontina Pizza
Ingredients
homemade pizza dough

I like this recipe

extra virgin olive oil

2

garlic cloves

minced

8

ounces

fontina cheese

grated

10

red potatoes

thinly sliced

about ½ teaspoon McCormick Roasted Garlic and Rosemary Spice Blend

¼

pound

mild Italian sausage

1

sprig fresh rosemary

red pepper flakes

kosher salt

cornmeal
Instructions
Preheat oven and pizza stone or baking sheet to 475 degrees.

Divide pizza dough ball into sections to make 8-10 inch pizzas. Roll out dough, stretching it to form a rough circle and place on a piece of parchment paper sprinkled with cornmeal. Drizzle the dough with olive oil then sprinkle with half of the chopped garlic. Layer a handful of the fontina cheese then layer half of the potato slices so they are slightly overlapping. Scatter the sausage in chunks on top of the potatoes then top with sprigs of rosemary leaves. Season with half of the spice blend.

Cook for 10 minutes or until cheese is melted and crust is golden. Sprinkle with more fresh rosemary leaves, a drizzle of olive oil and a pinch of kosher salt. Season with red pepper flakes if desired. Serve immediately.
What an amazing trip and wonderful hospitality by the Halverson family. This video is a behind the scenes snapshot of our trip, thanks again to Black Gold Farms for hosting us.
Check out my fellow farming blogger's recaps:
Cathy of Noble Pig: My Trip to Arbyrd, Missouri and Black Gold Farms
Angie of Big Bears Wife: Traveling to Black Gold Farms in Arbyrd, Missouri
Sommer of A Spicy Perspective: Harrisa Fries and Potato Farming
Sandy of Reluctant Entertainer: Black Gold Farms Tour and Roasted Red Potatoes
To learn more about Black Gold Farms visit them on Facebook at Better With Reds or follow @BetterWithReds on Twitter.
I was compensated for my trip by Black Gold Farms, recipe development and sharing the experience with you. Thank you for supporting me and my partners which allows me to create new and special content for my readers. As always, all opinions are my own. 
Are you following me on Instagram, Twitter, Facebook and Pinterest? Thanks for reading and please keep in touch by subscribing to FoodieCrush.