Cheese. Cheese. Cheese. Oh, and can I get a side of cheese with that please?
My day yesterday was a cheese lover's-cheesehead-dream sandwiched between slices of pretzel bread, sourdough and even a shout out to challah (hollah!) all to be consumed in less than two hours.
Over the last few months, I've shared the details of this contest with you and it's finally all come down to this. The day had arrived. A grilled cheese reckoning. Homage to the great grilled cheese. The medal of honor to all things gooey and melty. The day I became an official judge for the Grilled Cheese Academy's Grilled Cheese Recipe Showdown.
Following a selection process that had been narrowed down to the final seven recipe contestants, I went to Madison, WI to meet with my fellow judges from Wisconsin Cheese to determine which of these recipes would become the grand prize winner of a $5,000 prize package. (photos thanks to Mike)
My assignment was both heavenly and a tad treacherous due to the ponderings of where I might possibly find the room to ingest and digest seven grilled cheese sandwiches in the span of two hours. After fretting over what my strategy for consumption should be, I turned to my pals on Facebook who had some stellar suggestions—mostly to take little bites—but a few more, not so obvious suggestions:
Patty said: "Prune juice as a chaser?"
Green Beans & Grapefruit said: "Bring a friend???"
Loaves n Dishes said: "I'm thinking lots of water and fresh citrus. I always like some acid to cut the fat."
Lori said: "Sharper the better! Best warm or room temp."
Dessi said: "Like wine judging, spit in a bucket after every bite."
and finally Kelley suggested: "Stuff your face and enjoy every minute of it."
Excellent suggestions that got me though the trenches and delivered a big smile to my face and some delicious recipe ideas twirling in my head.
While I can't reveal who the recipe winner was—that announcement will be coming soon—I can share some behind the scenes pics and a grilled cheese sandwich I created to prep my tastebuds to step up to the occasion.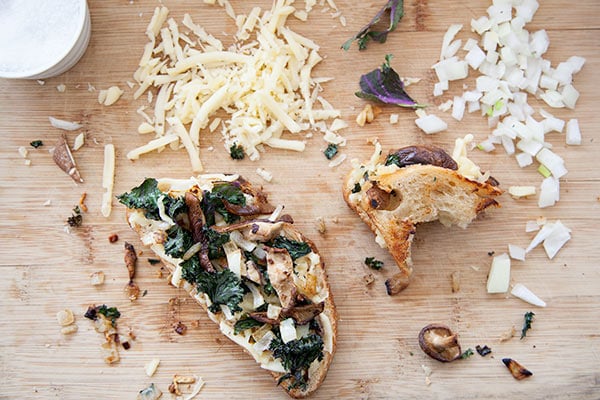 My Mushroom and Kale Grilled Cheese recipe for Go Bold With Butter combines sautéed greens with earthy mushrooms and onions that mildly complement creamy fontina on crispy sourdough. Whole food goodness in a grilled cheese sandwich. It was this combo my husband surprisingly deemed his favorite of the many grilled cheese sandwiches I've shared so far this year. So far this year…Does that mean there will be more? Only the cheese gods know for sure.
Print
Mushroom and Kale Grilled Cheese Sandwich
Ingredients
3

tablespoons

butter

divided

12-15

small brown mushrooms

sliced (about 1 cup)

¼

cup

onion

chopped

¾

cup

kale leaves

stemmed and chopped

Pinch

of red pepper flakes

Kosher salt

4

slices

garlic sourdough bread

8

slices

Baby Swiss Cheese
Instructions
Heat a medium-sized skillet to medium high, add 1 tablespoon butter and heat to melt. Add mushrooms and cook for 3-4 minutes then add onion and cook for an additional 3-4 minutes and then add kale and red pepper flakes and sauté until onion is translucent and kale has softened. Season with kosher salt and remove from heat.

Spread butter on 1 side of each slice of bread, then stack buttered sides together. Layer 2 slices Baby Swiss on top of bread stack, then add kale and mushroom mixture then 2 more slices of Baby Swiss. Place bread buttered side down in a fry pan over medium-high heat. Cover with lid and let cook for 3-4 minutes or until golden.

Reduce heat to medium and flip sandwich to other side and cook for 2-3 minutes or until bread is toasty golden and cheese has melted. The second side will cook faster than the first so watch carefully. Repeat with next sandwich.
This week's Friday Favorites was one of the easiest to come together since I started doing these lists. While you won't find me waxing on about Kim and Kanye's choice in baby names (what the..?????) or who won The Voice (yes! Blake is the best coach!) you WILL find philanthropic food bloggers and repurposed baking vessels and hopefully something you can call a favorite too, like…..
The best post about body image and why you too should stop being a jerk and put yourself on the no more body snark diet.
Put your keystrokes where your mouth is and support this weekend's online 'Bake Sale for Beka' by bidding on your favorite food blogger's cookbook or homemade cookies delivered straight to your door.
Deal alert! Get 'ye to your local Whole Foods for today's one-day sale on Copper River Sockeye Salmon. I'm firing up the grill as we speak. I mean, type.
Did you get a look at Ashleigh's tasty home and adorable housemates on Design Sponge?
It's desserts for dudes month.
Instagram introduces video and the world says, "Goodbye Vine, see 'ya, hate to be 'ya."
Have you ever put your mom on a diet? Andie just did and I can't wait to see how this real life transformation unfolds. And no Andie, you are not going to hell.
Being a good hostess doesn't have to involve an elaborate dinner party if you learn to listen for hospitable moments.
Ever though about repurposing a muffin tin as a succulent container?
I've been avoiding the span of collage apps for iPhone pics, but PicsGrid app just got downloaded.
50 books everyone needs to read.
I love reading Tracy's I Love Lists Friday and hope she doesn't think I'm a blasphemous blog-styling-thief for adapting her list of her My Bites Around the Web stylings. But for some reason there were several guest posts that went up this week that I'm proud to be a part of and you might like too.
So Tracy, please forgive me, and, here's where else I've been this week:
I named a few favorite food bloggers in The Best American Classics on the Internet
I made a Boozey Lime Rickey for girls night with the boys
I made this Avocado Caprese Wrap
From ikat patterns to cake batter, here's a list of a few of my favorite things
I'll be traveling for business this weekend—the last time for a while—and I'll be visiting a fabulous friend I haven't seen in ten years in the process. WIth business does come pleasure, and I hope you all have a pleasurable weekend too.
Happy weekend, and have yourself a grilled cheese. Or seven.
Thanks for reading and please keep in touch by subscribing to FoodieCrush and follow me on Twitter, Facebook and Pinterest. This site includes affiliate shopping links of which I receive a small percentage of sales to allow me to create new and special content like this for my readers, so thank you for your support. All opinions are my own.