No ice cream maker? No problem! This simple 3-ingredient ice cream base is an easy way to cure your ice cream cravings and is made even better with 10 favorite flavor mix-in ideas to make this recipe your own.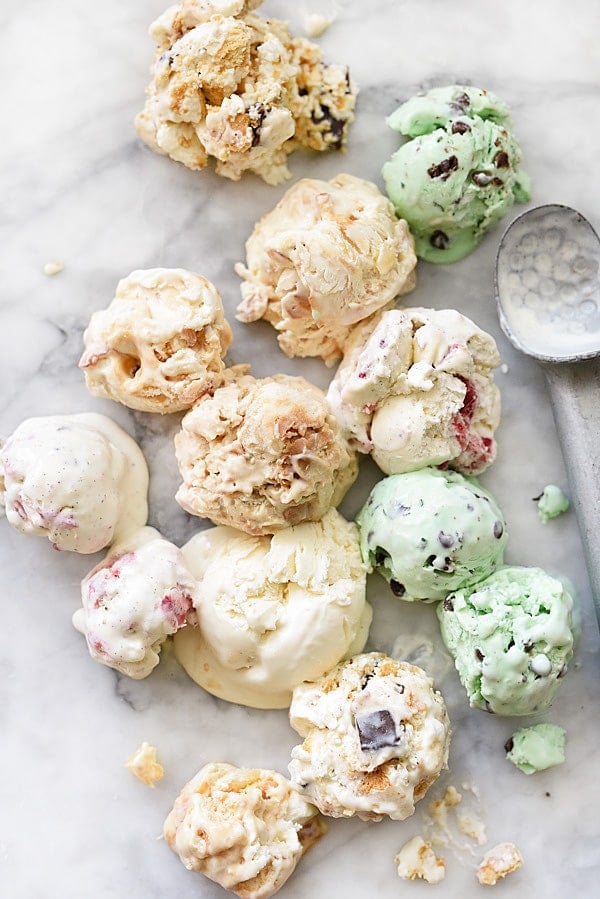 Really good, totally indulgent, creamy ice creams can be time consuming at best (don't forget to freeze that ice cream maker bowl first!) and temperamental at worst (why did my custard base turn into scrambled eggs?) Taking on the task of making your own homemade ice cream can sometimes be enough to throw in the towel and send you to the street corner with the kids to wait for the ice cream man to drive by.
But there's a way to avoid all of that and still get your licks in. It only takes a hand mixer, a couple of bowls, and three ingredients to make.
Say hello to one of my favorite kitchen hacks, this recipe for homemade, no-churn ice cream.
Most homemade ice creams start with an egg custard base that is cooked and tended to with the same care as your first born child. This one doesn't.
This recipe takes just 3 ingredients folded into one another to make an easy, creamy, homemade vanilla ice cream that's ready to lick in just a few hours.
Martha Stewart may be the one most popularly credited for this recipe but like many family favorites, the beauty is in how you make it your own.
We Scream for Flavored Ice Cream
I like to make the ice cream base and then let everyone's individual taste buds take over to invent their own favorite flavor. Plus, if you're looking to create a DIY ice cream bar that doesn't take forever to create, this recipe will be the secret to your success.
Here are some of my favorite flavor combos that I hope will inspire you to create your own faves too:
Peppered Strawberry Bean: Vanilla bean, frozen strawberries, black pepper, white chocolate chips
Key Lime Pie: White chocolate chips, graham cracker pieces, lime juice, lime zest
Minty Mini-Chocolate Chip: Fresh minced mint leaves, peppermint extract, green food coloring, mini chocolate chips
The Islander: Toasted coconut with pineapple chunks, macadamia nuts and salted caramel
German Chocolate Cake: Cocoa powder, chocolate cake pieces, toasted coconut & pecans, caramel drizzle
Gimme Some More S'mores: Mini marshmallows/toasted marshmallow, graham cracker crumbles, chocolate chunks
The Kitchen Sink: M&M's, toasted peanuts, popcorn, pretzels and salted caramel
Elvis Thrust:  Peanut butter, bananas, honey
*tip* Mix the peanut butter with a little cream so it stays creamy instead of turning rock hard when it freezes.
Lumberjack: Waffle cone, crumbled bacon, maple syrup
Cookie Monster: Chocolate chip cookie dough bits, oreo pieces, chocolate chip cookie pieces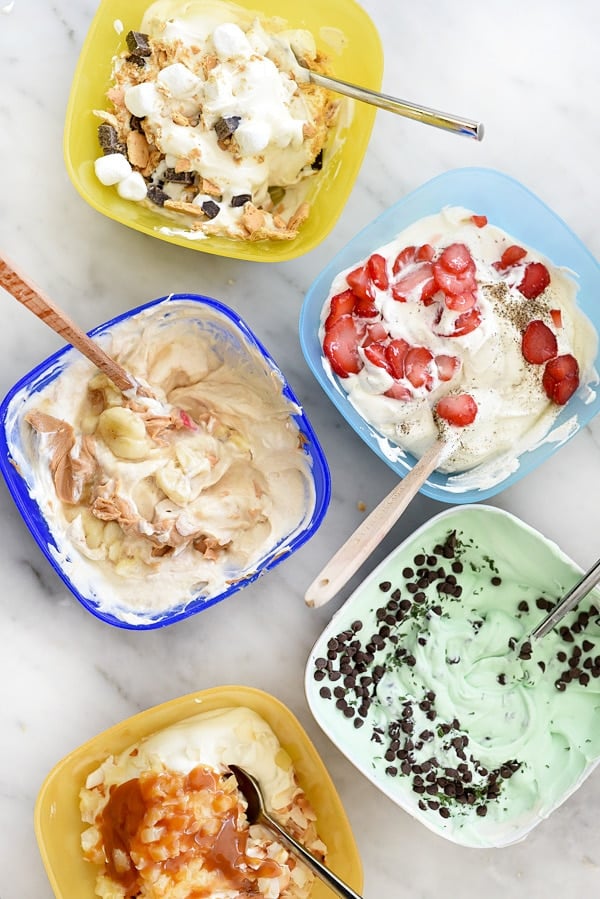 Once you've made your base, you'll need containers for freezing. You can use an 8 X 5 bread loaf pan for your container (this one is cool because it has a lid) but know that a metal container will freeze the ice cream faster and better than a glass pan. If you will be making ice cream often consider investing in an insulated ice cream tub or container, or, I like using paper containers with lids for on-the-go individual servings.
To serve, allow the ice cream to sit for a few minutes at room temperature, wet an ice cream scoop and spoon into dishes, scoop onto cones, or eat straight from the container like I typically do.
This style of ice cream will melt a little quicker than usual custard based ice creams, but that's okay! More incentive to lick it up fast!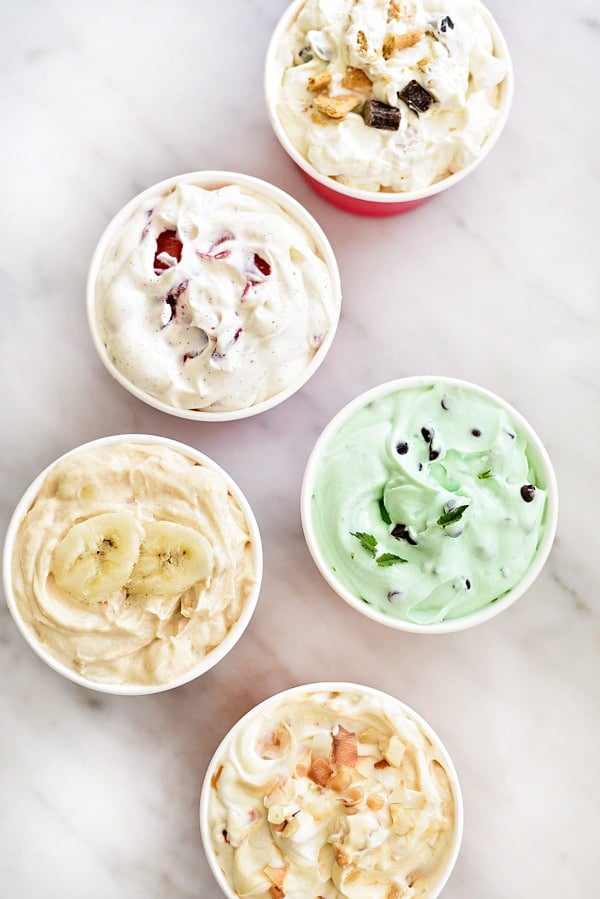 If you make this recipe, please let me know! Leave a comment below or take a photo and tag me on Instagram with #foodiecrusheats.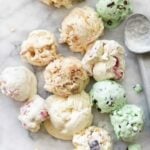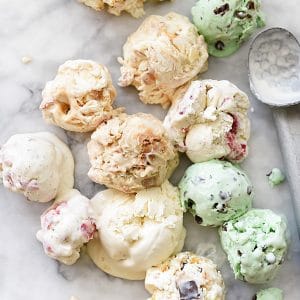 How to Make Easy No-Churn Homemade Ice Cream
This simple way to make homemade ice cream calls for just 3 ingredients plus any mix-ins you desire and is ready to eat in just a few hours.
Ingredients
2

cups

heavy whipping cream

1

14-ounce can sweetened condensed milk

1

teaspoon

vanilla
Instructions
In a large bowl, use a hand mixer or a stand mixer to whip the cream until stiff peaks occur, be careful not to over whip. The cream will be done when you pull the beaters out and the cream stands at attention.

In another large bowl, whisk the vanilla into the sweetened condensed milk. Gently fold in the whipped cream with a spatula, slowly incorporating the two mixtures together so it stays light and aerated.

If making individual flavors, scoop the cream mixture into smaller bowls and gently fold in your desired mix-ins, or if making just one flavor, mix the ingredients directly into the cream mixture.

Transfer the mixture to an insulated tub or paper containers and freeze for 4-6 hours.
More No-Churn Recipes to Lick Your Summer Cravings
Unicorn No-Churn Ice Cream Recipe
Blackberry Chip No-Churn Ice Cream
No Churn Salted Caramel Ice Cream
Sea Salt & Honey No-Churn Ice Cream
No-Churn Dulce de Leche Ice Cream Recipe
As always, thank you for reading and supporting companies I partner with, which allows me to create more unique content and recipes for you. All opinions are always my own. 
Are you following me on Instagram,  Twitter, Facebook and Pinterest? 
Thanks for reading and subscribe to FoodieCrush to have each post delivered straight to your e-mail box.
SIGN UP FOR FREE!
THANK YOU FOR VISITING FOODIECRUSH.COM

Subscribe to the FoodieCrush email newsletter and have every new post plus exclusive content delivered straight to your email box,
FOR FREE!