Hello my fellow lovers of Friday! Happy Friday faves!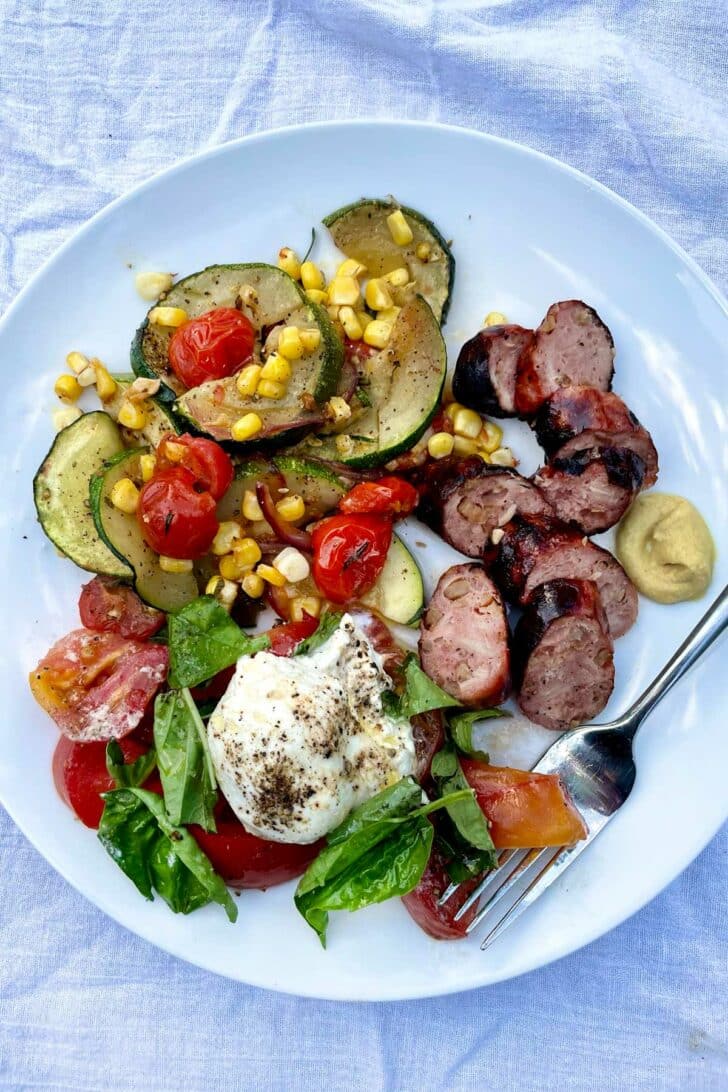 This week's easy dinner was all about clearing out the fridge. I made a quick zucchini, corn, and just about-to-expire tomato stir-fry situation (just fried it all in olive oil, S&P, and some fresh tarragon) alongside tomatoes, burrata and fresh basil, with a quick seared chicken sausage on the grill. Summer, you get me.
This piece on doppelgängers was so freaking interesting.
And, this is a wild story.
I whole-heartedly agree that the girl boss and hustle 'til you make it culture is dead. This article is a must-read for any women who are looking for more in life than proving their ambition.
This 92 year-old woman is such an inspiration.
This movie looks like so much fun. What a cast!
Martha Stewart is opening a restaurant in Vegas.
11 exciting cookbooks coming out this fall. Let's go!
3 words: Nutella. Banana. Bread.
I love a stuffed zucchini recipe like my taco stuffed zucchini boats or my Mediterranean zucchini boats. This bolognese version looks SO yummy!
An end-of-summer pie that is almost too pretty to eat.
Browned butter takes this pound cake to the next level.
This peach dessert is a stunner.
Genius comfort food twist: Indian-style pot pie.
Make me cacio e pepe but with zucchini noodles.
This iced strawberry matcha makes me want it very matcha.
These German-style potatoes would go perfectly with my fave schnitzel recipe.
Yup, this soup is my husband's dream soup.
This meatball dinner looks as flavorful as it is bright.
A mac 'n cheese that's creamy, dreamy, and shrimpy.
This chocolate cake is perfection.
How to be okay with a "good enough" home.
A new season in the wings means I'm feeling all the organizing feels:
These funny wooden spoons would make the best hostess or neighbor gifts. My fave: "Maybe swearing will help," because it always does.
If you're looking to add a spot of color to your bath, this mat does the trick.
The coolest DIY French manicure hack.
I keep hearing good buzz about this highlighter.
These drapey wide-leg trousers with this jacket will have you looking like you just walked out of a fashionista's Instagram post.
This dress has all the JLo vibes and will take your style to another level.
This pretty cardigan is a great transition for fall.
And that's it for this week. Have a fantastic weekend!
We send good emails. Subscribe to FoodieCrush and have each post plus exclusive content only for our subscribers delivered straight to your e-mail box.
Follow me on Instagram, Facebook, Pinterest, and Twitter for more FoodieCrush inspiration.
As always, thank you for reading and supporting companies I partner with, which allows me to create more unique content and recipes for you. There may be affiliate links in this post of which I receive a small commission. All opinions are always my own.