Hello and happy Friday birthday to me!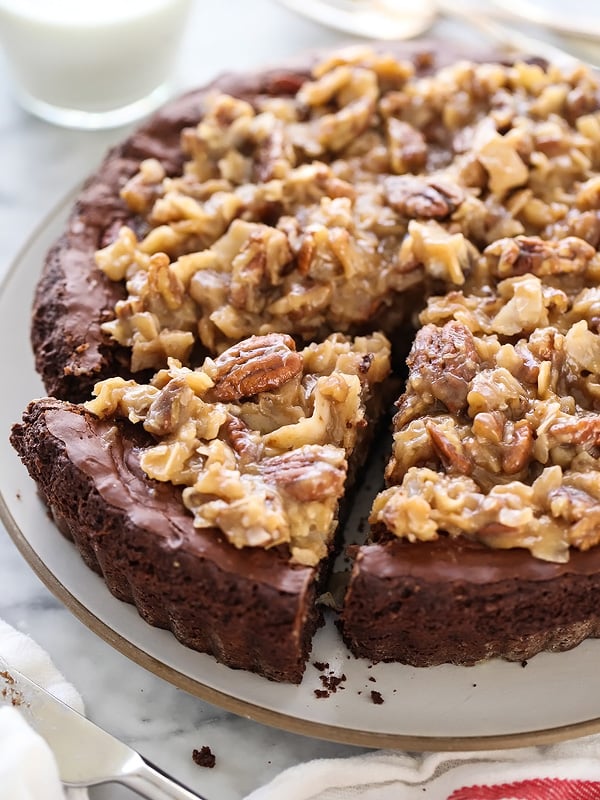 Today is my birthday and my Aquarian stars are shining bright. It's funny how as you get older, the birthdays sneak up a whole lot faster. What? I couldn't possibly be that old already! Ah, but yes I am. And I'm feeling pretty lucky to be so.
My usual birthday treat tradition is a big, thick slice of my mom's recipe for German chocolate cake. What can I say? I'm a die-hard Almond Joy flavor lover from the 70s and 80s. But this year, I may have to deviate and make my German chocolate brownie pie instead. It's so rich, it's so decadent, and it's so appropriate for a big old birthday like mine today.
This week I followed my own advice and did some good-feeling kitchen decluttering with 11 brilliant tips for maximizing your pantry space. I'm a big fan of #3. I have so many prop dishes that are now at my favorite thrift store and I moved serving dishes used only occasionally to a downstairs closet. Now, on to the freezer.
Did you know we have just 6 weeks 'til spring planting? My goal this weekend/coming week is to get some seeds started indoors for cool weather garden crops. This video is v. helpful for veggies, and for flowers, these are helpful seed resources and inspo.
Per usual, we are always looking for new tele-inspo and finally started watching this Emmy award-winning series that is highly enjoyable and witty. And, everyone is talking about how good this show is. Have you seen it?
There's a new flavor of Girl Scout cookies on the scene and while I'm a Thin Mints girl for life, I am happy to see if they live up to the hype.
For New Years I made one request of my little family, to make a list of the top 5 places they would love to visit. Oh, where will our wanderlust take us? Travel is still looking a little shaky for the moment, but at least it's going to give me something to look forward to with this country being at the top of all our lists.
To go along with my travel bug, I always need a list of where to eat like this one with so much yummy food and travel inspo for 2022.
When you don't have cooking wine or spirits on hand, this list of chef-approved ingredients work as substitute alcohol swaps.
I've been into more vegetarian recipes lately and have my eye on:
The Tik Tok ramen everyone is scrolling to see.
If you're Instant Potting, this beef barbacoa is a recipe to definitely try.
or…
These tacos are sure to be your mojo cure.
These noodles are the spice of the week.
I've seen recipes for this creamy soup sprouting up lately and it looks super interesting to try.
This lemony sheet pan chicken is a great looking all-in-one dinner.
This mac and cheese…oh my, just look at it and then make it.
22 recipes you can meal prep right now.
This recipe could single-handedly bring back the coffee cake.
How cute is this bento box? Perfect for work lunches.
According to sleep doctors, these are things you should do (and not do) each afternoon if you want a better night's sleep. #2 is especially intriguing.
We're verging on tax time and many of us are working at home. Can you write off your home office, or not?
and…
10 ways to reinvigorate your work-life balance (if there is such a thing.)
What to wear in 2022 if you hate trends.
And if you're like the rest of us, you've playing Wordle. Here's a cheat sheet and strategies to guess better and solve faster.
And that's it for this week. Have a fab weekend.
We send good emails. Subscribe to FoodieCrush and have each post plus exclusive content only for our subscribers delivered straight to your e-mail box.
Follow me on Instagram, Facebook, Pinterest, and Twitter for more FoodieCrush inspiration.
As always, thank you for reading and supporting companies I partner with, which allows me to create more unique content and recipes for you. There may be affiliate links in this post of which I receive a small commission. All opinions are always my own.