Happy Friday friends and a HO HO HO!
Only 2 more sleep nights 'til the jolly grand elf not on a shelf makes his 2016 appearance and I am so excited it's like I'm 6 years old again. I'm not sure what it is about this year that's making a difference in my merry outlook, but it's likely due to the fact that I've worked ahead to take next week OFF and enjoy it with my family.
Or it could be the result of my Christmas present companions: Christmas Vacation and The Holiday that have been on constant repeat and to which I am addicted to thanks to Freeform's 25 days of Christmas movies.
Last night I introduced Smudge to my FAVORITE holiday movie, Love Actually. She only had to cover her eyes in a few spots ("But mom, why don't they have the real actors doing that instead of the stand-ins?") and she fell in love with the movie too. Actually she fell in love with little smitten Sam.
Wouldn't it be weird to be in an iconic film people watch over and over again for years and years and always have you in their mind's eye as "that kid"? I was curious to see what they look like now so of course hit up a Google search. Well here you go, what Christmas kid celebs look like now. I gotta show this to Smudge. I think she'll still think Sam is pretty dang cute.
What's your fave Xmas movie? I'm moving over to this list of 12 best Christmas movies playing on Netflix right now. But what I'm really waiting for is TNT's 24 hour marathon of A Christmas Story, what I've watched every single Christmas eve since I was a knee high to a grasshopper.
Plus! This list of foods to try from our favorite Christmas movie! Who can name which movie made us crave Maple Syrup Breakfast Spaghetti?
But enough about movies, let's dig into even more holiday cheer to ring out the year!! Happy holidays my friends, I'm so grateful for all of your eyeballs, clicks and recipe making skills and can't wait to share more with you next year. One more Friday Faves and we're into 2017. How in the Hades did that happen?
But until then, let's dig into this week's Friday Faves. ENJOY!
Okay, I'm sure you saw this, but in case you didn't, you should. They must have had this planned for over a year!
I don't know if I mentioned it yet or not, but here's why I was on this podcast. (Did you get yours yet??)
Any of these would make a delicious Christmas breakfast.
This crab looks purely decadent.
Pretty sure this pasta is my spirit animal.
And who am I kidding, so is this one.
I LOVE IT! A mid-century modern gingerbread house!
This tart is drop dead gorgeous.
Give me gingerbread everything especially associated with coffee.
Slow cooker hot chocolate has all the hands in the air.
10 secrets every good dinner host should know. So…do you?
I'm not a New Yorker, but reading this put a smile on my face and made me want to become one. For a minute…
Can't stop listening to this Christmas cover (I think the King would be proud)…
How to make Hanukkah low-key and stress free.
Running out of time? The ultimate guide to homemade gifts that don't suck. And, my Irish Cream is my favorite to give as a gift.
This photography series is fascinating. What would your last meal be??
Reading these best bad restaurant reviews was at the same time funny and kind of sad for those they critiqued.
Well hell, if Morgan Freeman spoke to me like this every morning, I'd get out of bed too! Also, do they really think we believe that's Mark Zuckerberg's real house??
What a sweet little home tour — how cool are those bathroom walls though?!
and…
Genius small-kitchen organization ideas that work for big kitchens too.
How to change the way you think about your body and love your look.
We've all been there and some of you are there now: 15 tweets that describe the hell of holiday travel.  #6 and #7 may go hand in hand.
and so…
Because you're gonna need a vacation from your Christmas vacation, check out these deals.
FYI, Gap is having a HUGE sale. Get this sweater dress as an Xmas present for yourself, will ya?
These pretty calendars are getting me excited for the new year. And of course, this one is my fave.
Loving this pullover — it's perfect for all those brisk morning walks I'll be taking post holidays. Or sitting around watching more movies :)
Okay, I love the pom pom on this adorable hat, and it's 50% off. Sweet.
Recipes I Pinned This Week
Christmas is just two days away (how did that happen?!) I've seen so many fabulous holiday recipes this week that have gotten me super excited for Sunday.  Here are a few I've pinned that I think you should pin as well.
Caramelized Winter Fruit Stuffed Brie Cheese with a Pinot Poached Pear
This is the queen brie right here. What a holiday showstopper!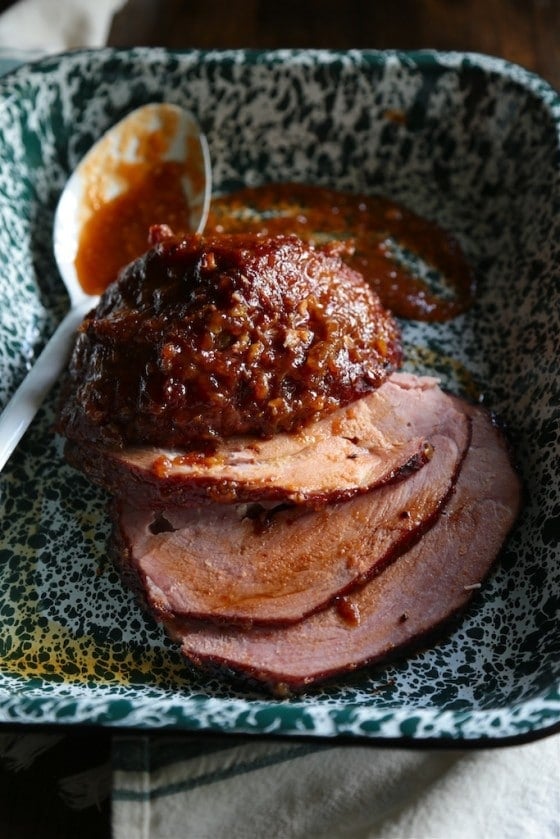 Sticky Peach Chipotle Glazed Ham
My dad gets a company ham every year and passes it along to us to serve at my husband's family dinner. This is what we're doing with it this year!
Holiday Peppermint Sandwich Cookies
Move over Whoopie Pie. I'm pretty sure these dark and sultry cookies are exactly the kind of thing Eartha Kitt would enjoy while waiting for her Santa baby…
Thanks for reading, dearest foodiecrushers, and I hope you have a stellar holiday weekend! Kick back and enjoy the holiday.
As always, thank you for reading and supporting companies I partner with, which allows me to create more unique content and recipes for you. All opinions are always my own.  
Are you following me on Instagram, Twitter, Facebook and Pinterest?
Thanks for reading and subscribe to FoodieCrush to have each post delivered straight to your e-mail box.