I don't mean to brag, but eh-hem, I'm an award winner.
Yep, it's true. A winner of a blue ribbon. Utah State Fair. 4th grade. Yes, I said a STATE FAIR BLUE RIBBON. For my Snickerdoodle recipe. Award winning baker I am.
Smudge and I were going through some old boxes over Christmas and she discovered the coveted contest winning ribbon. In her eyes my status jumped immediately into the stratosphere ie: the realms of iCarly and her beloved Big Time Rush. Yep, rock star status.
She's been obsessing over why I was awarded the blue ribbon, my coveted Snickerdoodle recipe, and thus obsessing over us baking Snickerdoodles.
I have no idea where the recipe came from, maybe an easy-to-bake cookbook from 4-H, but it is seriously one of the best cookie recipes I've ever had. Light but moist, chewy and how easy is it to dump all of the ingredients into one bowl, mix and bake. It's easier than buying store bought, pre-made, sausage-style cookie rolls.
Easy enough for a 4th grader (me), and now a 2nd grader (Smudge), to make.
I added a touch of chocolate to the recipe to dress it up a little, inspired by a lovely looking recipe from Averie at Love Veggies and Yoga and my obsession with chocolate.
And now presenting:
[print_this]Blue Ribbon Snickerdoodles with White Chocolate
makes 12-15 large cookies
1 cup butter-flavored shortening
1 1/2 cup sugar
2 eggs
2 teaspoons cream of tartar
1 teaspoon soda
1/2 teaspoon salt
2 3/4 cups flour
3/4 cup white chocolate chips

1 recipe cinnamon sugar
1/8 cup sugar
1/2 tablespoon cinnamon
1. Preheat oven to 375 degrees.
2. Place all ingredients except the chocolate chips into a large bowl and mix with a handheld or standing mixer. Add in chocolate chips and combine.
3. Using a #24 scoop or 2 tablespoon portions, roll dough into balls. Dip into cinnamon sugar mixture and place 6 to a lightly greased or parchment prepared cookie sheet.
4. Bake for 9-12 minutes until cookies rise and crack on top, but not browned. Remove from sheet and cool.
5. Eat![/print_this]
Lately I've noticed a plethora of Snickerdoodle variations floating in the blogosphere. Is it just me or are bakers becoming more and more creative?
Oh and get ready, apparently Snickerdoodles have inspired some creative quotes from each of these bloggers!
photo > Always With Butter
Julie promises Snickerdoodle Cake with Brown Sugar Buttercream  is moist as the day is long and as she says best "And the frosting, it is just 'stand at the counter and eat with a spoon' good." With 6+ sticks of butter, we know Always with Butter is living up to her name.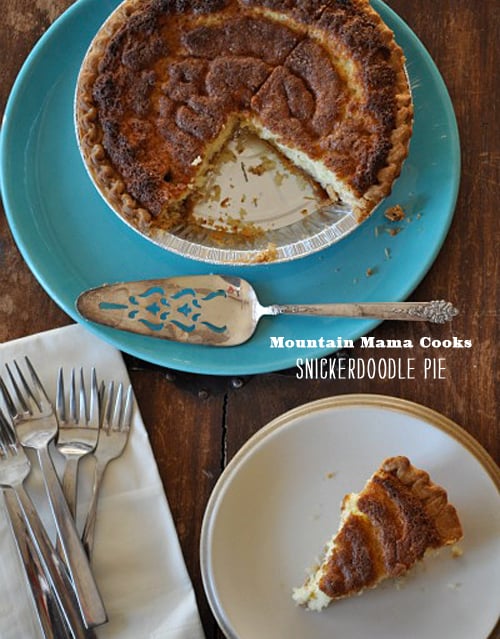 photo > Mountain Mama Cooks
Flakey crust layered with cake-like snickerdoodle filling and a cinnamon caramel sauce that tops the whole shebang, Kelley insists, "This pie is slap your mama good."  Man, I'm ready to bust into that crust for her delicious Snickerdoodle Pie from Mountain Mama Cooks.
photo > Melissa Bakes
"Hello, my name is Heidi and I might have found an addiction" thanks to Melissa Bakes Snickerdoodle Muffins, a tasty sugar snack that Melissa promises are so delicious that "who could say no to crack muffins?"
photo > Let's Dish
Based on Barbara's super original and oh-so-tasty recipe for Barbara Bakes Snickerdoodle Bread, Danelle solves the dreaded dilemma of cookie overload by saying, "After the holidays are over I'm still craving cookies, but to be honest, I'm a little tired of making them. Whaaa whaa? Danelle keeps the sugar love flowing with a remake of Barb's Snickerdoodle twist in Let's Dish Recipes' Snickerdoodle Bread.
photo > That Winsome Girl
Don't these Snickerdoodle cupcakes look like little pillows of heaven? Amy's done her homework, tested the recipe and made her fixes to Martha's original recipe—yes, even Martha needs some tweaks sometimes and according to Amy, "The seven-minute frosting is really where these cupcakes failed in comparison to my favorites." Thank the Lord she's blessed us with That Winsome Girl's revamped Snickerdoodle Cupcakes v2.0. Oh have mercy!
More sweet bakes from Foodie Crush:
Toasted Coconut Toffee Chocolate Chip Cookies
Mom's Fudge with Pecans
Red Velvet Cupcakes with Vanilla Bean Cream Cheese Frosting
Baked Apple Cuplettes
Thanks for reading and please keep in touch. Subscribe to FoodieCrush and follow me on Twitter, Facebook and Pinterest and check out Foodie Crush magazine