Let's talk about getting skinny. Ugh. The worst. Maybe we shouldn't.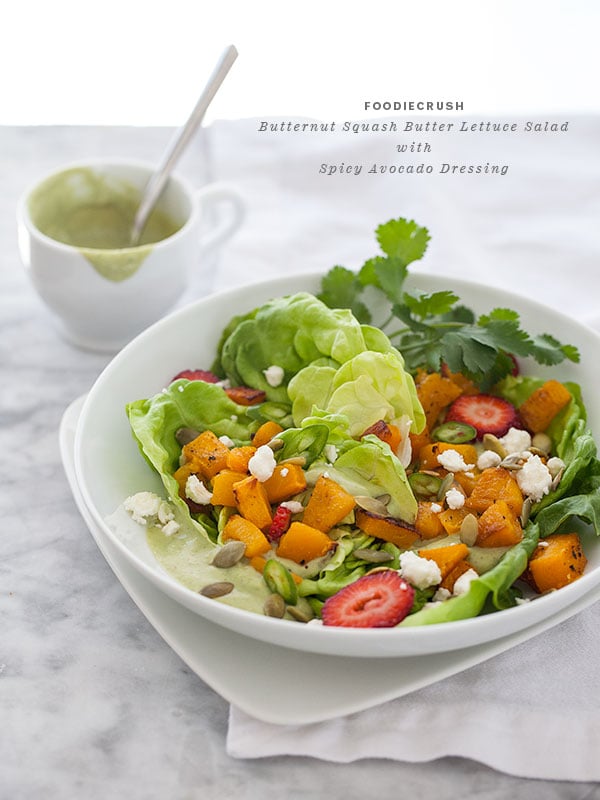 It's been a winter of cocooning, hibernating and grazing. What else is one to do when its been one of the coldest and snowiest on record? We need to keep warm, right? we need strength to push the shovel through another 8 inches of snow. And what does that better than a little extra girth easily hidden—and ignored—under long sweaters and puffy coats? Ah, thank the Lord for the style Goddesses.
Well guess what peeps? The groundhog spoke and the style Goddesses listened and spring is right around the corner. Time to lose the bulk and take a look at those pops of colors and short shorts.
Last week I asked my Facebook peeps what you'd like to see more of on the blog: More ooey gooey or more healthy recipes? Your answer? Pretty much straight down the middle.
Me and My Pink Mixer said: "Healthy please! Trying to lose a few lbs. for an upcoming trip to Florida."
Maribel said: "As someone who has been working on being healthier since June, I'd like more healthier recipes. I love your recipes, but have not been able to make many as I can't think of swaps… You know I love your recipes and pictures make me crave these foods."
Susie said: More on the healthy side with a healthy dose of ooey, gooey:-)
And Sarah and Ginni agreed: "Um both… Need the healthy to cancel out the ooey gooey!" and "50/50 we need balance in our lives!"
So like Frasier talking into his radio show microphone to friends he never sees in person—I'm listening.
Now don't freak out and think my love of cheese and bacon and goo has gone out the window with the baby and the bathwater. No. That will not happen.
But. It will soon be spring. And we could all use more healthy options. And the funny thing is, if you follow me on Instagram you'll see that this is pretty much the way my lunch looks most every day. Lettuce topped with stuff. Yum.
This salad all started with the dressing. You know my obsession with avocados is strong here at FoodieCrush and since I put them on most every salad I make I figured a dressing would be a good switch up.
I made a variation of this dressing a few months ago for a kale caesar rendition and it received high marks and even a recipe request from friends I served it to. It's a bit like a green goddess dressing, but spicier.
Butternut squash is classically fall, but why pigeonhole this sweetened, roasty version when it adds a heartiness to the delicate butter lettuce leaves. Accenting the whole shebang with feta cheese and pumpkin seeds gives a salty bite and a little crunch.
Now what about those strawberries? You're wondering if I've lost it right? Berries and squash? Hear me out. I love salty/savory/sweet combinations. And strawberries were in the fridge. And guess what? They work sweetly.
About the recipe
1. If you can't find a nice fresh head of butter lettuce, feel free to use another variety but choose one will hold up under the weight of the lush avocado dressing. I like a red leaf lettuce, spinach or the ultra sturdy kale. Leave the spring mix to a light vinaigrette.
2. Are those strawberries too spring like for you or maybe not yet the sweetest of the season? Give dried cranberries or cherries a try for the taste of complementary sweetness.
3. If you're in the market for a less spicy, more herbaceous dressing, leave the serrano pepper out of the dressing and add ½ cup of parsley and ¼ cup of mint for a super fresh spring style dressing. Or try using a jalapeño for a milder kick.
Print
Roasted Butternut Squash Butter Lettuce Salad with Spicy Avocado Dressing
Ingredients
For Spicy Avocado Dressing
1

medium avocado

2

tablespoons

olive oil

½

serrano pepper

seeded and roughly chopped

1

clove

garlic

peeled and roughly chopped

2

green onions

roughly chopped

½

cup

cilantro

½

cup

buttermilk

2

limes

juiced

½

teaspoon

kosher salt

Put all ingredients in a blender and blend until smooth. Add more buttermilk it you like a thinner dressing. Add more kosher salt to taste.
For the Salad
1

head butter lettuce

also known as bibb lettuce

3

cups

butternut squash chopped into ½ inch chunks

2

tablespoons

olive oil

4

strawberries

sliced

¼

cup

feta cheese

¼

cup

pepitas or pumpkin seeds

cilantro and sliced serrano peppers for garnish

kosher salt and freshly ground pepper
Instructions
Place butternut squash on a foil lined baking sheet and drizzle with olive oil, toss to coat and season with kosher salt and fresh ground pepper. Place in a 450 degrees F oven and roast for 20-25 minutes or until lightly browned. Remove from oven and allow to cool.

For individual salad plates, layer a few leaves of butter lettuce with some of the butternut squash, a few strawberry slices, some feta cheese, pepitas and cilantro and sliced serranos if desired. Top with a few tablespoons of the spicy avocado dressing and more salt and pepper if desired.
Related Recipes
5 Fresh and Simple Avocado Salads
Caesar Salad with Hash Brown Croutons
Chinese Chicken Salad with Sesame Dressing
Chicken Nicoise Pasta Salad
Thanks for reading and please keep in touch. Subscribe to FoodieCrush and follow me on Twitter, Facebook, Pinterest and check out FoodieCrush magazine.