Happy Friday friends!
You're about to see something a little different with this week's Friday Faves. This year I'm shaking things up and trying a little something new for the holidays and sharing some of my favorite things I think you'll love too.
And I figured, what better spot to highlight these faves than in my weekly Friday Faves?
I have a few more gift guides coming your way but can't decide whether to post them all next week so there's plenty of time for shopping, or drip them through the month to give you a little something to look forward to as we move toward the big day. I'd love to hear what you prefer in the comments below.
But since Christmas is now on everyone's mind, and I have a TON of links to share, let's skip the chit chat and dig into this week's list of Friday Faves. Happy clicking friends.
Just because you still might be craving a little random link love this week, let's start with these…
This gingerbread house wins. Can I move in? No, seriously.
Hashtag #tatertotlove! I'm making this ASAP.
This casserole has my name all over it…
These pumpkin rolls look INSANE. And even better, savory.
This is one sexy panna cotta. Let's all dip in.
You won't believe what this 117 year-old woman starts her day with. I'm not sure whether I can join in or not…
Makeup and airbrush-free, this calendar and these women are an inspiration.
And this advent calendar is totally up my alley. Say cheese! And this one is for my man.
The only Target home products worth buying (according to the experts).
How wonderfully strange are these Xmas cards?
and…
These gifts for Stranger Things fans (like me)!
Friday Fave Holiday Gift Guides
With the holidays approaching, our inner elves have been scurrying around, shopping for our loved ones. Since we know you're doing the same, and since it can be a stressful endeavor, we thought we'd help make things a wee bit easier for you by sharing a series of themed gift guides.
We're excited to debut our first one today — a home-centric guide, full of some of our favorite products!
It's the Little Things…
It's the little things that make a house a home, right? From heavenly candles and cozy throws, to pretty room accents — these are some of my favorite things…

1.  Well Hello There Door Mat What could be better to welcome friends for a little frivolity at your home.
2. Capri Blue Candle These candles have been a favorite of mine for so long now, and I love these pretty mercury glass versions. The "Volcano" scent is my favorite — it's a classic.
3.  10 X 10 Letter Board Set with Letters and Numbers I love these message boards to share and change up daily messages on a whim. And totally Instgrammable. Fun. 
4. 2017 Constellations Calendar I'm a fool for pretty much anything Rifle Paper Co. makes, but as soon as I saw this gorgeous calendar with gold foil illustrations of constellations, I knew I couldn't wait until 2017 to have one.
5. Brass Float Frame Brass is back, baby, and this floating frame is too cool.
6. Faux Fur Throw The only thing Smudge asked for Christmas is more blankets. But faux fur with pom poms? Obviously you can never have too many throws.
7.  Bree Madden 5th Street Framed Wall Art For anyone who's been to Venice Beach, CA (or like me, lived there and wistfully want to go back so I had to buy it for myself) will ply themselves with memories of surf and sun every time they look at this. 
8. Jamie Planter This cute little concrete planter is the perfect vessel for my succulent obsession and a great little something for gifting.
9. The Magnolia Story In addition to their house flipping flair, this book showcases what we love best about Chip and Joanna Gaines, their fun and playful back and forth that give us all #marriagegoals.
10. Amazon Echo I am obsessed with this thing. It's like Siri on a whole new level. Simply tell Alexa to pull all of your music from various places, then tell her what level of volume to play it, tell jokes, check the weather, add things to your to-do and grocery list and call Uber for a ride. And I haven't even figured out everything else it can do! Not to mention the sound quality is unreal. I'm a slave to Alexa.
Culinaire Extraordinaire
Sure, you can have too many cooks in the kitchen, but when it comes to gadgets and kitchenwares, there's no such thing. This is my list of gifts that are sure to delight the epicureans in your life.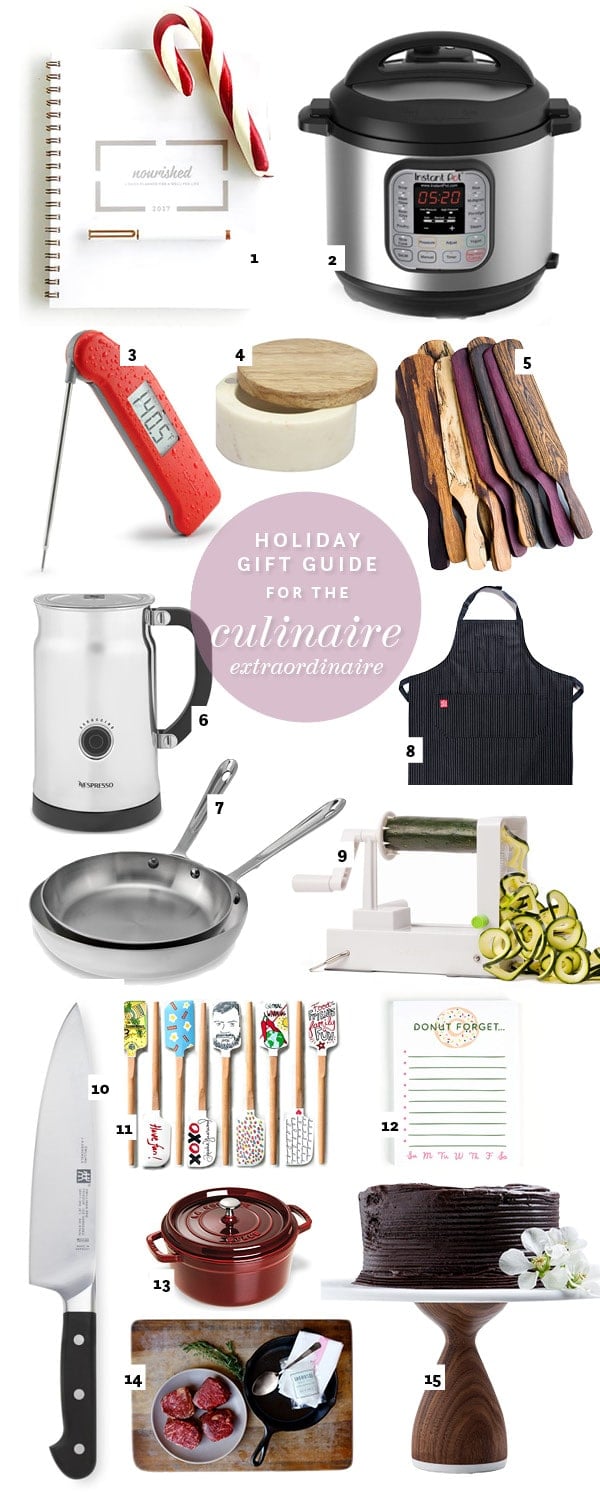 1.  Nourished Planner I'm so excited to start 2017 with this new baby of mine! With a monthly and weekly calendar plus meal planning and shopping lists, it's the perfect gift to generate inspiration and promote healthy new habits in and out of the kitchen. Curious about how it all started? Here's how…
2. Instant Pot This is my #1 favorite addition to my kitchen this year. Ask any of my friends, I can't quit preaching about it! I can cook slow, incredibly fast, brown and even make yogurt if I want! I'm telling you, if you only get one new appliance or gadget for your kitchen this year, get this.
3. Thermapen This is hands down the best and most accurate cooking thermometer I've ever used. It's small, easy to use, and worth every penny.
4. Marble & Wood Salt Cellar I gravitate towards a lot of marble these days, so naturally I dig this salt cellar.  It's elegant and minimalistic, without the hefty price tag.
5. Bowood Co. Exotic Wood Spurtle This handmade cross between a spoon and a spatula is the single most universal utensil and a must-have for your kitchen. And it's just plain purdy to admire!
6. Nespresso Milk Frother My sister loved her so much we got one for my mom for Christmas last year. Then, I loved it so much, I got one as well. Obviously, you need one too.
7. All-Clad Cookware Set This will change the way you cook forever, and if you only have budget for a few starter pieces, get this set of two.
8. Hand-Eye Kitchen Apron Aprons are back for messy cooks like me, and I love that it's unisex so my husband can get to work too.
9. The Inspiralizer My Inspiralizer and I are pretty much joined at the hip during the summer, but I totally use this year-round, and love it. It's the perfect excuse to eat more veggies and just a little bit addicting to use.
10. Zwilling J.A. Henckels Pro Traditional Chef's Knife A high quality chefs knife is the ultimate coveted key to the kitchen and the Henckels Pro line is hands down my favorite.
11. No Kid Hungry Chef Series Celebrity Spatulas Spatulas designed by Ina Garten, Danika Patrick, Chrissy Tiegen and more benefit No Kid Hungry initiatives, because there's no reason anyone should miss a meal.
12. Donut Forget Me Notepad Because who doesn't love donuts as a reminder?
13. Staub Cast-Iron Round Cocotte No matter what size, these pots are total workhorses. Nothing conducts heat like these babies, and they're one of my favorite secret weapons for slow cooking. Plus, they just look super sleek and cool.
14. Snake River Farms Hugh Acheson's Curated Steak Box Everyone knows at least one crazy carnivore in their life (my husband), and this specially curated box is a steak lover's dream.
15. American Heirloom Hardwood Walnut Cake Stand The beauty queen, queen b, Beyoncé of cake stands. They just don't get classier looking, or made any better to perform, than this one.
The Host With the Most
For the person in your life who loves to entertain, here are some goodies to toast the host.
1. Personalized Stationary Set I love the simple elegance of this stationary set (who couldn't use one of these?) Bring back the letters, people!
2. Wood Marble 2-Tier Server A two-tiered server will make any hostess ready to plate the apps or desserts. More for me!
3. Cards Against Humanity A little irreverant, a whole lot entertaining. This is one way to totally get the party started.
4. Hammered Copper Moscow Mule Mugs To drink a Moscow Mule in any other glass would be a sin, right? I love how the hammered texture sets these apart from all of the other ones I've seen.
5. Pablo Corkscrew If you know me you know I love dogs and wine. The perfect little stocking stuffer.
6. Marble & Gold Barware Tool Set All the essentials a barman or maven could need. Stylish look and killer price too—pssst, it's on sale.
7. Arla Gold Napkin Ring A simple, organic shape entwines beautiful gold bands with a soft, lustrous finish to form a beautiful napkin ring for elegant table settings and special occasions.
8. Marble & Brass Serving Tray Marble and brass are so huge right now and this pretty tray is so versatile! Would be great in the bathroom, for displaying jewelry, or next to the stove. 
9. Riedel Chardonnay Tumblers My go-to wine glasses, forever and always.
10. The Essential New York Times Book of Cocktails This stellar cocktail compendium features over 350 old and new drink recipes, and is peppered with some classic writing. It's like the Joy of Cooking, but for cocktails.
11. Hand Lettered Address Stamp Put a personal spin on your host or hostess gift with their own stamp of approval (and return address for those letters we're talking about!)
12. Set of 6 Chalkboard Cheese Markers Signpost-shaped markers stick into cheeses are ready to mark your host's favorite cheeses every time they cheeseboard.
Recipes I Pinned This Week
Now that we've successfully ended one holiday, I think the doors are wide open for some Christmas cookie baking, and boy have I seen some tantalizing recipes this week! Here are a few recipes I've pinned, that I think you should pin as well.
German Chocolate Cookie Balls
German Chocolate Cake is my everything, so naturally I'm flipping out about these glorious, adorable creations. And they're petite, which means you can justify eating more than one or two (or three). This is dangerous territory, friends. Dangerous.
Gingerbread Cranberry Linzer Cookies
Have you ever seen such gorgeous Linzers? Don't even get me started on what a fantastic cookie mashup this is!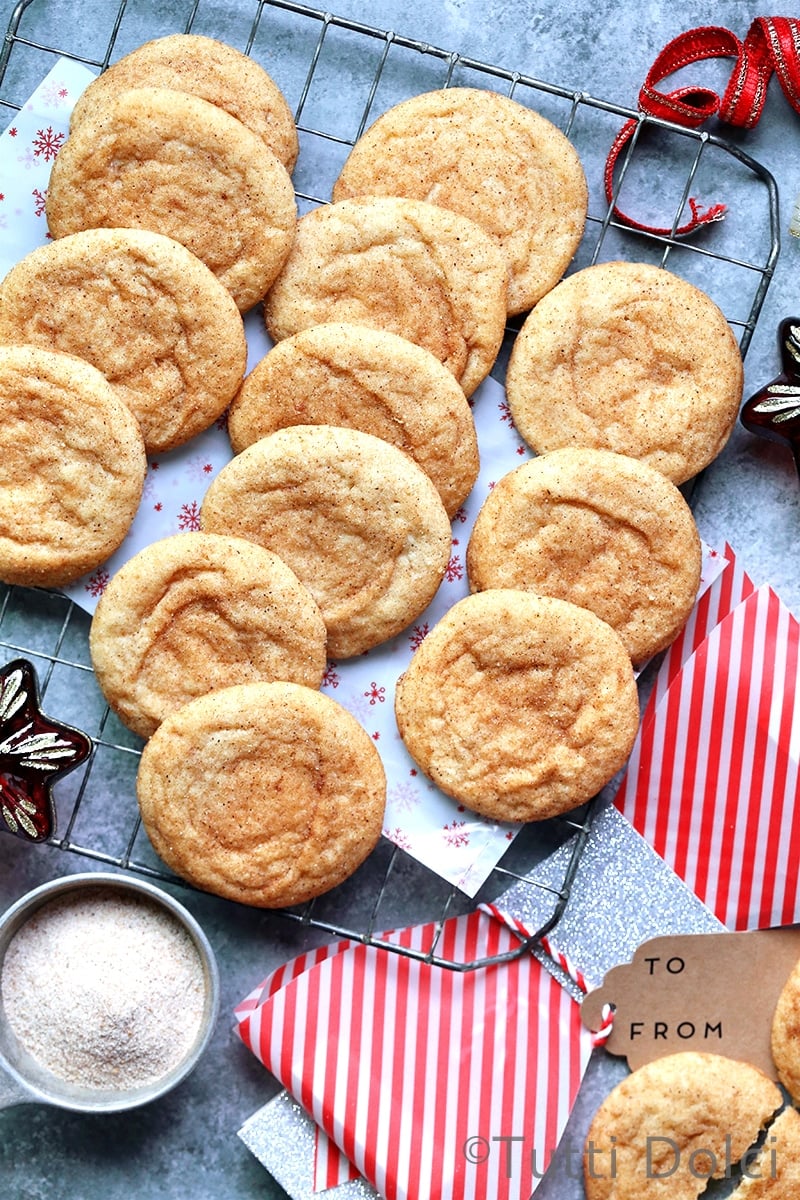 Brown Butter Chai Snickerdoodles
The snickerdoodle just got a feisty holiday makeover and she's lookin' fine…
Thanks for reading, friends, and I hope you have a happy weekend!
As always, thank you for reading and supporting companies I partner with, which allows me to create more unique content and recipes for you. All opinions are always my own.  
Are you following me on Instagram, Twitter, Facebook and Pinterest?
Thanks for reading and subscribe to FoodieCrush to have each post delivered straight to your e-mail box.