Sweet balls of cantaloupe sub for tomatoes and pair nicely with salty shaved prosciutto in this simple twist on the classic caprese salad.
How 'bout them melons? And what about these balls?
Wink-wink and tongue in cheek, get your head out of the gutter people, we're not talking body parts, instead it's all about this fresh, bootylicious salad.
With my garden tomatoes still clawing their way toward sweet fruit-ition, I'm patiently awaiting to harvest my 'mates to make my favorite caprese salad with my very own, homegrown tomatoes.
Who am I kidding. I'm not patient at all.
That's why I'm jumping the line and moving forward anyway by subbing tomatoes with local, sweet cantaloupe. Don't worry tomatoes, I'll be back. But until then, this salad is totally turning my head and making me stare with each and every bite.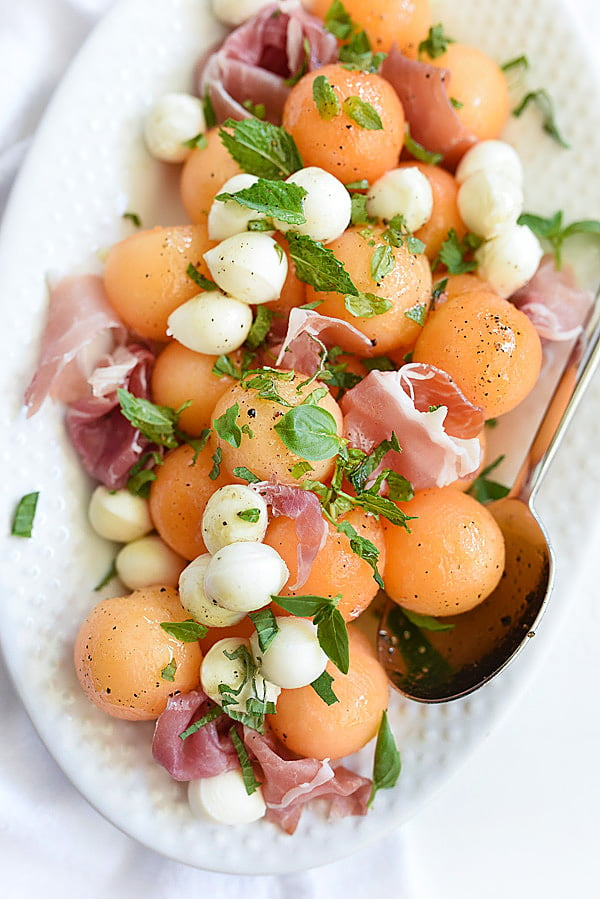 About the Recipe
I am a huge fan of cantaloupe, especially when I eat it with cottage cheese, but I really like it best with a generous sprinkling of salt. Kosher salt. Salt brings out the sweetness of the fruit, similar to how it does with chocolate. This recipe calls for seasoning the dressing with salt and freshly ground black pepper, but odds are, if you're like me, you'll be wanting another sprinkle or two, too.
There are several varieties of fresh mozzarella balls you can readily find at your local grocery store's finer cheese section. I prefer Wisconsin's Bel Gioioso mozzarella balls. For this recipe I chose their pearl size to add variety in size and contrast to my melon balls. You could use the more available ciliegine, but I would suggest you halve the balls first to make them go farther in the salad.
Prosciutto is a style of dry-cured Italian ham, very thinly sliced and quite delicate. I get my favorite brand at Costco (surprise! Costco wins again!) because I can get two packages for the price of one from the grocery store. It comes with paper dividing each supple slice as they have a tendency to melt together. Salty prosciutto is easy to tear and add to the salad, adding a subtle smokiness that perfectly compliments the sweetness of the cantaloupe and the honey-laced dressing.
If you make this recipe, please let me know! Leave a comment below or take a photo and tag me on Instagram or Twitter with #foodiecrusheats.  
Print
Cantaloupe and Mozzarella Caprese Salad
Ingredients
1

cantaloupe

halved and seeded

1 8-

ounce

container mozzarella balls

I used pearl size balls

8-10

slices

prosciutto

shredded into large pieces

1/4

cup

basil leaves

thinly sliced

1/4

cup

mint leaves

thinly sliced

3

tablespoons

extra-virgin olive oil

1 1/2

tablespoons

honey

1

tablespoon

white balsamic vinegar

Kosher salt and freshly ground black pepper to taste
Instructions
Use a melon baller to scoop balls from the cantaloupe halves and add to a large bowl. Add the mozzarella balls and the torn prosciutto. Sprinkle with the basil and mint leaves.

In a small bowl, whisk the olive oil, honey and white balsamic vinegar together and season with kosher salt and freshly ground black pepper. Drizzle over the cantaloupe and toss to coat. Season with more salt and pepper and additional herbs to taste.
Excuse Me, Tomato Who?
Are you like me and still waiting for your tomatoes to flourish into full-fledged caprese capacity? If so, here are a few alternatives to show those tomatoes they aren't the only fruit on the menu.
Peach, Heirloom Tomato and Burrata Salad
The lazy day of summer are the perfect excuse  to slow down and savor each and every bite of burrata.
Get the recipe | A Couple Cooks
Cherry Caprese Salad with Toasted Almonds & Smoked Sea Salt
These cherries and almonds go together like Bonnie and Clyde with mozzarella sneaking in to steal their stash.
Get the recipe | Yes to Yolks
Blueberry Caprese Salad
This salad is a symbol of spontaneous combustion. Rocket fuel!
Get the recipe | Love and Olive Oil
White Bean Caprese Salad
A simple salad with a boost of fiber. Who needs grape nuts when you can have this?
 Get the recipe | Skinnytaste
Watermelon Peach Caprese Salad
More fruit! More caprese! Bring it.
Get the recipe | Joy the Baker
Happy salading friends!
As always, thank you for reading and for supporting companies I partner with, which allows me to create more unique content and recipes for you. All opinions are always my own.  
Are you following me on Instagram, Twitter, Facebook and Pinterest? 
Thanks for reading and subscribe to FoodieCrush to have each post delivered straight to your e-mail box.