Hoist up the flag folks, it's time to celebrate the 4th of July with a round-up in honor of our 50 states with 50 Red White and Blue Recipes.
Shish. Boom. Bang.
My dad was always the fire starter in our house. He would travel across state lines (shhh, don't tell anyone) to buy fireworks that weren't always, um, sold in our state. I'm not really sure where his fascination with fireworks stemmed from, I'll have to ask him and let you know.
The ironic part of all of this is his nickname at work was "Safety Dave", where he was in charge of a bunch of people teaching and preaching how to be safe and stay out of trouble. This was the same man that when nighttime drew near could be seen running down the street in his flip-flops after lighting fireworks for those of us at a safe distance to witness.
While he ultimately deemed safety a top priority, he always made sure there was a show to be had.
I'm taking his show of patriotic grandeur to the picnic/beach/folding table with this round-up of 50 Red White and Blue Recipes. 50 states, 50 recipes. A big thanks to my sister for pointing out that connection. She's not just cute, she's smart too.
If you're thinking that just may not be enough to inspire you for cooking it up for the 4th of July, you must check out Jessica's list of  70 Recipes for the 4th of July and take a gander back at Lori's list of 100 Red White and Blue Recipes from a few years back, still ripe with stellar recipes that stand the test of fire cracking time.
Have a happy, and safe 4th of July above all, have a bang up time eating it up too. Like Jessica says, calories don't count on the 4th, do they?
Red White and Blue Pie Cake from yours truly
Double Berry and Coconut Pops from Faith at An Edible Mosaic
Sangria in Rosé, Bourbon and Blue from Brenda of A Farm Girl's Dabbles
Strawberry Shortcake Three Ways by Krista with Budget Gourmet Mom
Mini Strawberry Short Cakes from Noami at Bakers Royale
4th of July Ice Cream Cones from Roxanna at Roxana's Home Baking
Red White and Blue Mini Fruit Pizzas from Ashley at Wishes and Dishes
Independence Sandwich Bread from Dough Puncher
Red Velvet Pancakes with Coconut Syrup and Blueberries from Angie at Eclectic Recipes
Summer Berry Crostini with Lemon Honey Ricotta from Monique from Ambitious Kitchen
Red White and Blue Berry and Jello Parfaits from Kelley at Mountain Mama Cooks
Red White and Blue Sliders from Lauren at Lauren's Latest
Strawberry S'mores from Shelly at Cookie and Cups
Patriotic Salad from Marina at Yummy Mummy Kitchen
Raspberry, White Chocolate and Blueberry Tart from Zoe at Zoe Bakes
Strawberry Yogurt Bruleé from Annalise at Completely Delicious
Flag Cupcakes from Bree at Baked Bree
Red White and Blue Salad from Meseidy at The Noshery
Strawberry Shortcut Doughnut Muffins from Kevin & Amanda
4th of July Toast from Deb at Taste and Tell
Lightning Bug Cocktail from Barb at Creative Culinary
All-American Cake from Shawn at I Wash You Dry
Triple Berry Gingersnap Granola Yogurt Parfait from Dara at Cookin' Canuck
Mixed Berry Clafoutis from Averie Cooks
Grilled Cake Donuts with Berries from Sandy at Reluctant Entertainer
Red, White and Blue Pinwheel Icebox Cookies from Kelly at Just a Taste
Lemon Curd Berry Trifle from Carrian at Oh Sweet Basil
Brownie and Fruit Kabobs from Mel at Mel's Kitchen Cafe
Blue and White Potato Gnocchi with Fresh Red Tomato Sauce from Lori at Fake Food Free
Grilled Blackberry, Strawberry, Basil and Brie Pizza Crisps from Tieghan at Half Baked Harvest
Tye-Dye Cake (and Cupcakes, too) from Sally's Baking Addiction
Red White and Blue Berry Pie from Eat to Gather
Red White and Blue Chocolate Dipped Strawberries from Barbara at Barbara Bakes
4th of July Cookies from Tessa at Handle the Heat
Red White and Blue Funfetti Sandwich Cookies from Maria at Two Peas and Their Pod
Patriotic Cupcakes from Climbing Grier Mountain
Stained Glass Jello from Ali at Gimme Some Oven
Pavlova from Robyn of Add a Pinch
White Wine Drenched Fruit Salad from Laurie at Simply Scratch
Homemade Rock Candy from Nikki at Seeded at the Table
Red White and Blue Vanilla Bean Spritzers (non-alcoholic) from Shanna at Pineapple and Coconut
Red White and Blue Deviled Eggs from Created by Diane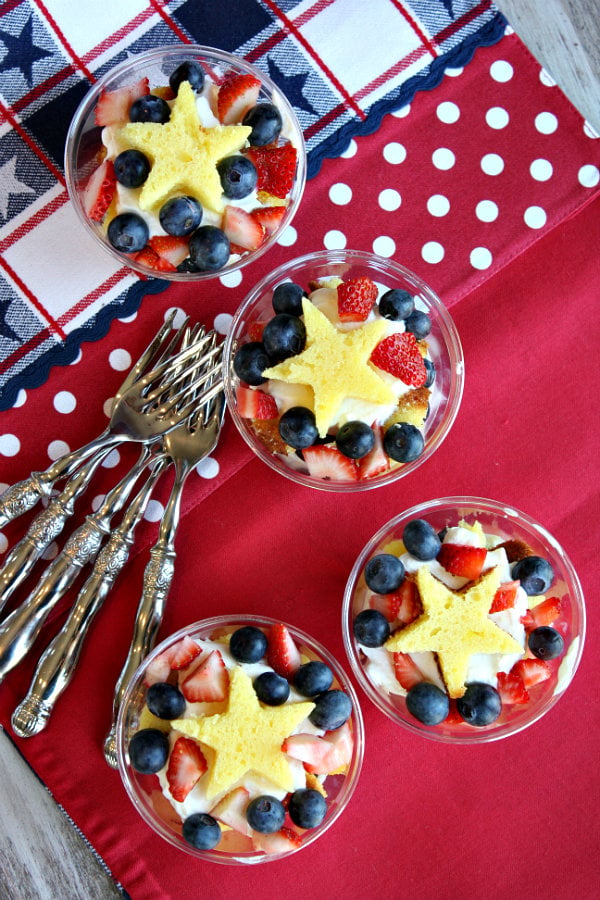 4th of July Fresh Berry Trifles from Lori at Recipe Girl
Red White and Blue S'more Pies from Angie at Big Bear's Wife
Mixed Berry Streusel Muffins from Liren at Kitchen Confidante
Strawberry Mojito from Kristen with Iowa Girl Eats
Summer Berry Cream Cheese Pie from Heather at Curly Girl Kitchen
Tutti Frutti Popcorn from Marla at Family Fresh Cooking
4th of July Strawberry Blueberry Poke Cake from Katie at Dashing Dish
Red White and Blue Salad from FoodieCrush
HAVE A BANG-UP 4th OF JULY!
Thanks for reading and please keep in touch by subscribing to FoodieCrush and follow me on Twitter, Facebook and Pinterest. Thanks for supporting my partners which allows me to create new and special content like this for my you. As always, all opinions are my own.