One Pot Meals are a weeknight saving grace, and here are 20 delicious, easy recipes you'll want in your dinner rotation!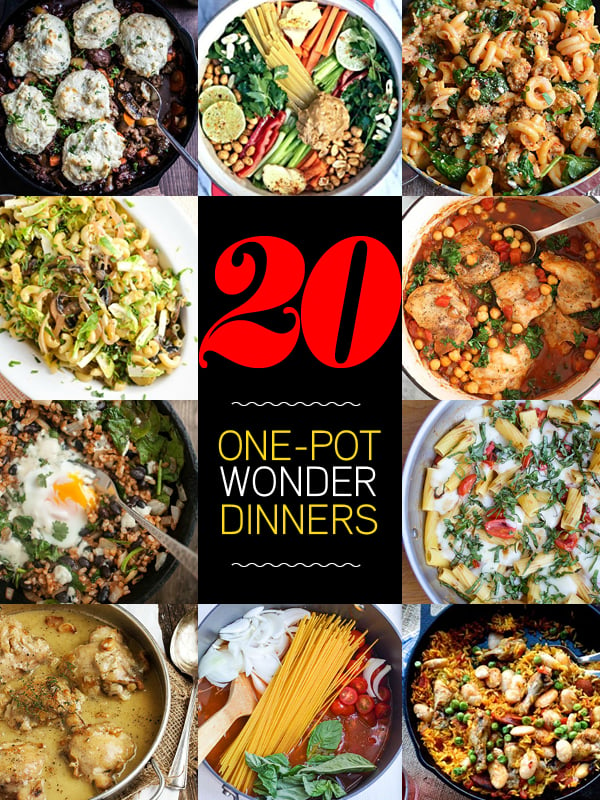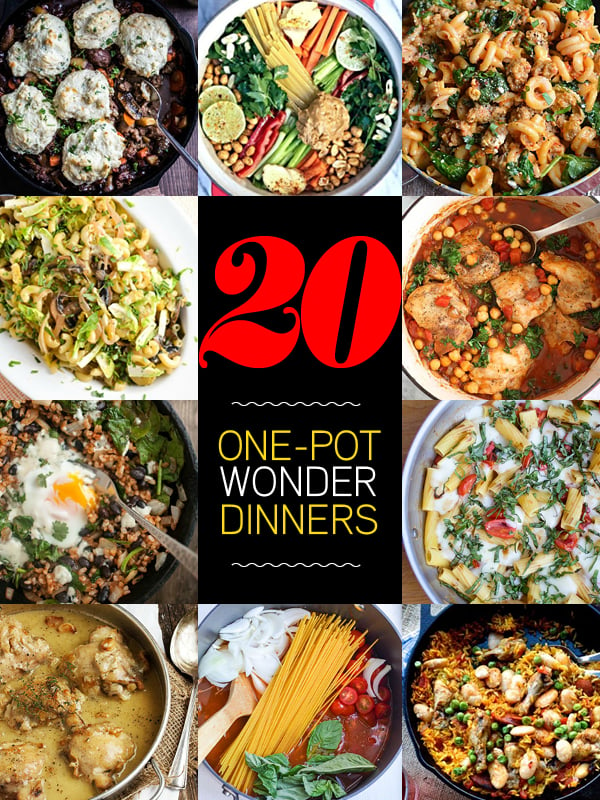 One-pot meals are the saving grace for busy home cooks everywhere and make the dish washer that much happier. FoodieCrush contributor Hayley Putnam shares 20 of our faves from across the www. 
I have a confession to make. I dirty a lot of dishes when I'm cooking. Enough to warrant teasing from my husband, who's such a good sport about doing the copious dishes I regularly seem to accumulate. Every spoon, whisk, bowl, and knife are at my mercy…and eventually his, by default.
We've been sick with colds, and cooped up inside due to ice and snow, so we wanted something simple and low-maintenance for dinner the other night. Since I have a knack for inadvertently choosing the most time and labor-intensive recipes to attempt mid-week, this seemed like the most sensible solution. A simple, no-nonsense weeknight meal to warm us up and fill our bellies.
So when we tried Rachel Schultz's One Pot Spaghetti, my husband was in heaven. Everything cooks in one pot. Just one!
We were skeptical at first, never having cooked spaghetti outside of a pot of boiling water. How would this work? It was so unfamiliarly convenient it made us nervous. But alas, once we lifted the top of our Dutch oven, we were greeted by a bubbling, aromatic mixture with wonderfully al dente noodles.
While we were away, the noodles had mingled happily with the fragrant basil, garlic and tomatoes. By cooking them with the other ingredients, their starchiness yielded the creamiest sauce (one we might not have achieved had we cooked them separately).
It was magic. And it was delicious, and easy, and did I mention it all came together in just one pot?
How I previously managed to avoid the wonders of one-pot meals is beyond me. Suffice it to say, they're going to become a regular part of my weeknight dinner routine, and there will always be more dirty dishes…next time.
One Pot Spaghetti from Rachel Schultz
One Pot Roasted Red Pepper and Sausage Alfredo from Host the Toast
Rustic Chicken with Garlic Gravy from Seasons & Suppers
Sunday Beef Stew from The Foodie Physician
Easy Chicken Chorizo Paella from The Woks of Life
One Pan Caprese Pasta from Yellow Bliss Road
One-Pot Beef Curry with Spinach & Cauliflower from Supergolden Bakes
Tabasco Braised Chicken with Chickpeas and Kale from FoodieCrush
Mexican Skillet Dinner from French Press
One-Pot Pasta Primavera from Oh My Veggies
One-Pot Paprika Chicken Thighs from Reluctant Entertainer
Ginger, Beef, Mushroom & Kale Stir-Fry from Gimme Some Oven
Sautéed Chicken with Olives, Capers and Lemons from FoodieCrush
Creamy Mushroom, Brussel Sprout, and Goat Cheese Pasta from Things I Made Today
Tuscan Chicken Skillet from Shrinking Single
One-Pot Wonder Thai Style Peanut Pasta from Apron Strings
Lemon Chicken Fettuccine from Diethood
Sausage Biscuit Skillet with Guinness from Jelly Toast
Baked Chicken with Orzo from Lemons for Lulu
Chipotle Black Bean, Rice and Egg Skillet from Naturally Ella



This recipe round-up was curated by FoodieCrush contributor Hayley Putnam. Follow her foodie tastes and other flights of fancy on Pinterest and Instagram. 


Hey, thanks for stopping by and visiting FoodieCrush. Have something to say? I'd love to hear from you. Let me know in the comments below.
Make it a great day and cook something good.
As always, thank you for reading and for supporting companies I partner with, which allows me to create more unique content and recipes for you. All opinions are always my own.  
Are you following me on Instagram, Twitter, Facebook and Pinterest? 
Thanks for reading and  subscribe to FoodieCrush to have each post delivered straight to your e-mail box. 
SaveSave