It was the tiger sauce topping these beef steak sandwiches that pulled him in and took the rest of us right along with him.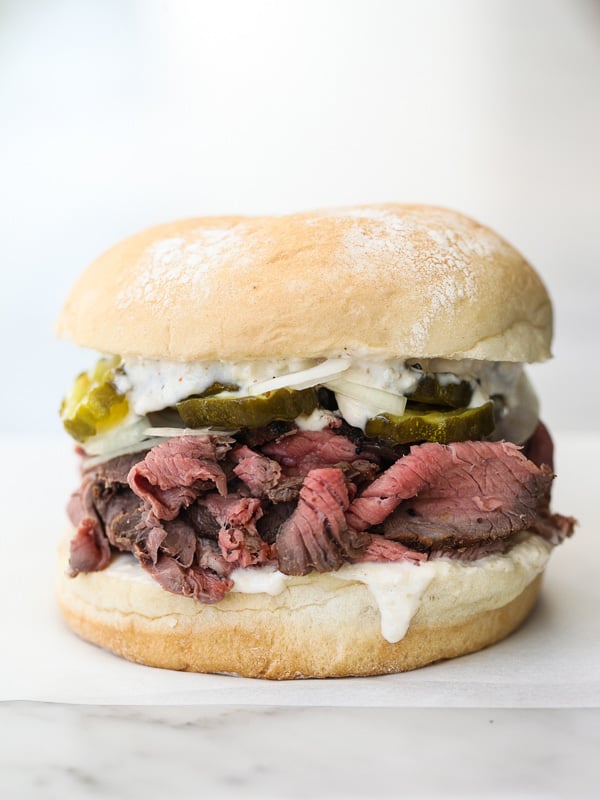 Watching cooking shows on weekend mornings is how my husband and I ease into the reality that in a wink of an eye we'll be smack dab in the middle of Monday. Oh, how we rue the day (fist shake at the sky).
It's also the way we figure out what's looking good on the Casa de Larsen menu for the week and usually my husband decides on at least a few of the recipes because we share time in the kitchen. See, I don't always have to be in charge.
We get our fair share of episodes on Food Network, but you simply can't forget about good old PBS and some of the long-loved cooking shows that have outlived many an episode's kitchen timer like those featuring the 80-year-old Jacque Pepin and Lidia Bastianich and yes, even the doyenne herself, Martha Stewart.
If you're any sort of food lover in the kitchen you've likely run across America's Test Kitchen and Cook's Country on PBS. What a set up these guys have in their sweet countrified-porch-wrapped kitchen that makes you feel right at home so pull up a chair.
They do the testing. Lots of it. They work the recipes until they discover the secret to it's success. And only then do they share it in all it's glory. And Christopher Kimball…in his trademark bow tie. If you have a thing for a guy in a bow tie, this is your man.
These Sirloin Steak Sandwiches were a featured player a few weeks ago. They called them Baltimore Pit Beef Sandwiches. We simply called them delicious.
The Cook's Country crew informed us that Baltimore is well known for it's beef, and while I don't think I've ever actually met anyone from Baltimore (hello? are you out there? say hey if you are!) this meat with it's medium rare pinkness and crusty outsides was heaven on a bun.
My husband is a pretty dang good wielder with the knife and did a fine job of shaving the meat once it was cooked. Slice it thinly my man so I can sneak in and pick at the pieces that are simply too thin to grace a sandwich. As if.
What I probably the love most about any beef, steak, prime rib or the like is a big old smattering of horseradish sauce. The horsey sauce makes this sandwich like an Arby's roast beef on steroids. And with crunchy sweet onions and our addition of bread and butter pickles, every bite is better than the next.
About the recipe:
I think these steak sandwiches would be fantastic for a tailgate because they could be grilled right there in the parking lot while watching all the whacky fans walk by. They'll be so jealous. Or even for just propping up in front of the TV in your favorite worn out armchair to cheer the San Francisco 49ers on to victory. Because that is your team, right? RIGHT?
The sirloin steak is rubbed down with a seasoning mix of salts and spices and placed in the refrigerator for several hours to work into the meat. Plan your timeline accordingly.
Cook's Country suggests cooking the meat indirectly on the grill on a piece of aluminum foil that is folded to create a wall, separating it from the high heat and then once it comes to temperature to give it a quick sear to seal in the juices and char the exterior. We started off the recipe this way but after about 40 minutes and the steak had yet to get anywhere in the realm of the final temperature, we pulled off the aluminum foil and put it directly onto the grates. My man then made sure to turn the sirloin roast often, every 10-15 minutes, so it had an even sear. It turned out just fine this way.
Once you've pulled the roast from the grill, cover it with aluminum foil and allow it to rest for 20 minutes. Then slice it super thin so you can pile it high on a fresh bun. And the tiger aka horseradish sauce should be added liberally. Seriously, it makes the sandwich.
If you have leftover meat, there are plenty of ways to use it in new recipes since it doesn't have any heavy sauces or flavorings that might not convert to another dish. We added sliced onions, green pepper and mushrooms to the leftover shaved meat, made some au jus and had the best French dip sandwiches. Or use the meat in enchiladas or make a Korean beef bowl with Asian style veggies and brown rice.
Or like my man, make a simple roast beef sandwich topped with fresh veggies in between two slices of soft, white bread for lunch with a healthy side of potato chips.
Print
Sirloin Steak Sandwiches with Horseradish Sauce
Ingredients
For the Sirloin Steaks
4

teaspoons

kosher salt

2

teaspoons

paprika

2

teaspoons

freshly ground black pepper

1

teaspoon

garlic powder

1

teaspoon

oregano

½

teaspoon

cayenne pepper

3-4

pound

sirloin beef roast

8-10

kaiser buns or other soft white bun

Sliced sweet onions

Bread and butter pickles
For the Horseradish Sauce (Tiger Sauce)
½

cup

fresh ground horseradish

½

cup

mayonnaise

1

clove

garlic

, minced or pressed

½

lemon

. juiced

pinch

of cayenne

kosher salt and freshly ground black pepper
Instructions
Mis the kosher salt, paprika, pepper, garlic powder, oregano and cayenne pepper in a small bowl.

Trim the fat cap off of the roast and cut it in half. Rub each of the halves with half of the seasoning mixture, massaging it into each side of the roast. Wrap with plastic wrap and refrigerate for 1-24 hours.

Preheat the grill on high for about 10 minutes.

Rub the roast with the remaining seasoning mix. Sear the roast on all sides. Turn off one side of the grill and place the roast on the side that the burners are off so the roast will cook over indirect heat. Turn every 10-15 minutes or so.

Cook the sirloin roast for about 1 hour or until the internal temperature measures 140 degrees or medium rare.

Cover with aluminum foil and rest for 20 minutes. Slice the beef very thinly. Slather both sides of the buns with the tiger/horseradish sauce, top with sliced beef, sliced onions and pickles. Serve warm or at room temperature.
Thank you for reading and supporting companies I partner with, which allows me to create more  unique content and recipes for you. As always, all opinions are my own. 
Are you following me on Instagram, Twitter, Facebook and Pinterest? Thanks for reading and  subscribe to FoodieCrush to have each post delivered straight to your e-mail box.