This past weekend I allllmoooost could have posed as a hipster. If I was 15 years younger and dressed a whole lot cooler. I mean hipper. I mean I don't know what is better, cooler or hipper to say these days. And if I had a full blown beard—thank God it hasn't come to that, YET. And liked to listened to those bands that like to harmonize as if they're stuck in a time warp and have just emerged from 1976 retromania ala Crosby Stills and Nash.
No, I wasn't in Brooklyn or Venice, CA. That is soooo two weekends ago.
This past weekend I was in yet another favorite haunt of all things hip yet no need to be humble, the great city of Austin, Texas for the Blogher Food blogging conference. Not that EVERYONE in Austin is a glorified hipster, but it certainly has its fair share mixed in thanks to the outrageously delicious food trucks, crazy good music scene and a few traditional cowboys along the way.
Food bloggers vs. hipsters vs. cowboys. Not sure who won the sterotype title for the weekend but it sure was fun eating and greeting my way through it.
I'll have a more visual recap of the conference on my Friday Faves post this week, but I wanted to get this recipe out because a lot of people have been asking about it. It is that good.
You all know I like cheese. It really isn't a secret, one I'm proud to sport and support and lucky for me I have a great partnership with Wisconsin Cheese where I create recipes for them, get to tour the creameries Midwest farms and meet the nicest cheese makers and happiest cows.
See, here's proof of how Midwest dairy farm cows make such great milk that makes such great cheese. I made this little video after my visit last year to Wisconsin where I toured and ate some of the best—aka award-winning—Wisconsin creameries, including Wisconsin's own Bel Gioioso's Burrata, a 2013 U.S. Championship Cheese Contest 1st Place Best of Class Winner.
When Wisconsin Cheese decided to be a sponsor at Blogher Food they wanted to give the attendees a little something to nosh on during their morning, something cheesy. So they asked me and my friend Kelley to each come up with a recipe to share.
While Kelley created the terrific and unique pairing of Wisconsin Gouda and Chai Spiced Granola, I was inspired by my burrata bombs and thought a little breakfast crostini might be in order. Welcome to my cheese lair you lovely Nectarine and Wisconsin Burrata Bite Crostini.
As you've seen if you follow the blog, I'm a big fan of burrata cheese like in my Burrata and Roasted Asparagus and Tomato Salad and my Burrata and Quinoa Caprese Salad. So what is burrata? It's a fresh Italian cheese that has an outer shell of solid mozzarella with a soft inside that is a combo of cream and mozzarella. It's the cheese version of a lava cake once you break it open.
Now, cheese crostini with a balsamic glaze isn't necessarily mind blowing. BUT, this little baby is special.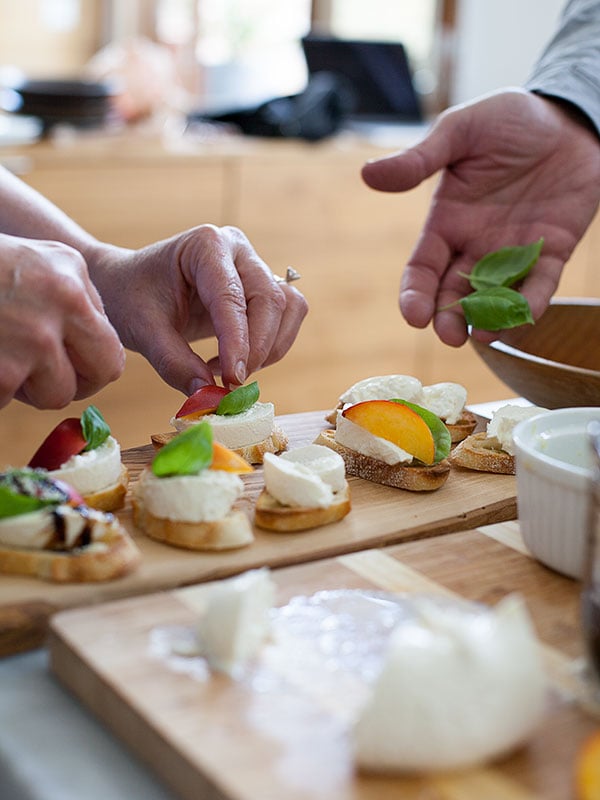 First, you have burrata cheese. We've discussed, we've reminisced. We've burrata bombed. While burrata is not always easy to find in every grocery store—yet— it will become more readily available as soon as there's demand. So let's hear it people, fight for your right for burrata! Until then, you can order Burrata cheese online here.
Second, you have a gooey reduction of balsamic vinegar and honey that when cooked down becomes more like a lovely, sweetened syrup.
Third, fresh stone fruit. You could easily substitute peaches, plums, apricots, whatever stone fruit fits your fancy. Just make it ripe and juicy.
And finally, the coup de grace, an infused basil and lemon sugar that is sprinkled upon the hunks of basil drizzled nectarine topped burrata that adds the unique, sweet offset to the balsamic reduction and creates a perfectly balanced bite. In my humble opinion of course. And a whole lot of peeps at Blogher Food who got to sample the goods.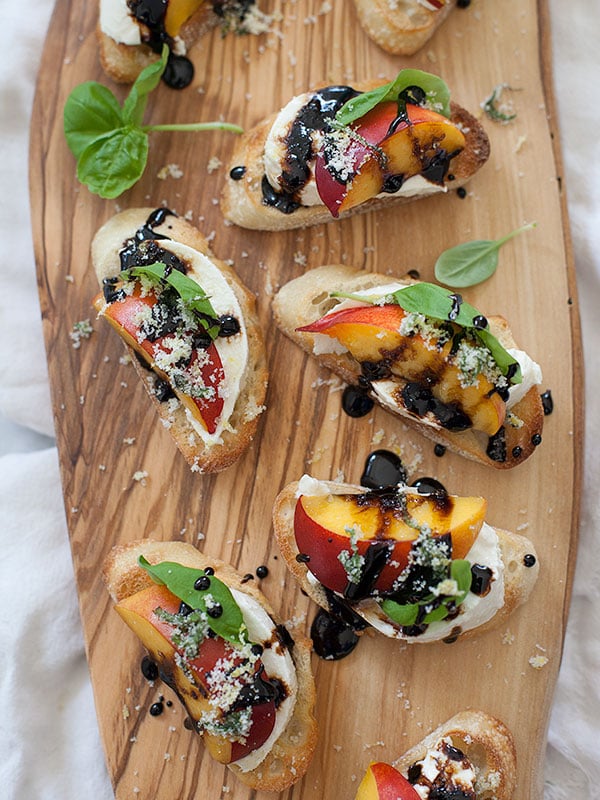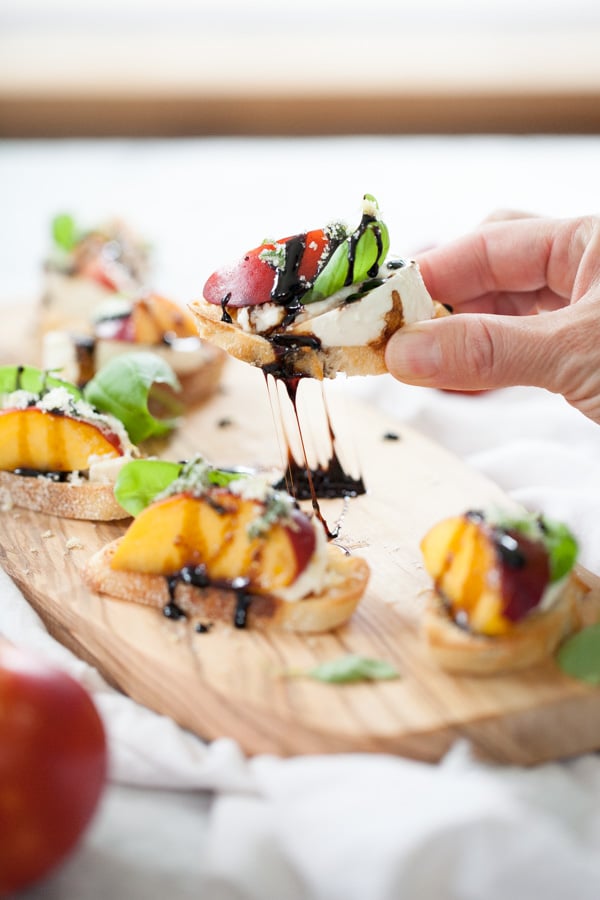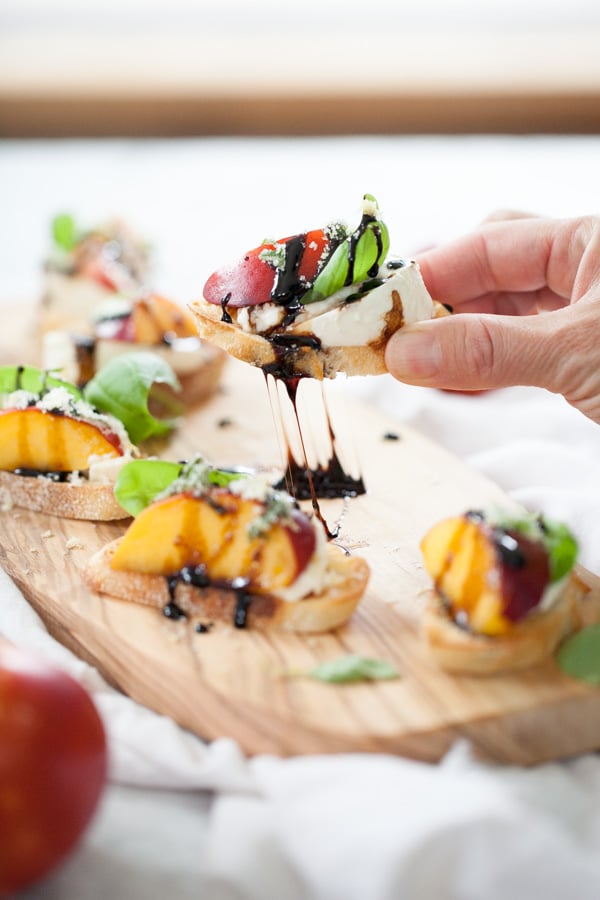 It's okay to take a big swallow to push the mouth water that just accumulated on the top of your tongue after looking and thinking about how gooood this recipe is. But you should really decide for yourself.
Get a downloadable PDF of my Nectarine and Wisconsin Burrata Bite Crostini recipe at Wisconsin Cheese Love, along with Kelley's recipe for Wisconsin Gouda and Chai Spiced Granola, Wisconsin Parmesan Chocolate Truffles and other great recipes. Just go the link above and click the Blogher Food Recipe tab at the top of the page.
Print
Nectarine and Wisconsin Burrata Bite Crostini
Ingredients
1

cup

balsamic vinegar

¼

cup

honey

⅓

cup

granulated sugar

Zest of 1 lemon

24-28

whole basil leaves

plus 1 ½ tablespoons thinly sliced

½

baguette

sliced in ¼-inch thick slices

2

tablespoons

extra virgin olive oil

1

ball Wisconsin Burrata

drained

1

nectarine

pitted and sliced into thin wedges
Instructions
Preheat oven to broil.

In a small saucepan, combine vinegar and honey. Bring to a boil, then reduce heat to low and simmer for about 25 minutes or until mixture has reduced by half. Raise temperature to medium-high and cook for another 5 minutes, until thickened to the consistency of syrup, whisking continuously so mixture doesn't burn. Remove from heat and set aside.

Combine sugar and lemon zest in a small bowl and mix together. Add the thinly sliced basil leaves, mix to coat, then set aside.

Arrange baguette slices on a large baking sheet, brush the top with oil and toast in the preheated oven for 3-4 minutes or until toasts are golden. Remove and let cool.

Gently slice Burrata ball in half, then slice into wedges and place on baguette toasts. Nestle a wedge of nectarine in a basil leaf and place on top of Burrata. Drizzle with reserved balsamic glaze and sprinkle with lemon sugar. Serve at room temperature.
I'll be sharing a few more things I learned from Blogher Food this Friday in my Friday Faves post so check back then to discover a few more nuggets of goodness.
As always, thanks for your support and reading the blog and magazine and get ready for a summer issue of FoodieCrush to celebrate the official days of tasty cooking.
Disclosure: I received a travel stipend to attend Blogher Food and represent Wisconsin Cheese. Thanks to everyone who stopped by, said hello and tried my recipe.
Thanks for reading and please keep in touch by subscribing to FoodieCrush and follow me on Twitter, Facebook, Pinterest. This site includes affiliate shopping links of which I receive a small percentage of sales to allow me to create new and special content like this for my readers, so thank you for your support. All opinions are my own.