Holiday gift giving calls for sharing your favorite things. Just ask Oprah.
One of my holiday traditions is delivering gifts to the neighbors, something to make their day a little better, a little brighter and a lot creamier.
And to be completely transparent, it doesn't hurt to build a little good will for those times we forget to bring in the garbage cans, or when my husband's outdoor speakers are left on all night, because let's face it, not everyone likes to slumber the summer nights away to Led Zeppelin. Hand held high!
And that's why this year I'll be delivering a Mac 'n Cheese Gift Basket to some of my favorite friends in the 'hood. It's a gift that's perfect for families in need of an easy meal after hitting the school holiday sing along or for contributing to the cheesy spirit at the neighborhood Ugly Sweater Party. Whoa, pun totally intended! Cheesy.
A Tisket, A Tasket, A Mac 'n Cheese Basket
This basket brings together some of my favorite things (cue to you again, Madame O) and stars Wisconsin Cheese.
The "basket" is truly functional and has all the fixins' for a killer mac and cheese party. I place it all in a simple white baking dish that works for every occasion and a fun holiday towel helps with clean up. Then it's time to add in a few helpers for cooking: a package of my favorite shell pasta nestled in a brightly colored strainer, a cheese grater for the ultimate meltable cheese, my favorite balled whisk that won't scratch the saucepan, and little holiday ornament to send some cheer. 
Fiesta 9 X 13 rectangular baker / Calypso 3-quart strainer /  Cuisipro 4-sided box grater /  Crate & Barrel red textured terry towel /  WMF silicone ball whisk / Delallo Foods pasta shells 
Next I assemble a few melty Wisconsin cheeses, like Swiss-style Emmentelar, melty gouda and Montamore. Then, for added flavor, I toss in an aged cheddar and salty Parmesan. They'll all gel together for a great Mac & Cheese dinner, or a weeklong snackfest for sandwiches.
Where to Find Wisconsin Cheese
But what to do if you're not in Wisconsin?
It's easy and deliverable right to your door thanks to School House Artisan Cheese. I can order my favorite artisan cheeses from some of the award winning cheesemakers I've met on my visits to Wisconsin like Joe Widmer of Widmer's Cheese Cellars and Sid Cook of Carr Valley Cheese. And I'm telling you, you're not going to want to miss the Marieke's Foenugreek Gouda, with nutty little foenugreek seeds in each delicious bite.
School House Artisan Cheese is offering 10% off all of their cheese gift boxes and mail order cheese now through December 31. Simply enter "share2014" at check out.
Editable and Printable Recipe Card Download
The final piece of this Mac 'n Cheese puzzle is to deliver a recipe to entice the neighbors along with the fixins. I've created a downloadable recipe card for you to fill in either in your own personalized handwriting, or I've created it as a form that you can fill in with Adobe Acrobat.
To download the editable 3 X 5 recipe card above, click here.
To edit the recipe card and fill in the recipe on your computer, simply open in Adobe Acrobat and place the type cursor in the blank areas. A cursor will appear for you to begin typing your recipe. Save and print.
*NOTE: If you download the recipe card image and don't go through the CLICK HERE LINK above, the recipe card is not editable. But feel free to handwrite to make it all the more personable.
Mac 'n Cheese Recipes Sure to Impress
Use your own favorite Mac 'n Cheese recipe or maybe you'll consider one of mine, like:
My weeknight favorite Stovetop Pesto Macaroni and Cheese with Corn and Sun-Dried Tomatoes,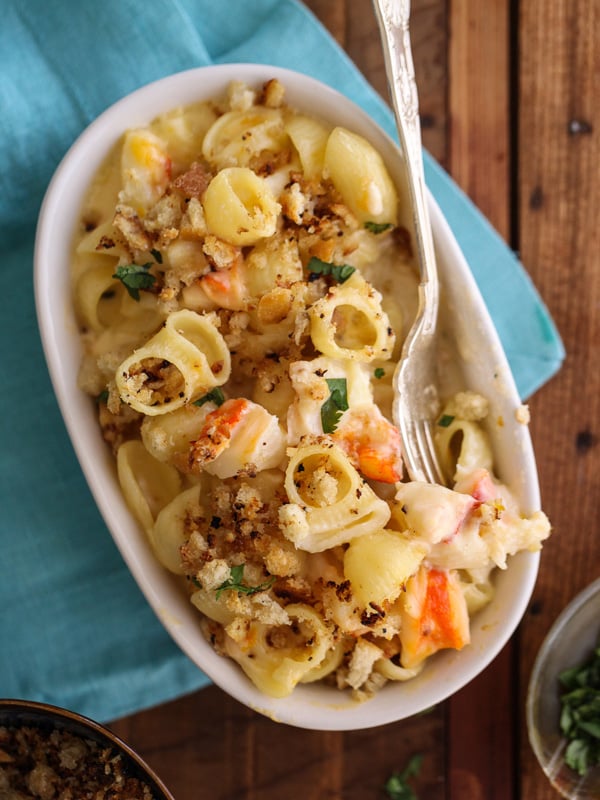 Comfort food that is sure to impress with my Lobster Mac 'n Cheese,
Or put yourself in a cheese coma with the ultra luxe, super cheesy Obsessed with Cheese Mac and Cheese. 
I know, right? I mean, who wants to be my neighbor now? Led Zeppelin and all?
More Cheese Gift Ideas
I was asked by Wisconsin Cheese to create this basket for their holiday issue of Grate. Pair. Share. Mine is  just one of the cheese giving gift ideas among those from a few of other food blogging friends, like:
Homemade Cheese Spread Gift Basket from Little Rusted Ladle
Wisconsin Cheese Board Gift Basket from Annie's Eats
Fondue Gift Set from The Law Student's Wife's
Check it all out in the holiday issue of Grate. Pair. Share. below.
What Mac 'n Cheese recipe would you want to share—or better yet, to receive—this holiday season? Would love to hear in the comments below.
If you give a Mac 'n Cheese basket or use the recipe card to share a recipe, please let me know! Leave a comment below, or take a photo and tag me on Instagram or Twitter with #foodiecrush! 
Make it a great day friends, and cook something good.
XO, Heidi
This post is sponsored by Wisconsin Cheese. As always, thank you for reading and for supporting companies I partner with, which allows me to create more unique content and recipes for you. All opinions are always my own.  
Are you following me on Instagram, Twitter, Facebook and Pinterest? Thanks for reading and  subscribe to FoodieCrush to have each post delivered straight to your e-mail box.