Pop the champs and break out the Yahtzee. Here are the top 5 reasons we're celebrating at Casa del Larsen this week.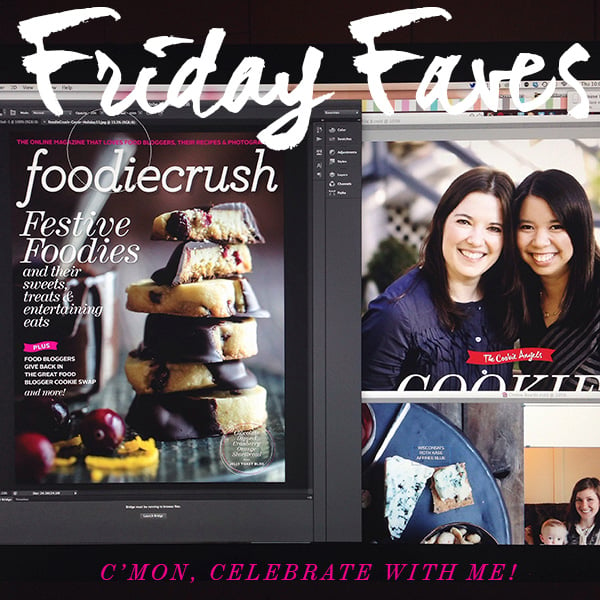 #1 reason to celebrate, and the most important, is my husband and I celebrated another wedded bliss anniversary. How many years? Let's just say we gave each other china last year (as in a trip to Chinatown.)
#2 So what did I get him this year? I birthed him a magazine. Another reason to celebrate! As you can imagine, he was thrilled. No seriously, he was.
And so am I. Many, many and even many more thanks again to all of you who participated in the Holiday 2013 issue of FoodieCrush mag, to those who read it, shared it, entered the killer giveaway and hopefully will be baking from it. You all are the only reason I keep creating it, and I'm so appreciative you spend your valuable time perusing it. Please be sure to visit the link throughs to the bloggers sites within it's pages, there are so many great foodies doing great work and they would love to count you as a new fan.
#3 reason for celebrating was an email from reader Katrina who won this giveaway. She let me know she printed the entire new issue out and shared it with her friends last night over wine. Oh how that makes me feel good. Wine, cookies and blog crushing. I think I'll join her now.
#4 The Summer 2013 issue of FoodieCrush magazine to date has almost 1,000,000 views! I know! Can you believe it? For some blogs that's just normal, but In magazine speak, that's a lot of views. So I'm counting on you to help me spread the word about this issue and push us past even that amazing stat.
And #5 is…
#5 We're celebrating our anniversary/magazine debut/it's-Christmas-spirit-and-we-need-some this weekend with a quick jaunt to our favorite city with Smudge in tow. Yes, she's going with us on our belated anniversary trip. Why take the kid? Hey…we had almost 13 years to have fun without her so we're loving every minute of seeing things through her eyes before the pre-teen monster comes to town. Follow me on Instagram to see where we're heading to.
Happy Friday, and here's some faves.
1. Happy stuff always makes me cry. Three tissue alert.  This video is so the RIGHT way for companies to create viral campaigns. I've never even heard of the airline but you can bet I'll be looking for them now.

2. I'm joining a group of bloggers for a really, Really, REALLY fun giveaway this weekend and this is one thing you'll find on my list of favorite stuff I'm giving away to make your holidays just a little more cheeky.
3. Need some last minute gifting ideas? Check out this Pinterest board with a bunch of Pinned ideas from some serious shopaholic bloggers.
or…
4.If you're a gold lover like me, put anything from here on my your list. (psssst…if you like this you're going to LOVE my giveaway this weekend.)
and…
5. My latest non-food blog crush. Let's be frank, I'm totally stalking her blogness.
6. Instagram Direct, for when you want only your closest 15 friends to see what a dork you are.
7. Getting on this > The top 3 downloaded Lightroom presets.
8. I don't really want to tell you because I don't want YOU to get a ticket, and then I'M left to stalking everyone's fun through an Instagram hashtag while I feel sorry for myself with a bottle of wine. Buuuuut…these go on sale on Monday. Okay. I did it. See you there? Oh, I hope so…
9. Putting this into action >  The two thing to-do list.
10. My sister's a geologist. I bet she'd 'dig' these pretties for her cocktail hour. Geologist humor.
11. What a fun behind the scenes and walk through a food photoshoot and food styling 101. I don't use vaseline either. Ew.
12. These DIY fancy filled ornaments would make a super fun holiday project with the book club once the books are put away and the wine starts flowing. Now I need to find a book club.
13. Because who doesn't need a neon unicorn glitter dispenser?
14. Did you know you can send money via G-mail?
15.Ha! These sawlt and peppa shakers. Dispensers with attitude.
16. 10 signs you're a healthy hipster. #2 and #10 are me for sure, but you'll never see me doing #6. Maybe I'm a half hipster.
17. I moved my Meyer lemon trees inside, just before the new fallen snow decimated my garden and they're flourishing! Here's why.
18. For the ice cream lover who has everything.
19. This week's recipe crush: Ooey. Gooey. Red Velvet recipes to satisfy your red cravings. Until Valentine's Day.
Move over cookies. Hold on cake. Meet the most original red velvet recipe of all. There's a reason this has been pinned over 81,000 times. TheRed Velvet Cheese Ball from Taste and Tell.
I'm a crinkle novice. Maybe these Red Velvet Cookies from Tidy Mom could put me on the RVC path.
Cream cheese frosting. Done. Red Velvet Cupcakes with Vanilla Cream Cheese Frosting from Averie Cooks.
And more cream cheese, but in a round about way is. what. is. Red Velvet Swirl Bundt Cake from A Beautiful Mess.
Oh, that frosting drizzle. Just bring that drizzle over here, straight into my mouth! Red Velvet Shortbread Cookies from Baked Bree.
Snow days call for snow cookies. Red Velvet Christmas Snowflake Cookies from Created by Diane.
What? 3 ingredients? Sign me up. 3 Ingredient Red Velvet Chocolate Cookies from Oh, Sweet Basil.
20. Don't miss entering two giveaways on the blog this week, one for a $250 VISA gift card and the other for a delicious and organic sweet treat to keep or share.
Catch ya'll on the flip side.
As always, all opinions are my own. Thanks for supporting companies I partner with, which allows me to create more unique content and recipes for you. 
Are you following me on Instagram, Twitter, Facebook and Pinterest? Thanks for reading and  subscribe to FoodieCrush to have each post delivered straight to your e-mail box.