Well, we're here. The final countdown to Santa's sleigh skidding to a stop on slippery, snow covered rooftops far and wide is mere days away. How did the arrival of Christmas and the jolly old elf happen so fast?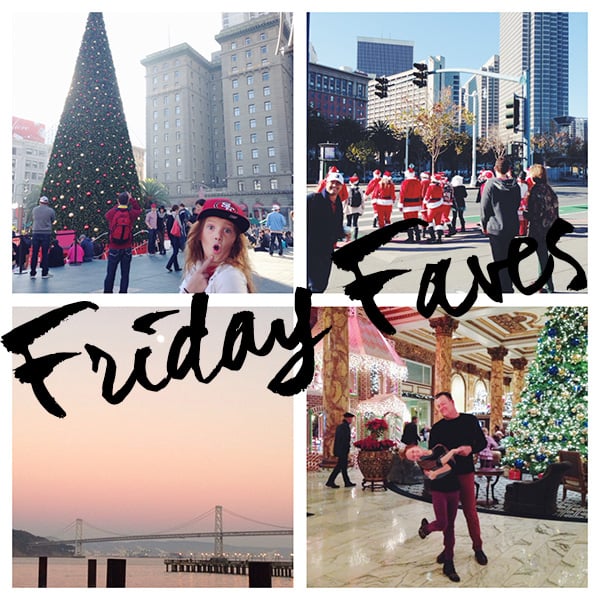 Am I ready? That depends on your idea of ready. Is the house all tidied up? All the presents purchased? Wrapped and under the tree? Ha! No, not yet, but I'm okay with that because this year it's been about 'time'. Time with my husband, time with my daughter, time to be together as our little nucleus that more often than not gets pushed to the side when deadlines loom and obligations prey.
Last weekend we scrapped our obligations and shot off to San Francisco to celebrate our wedding anniversary. With Smudge in tow. Word of wisdom: No matter how much you love Christmas, don't get married at Christmas unless you want the holiday to completely overshadow the yearly celebration.
But San Francisco at Christmas…It's a surprisingly festive place. And the main reason we dragged our baby with us: to jump start our holiday spirit.
I'll be creating a new series in the New Year highlighting travel tips and advice from favorite cities across the land with San Francisco at the top of the nods. But until then, know that San Francisco needs to go on your holiday Christmas travel bucket list.
By the way, am I the only one who thinks that Elf on a Shelf is totally creepy?
Here's something to make you feel better about not winning the mega millions lottery. Today's the last day to enter My Favorite Things Giveaway, a blog hop giveaway with me and 8 other bloggers. Jump over and enter and then be entered into a grand prize drawing for an iPad Air. Now wouldn't that make any little elf jolly?
Ho ho ho and Friday Faves.
1. Jimmy Fallon and Justin Timberlake are on SNL this weekend. I'm SO there. Here's a warm-up of JT's top 10 SNL sketches.
2. What? I can burn 159 calories prepping my Christmas Eve feast and 48 calories wrapping presents? Joy to the world, let's have another cookie!
3. It's almost time for the resolutions to start flowing. Let's start with learning about—and avoiding—the 13 worst money mistakes you can make. My dad would approve.
4. There's still time > 50 DIY holiday gifts. I love the textured vases and the sparkly jewelry dish. Glitter!
5. I seriously think I may need to invest in a pair of these. Yea or nea?
6. How to enjoy the holidays, instead of merely survive them. #2 really hit home.
7. Some people just. don't. know. how to read a recipe. 13 hilarious (?) holiday baking fails.
8. Husband, are you reading? (testing, testing…) THIS is my latest, favorite perfume.
9. This food blog. Those dogs. Brilliant!
10. The most Instagrammed place in the world is…a mall in Bangkok?
11. Fra-gee-lay. That must be Italian. Get yours here.
12. My walls are white. They need art. These pieces, I could live with them all. Bonus: they won't break the bank.
13. Baby names > We had Apple (Gwyneth). We have Olive (Drew). Now we have… Cheese? No, I'm serious.
14. It's holiday break for Smudge. 2 ½ weeks at home = 23 ways to keep kids busy.
15. My dream job as an 11-year-old was to work in the gift wrapping department of our local department store. So of course I'm besotted with these 50 ways to wrap holiday gifts in style.
and…
16. DIY glitter wrap. Done and done.
17. 100 Photoshop tutorials to improve your mad skillz.
18. My Mac 'n Cheese Pinterest board is getting loaded up for January. Who else is ready?
19. The cutest tiny origami Santa you ever did see.
20. Let's find some recipes with my favorite holiday flavor: EGGNOG. Pass the bourbon please.
The CUTEST Macarons you've ever seen!! from Raspberri Cupcake.
Cinnamon Eggnog Christmas Cookies that will melt in your mouth from Kevin and Amanda.
Wake up and smell the eggnog with Cinnamon Eggnog Oatmeal from Family Fresh Cooking.
Her grandma was right, more Eggnog Snickerdoodles plllllease! from Wanna Be a Country Cleaver.
These Eggnog Muffins keep all of the men in Two Peas and Their Pods lives happy.
Double dose of the nog in Eggnog Pound Cake from Chocolate Chocolate and More.
Soft. Puffy. Egg noggy. Soft Frosted Eggnog Cookies from The Baker Chick.
A pie that's worthy of any fork. Or spoon. Eggnog Cream Pie from Lauren's Latest.
Put that last drink of eggnog to work > Eggnog Waffles with Cinnamon Whipped Cream from Cookie Monster Cooking.
Let's end all of this sweetness with a little cocktail topper > Pumpkin Eggnog Martini from Jelly Toast Blog.
As always, all opinions are my own. Thanks for supporting companies I partner with, which allows me to create more unique content and recipes for you. 
Are you following me on Instagram, Twitter, Facebook and Pinterest? Thanks for reading and  subscribe to FoodieCrush to have each post delivered straight to your e-mail box.