Hello and happy Friday!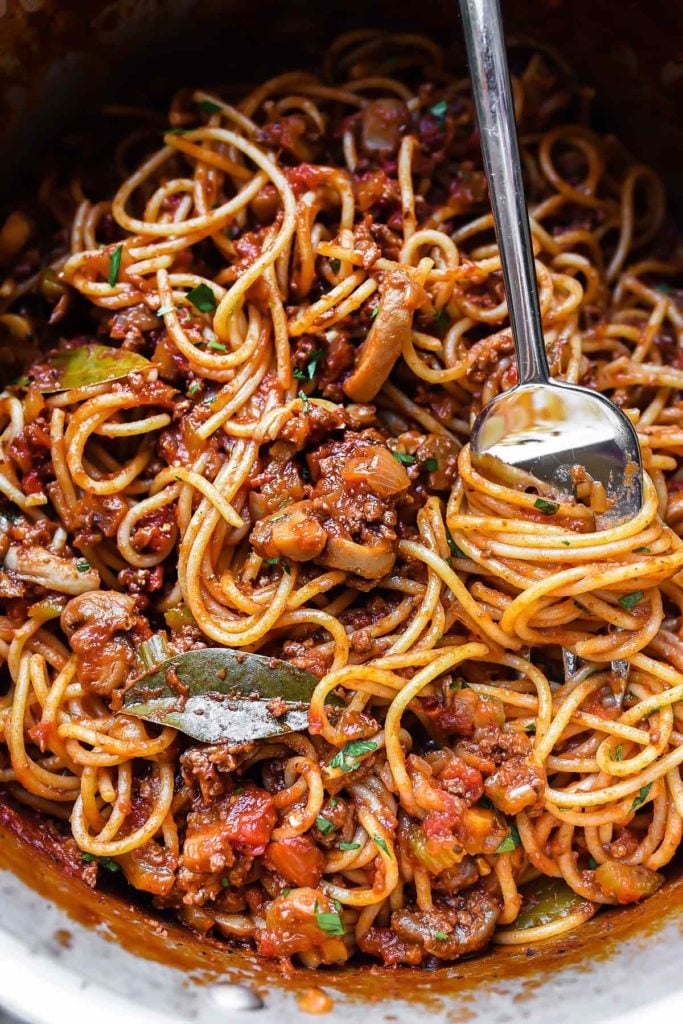 Greetings from sunny Las Vegas where the forecast is a bright and sunny 110 degrees. Oh yeeaaaaahhhh.
We are here for my daughter's basketball tournament and like many of you across the country, we are warm, warm, warm. Why is it we all talk about the weather so much? Probably because like food, it's something we can all relate to.
While these teen girls make bonds and memories to last a lifetime (and win a game or more) we are the team chauffeurs/cooks/lifeguards/poolsharks. Before we left home, I prepped ahead for the crowd and made a triple batch of my moms homemade spaghetti, my MIL's tastes-just-like-Taco Bell tacos, and the girls favorite baked French toast. Who needs a casino buffet when FoodieCrush is in da' house?
So if you're wondering if it's worth it to cook comfort food that requires an oven or stove in the middle of the desert heat, the answer is, you betcha. Because when cravings call, FC answers.
But enough about me and a couple of sweaty teenagers, let's dig into this week's Friday Faves.
What?! You mean I can airbnb the Oscar Meyer Weinermobile??!!
Here's one way to get closer to Wills & Meghan: The Queen is hiring a chef.
There's still only 24 hours…Simple ways to get more done in a day. 
What I learned in France about shopping for fresh produce.
and…
I can't remember if I told you how much I'm loving these reusable shopping bags.
How even a short break from drinking can improve your health.
33 genius food charts for anyone trying to eat healthier.
This pizza is seriously summer.
and…
What's the diff? Baking powder vs. baking soda for the best baking.
This seared ahi salad is so much more.
Tofu me:
A one-pot turkey pasta that makes dinner impossibly easy.
Healthy portable egg cups for the morning routine.
A stir-fry everyone will love.
Do you have a personal ritual?
If you can't live in Scandinavia, you can at least decorate as if you do.
50 healthy distractions you can start today.
Solo date ideas to refresh yourself.
From perfectly fine to perfect: This bedroom before and after is pretty inspirational.
Dive in. The world's most Instagrammable pools. #7 looks totally dreamy.
I can't wait to use these at the pool.
and…
5 natural remedies for sunburn relief.
A relatively inexpensive—and cute—way to add more outside seating.
I think I need these slides to add to my collection.
5 tips for surviving a long weekend without your phone. It's summer! Why not give it a try and get out and live?!!
Okay! That's it for this week. Have a safe weekend.
Craving more life balance, less stress, and better health? Check out my Nourished Planner, the daily planner to help create simplicity and under-schedule your life.
We send good emails. Subscribe to FoodieCrush and have each post plus exclusive content only for our subscribers delivered straight to your e-mail box.
Follow me on Instagram, Facebook, Pinterest and Twitter for more FoodieCrush inspiration.
As always, thank you for reading and supporting companies I partner with, which allows me to create more unique content and recipes for you. There are affiliate links in this post of which I receive a small commission. All opinions are always my own.