Juicy baked chicken thighs get a crispy skin thanks to a drizzle of olive oil and sprinkling of paprika spiced salt that takes just 5 minutes to prepare.
Some cooks seem like they were born with a wooden spoon in hand. But food blogger Mary Younkin's cooking skills didn't bloom until after marriage.
"When I was a newlywed, I couldn't cook," she admits. "I don't say that lightly either, I really and truly was clueless in the kitchen beyond things that could be cooked from boxes and bags and sauces in jars. The only cookbooks I had at the time used a lot of ready made ingredients and I swear that everything wound up tasting the same," she explains.
At that time, Mary wasn't the only cook in the kitchen. "If we wanted a nice made from scratch dinner at home, my husband Sean was sure to be the one cooking it. I could bake and create pretty amazing desserts, but main dishes, side dishes, anything creative at all? That just wasn't happening," she concedes.
Until she began dreaming up recipes and started a food blog.
In 2011, Mary started her blog, Barefeet in the Kitchen as a way to chronicle her new territory in the kitchen. Her blog is one to turn to for quick, easy, healthy recipes that come together in minutes and never let home cooks and their families down.
Over the summer, Mary published her first cookbook, The Weeknight Dinner Cookbook: Family-Friendly Recipes for Everyday Home Cooking. It's a testament to her kitchen mantra — simple, fast, and flavorful.


The cookbook is conveniently divided into chapters by the recipes' cook time and effort level (15-25 minute meals, 30-45 minute meals, 5-10 minutes prep, slow cooker meals, etc.), and features several gluten-free recipes.
Mary has a weakness for lightning-fast meals, and her book reflects that. Recipes like her Sweet Chipotle Chicken Bites are a family favorite, as well as her Sheet Pan Chicken with Green Beans and Potatoes (a recipe from the "5 minute prep" chapter).
And as for the desserts? "The Lemon Lover's Pound Cake still thrills me every time I make it," she says.
"Now that cooking is something I enjoy, I wanted to write a cookbook full of foods that tasted incredible, but were easy enough for a home cook to make on a busy night," Mary says.
"Our favorite go-to weeknight meals are dishes like Pan Fried Italian Chicken Thighs and Pulled Pork BBQ Sundaes — at least one of those recipes lands on our table every month."
And now, my List of 10 Q's for Mary's A's
1. Describe your recipes in 3 words:
Scratch made simple.
2. If you could be one blogger other than yourself, who would you be?
If I could borrow some skills from a friend for a little while, I'd love to step into Rebecca's shoes (Foodie with Family), for her mad bread and cheese making skills.
3. Which 3 blogs do you follow/are obsessed with/can't live a day without?
There are countless food blogs that I adore, I can't even begin to narrow it down to just a few. (I did try!) However, Sacred Ground Sticky Floors is truly inspired writing from Jami Amerine. Every time I see one of Jami's posts in my email, I know that my day just received a breath of fresh air.
4. What is the one kitchen tool you could never give up?
A great chef's knife. Decent knives will make or break your work in the kitchen. I worked for years with lousy knives and now? A wicked sharp and comfortable knife is priceless.
5. What dish are you obsessed with mastering that you just can't get quite right?
Feel free to laugh, but my nemesis is pizza.
6. What did you have for dinner last night?
Mexican Pulled Pork stuffed into tacos with Skillet Street Corn on the side (both recipes from the cookbook, both made by my 12 year-old son this time).
7. What's one secret talent outside of the kitchen nobody knows about you?
I'm a ridiculously fast reader. Last time I tested the speed, (maybe in college?) I was reading somewhere around a thousand words a minute. Sometimes it's handy, more often than not, it's a bummer when I am loving a new book and then it's finished in just a few hours. This is why I adore the public library and it's also why I very rarely purchase a book. If I bought copies of all the books I read? Well, let's just say the grocery budget would need to shrink to balance it all out.
8. You're happiest when cooking/eating:
Massive garden salads with carnitas, avocado, and Fritos piled on top, followed by an ice cream cone.
9. The one secret to your success is?
BUTTER :)
10. How does being a mom help inform the things you create for your blog and the recipes in your book? 
The ability to laugh at kitchen mistakes and failures, clean up the mess, and try again. In addition to that, I always have a stash of chocolate and ice cream to balance out the less than perfect meals.
Thank you Mary for being our foodie crush and congratulations on your new cookbook. Now, let's dive into the recipe.
Smoked Paprika Chicken Recipe with Barefeet In the Kitchen
There's really not anything a busy home cook wishes for more than to have a few staple recipes logged for simple, nutritious, weeknight eats.
This garlicky spiced chicken thigh dinner recipe is exactly that, and a big part of my meal planning strategy for an easier, healthier dinner option.
With minimal ingredients that are pretty much always on hand, this recipe for Mary's Crispy Garlic Paprika Chicken comes together injust about 5 minutes and then lets the oven do all of the work.
There wasn't much to switch up from Mary's original recipe, except to maybe add a little smoke. My husband is a huge fan of the depth of flavor smoked paprika provides so I substituted it where Mary calls for regular paprika. You can certainly use either to your liking.
The key to a crispy baked chicken is using skin-on, bone-in chicken thighs that have been drizzled with a bit of olive oil and seasoned with the simple blend of herbs straight from your spice cabinet.
Cooking the chicken elevated on a wire rack allows the oven's hot air to circulate all around the chicken and for the fat to render from the skin so the thighs don't cook and stew in their own juices. The result is a crispy crust on all sides.
I doubled the amount of spice mixture to sprinkle a little extra on the chicken and also flavor a separate roasting of broccoli and red onion for the side for one more layer of garlicky, smoked paprika flavor.
If you make this recipe, please let me know! Leave a comment below or take a photo and tag me on Instagram with #foodiecrusheats.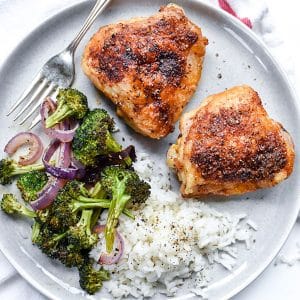 Print
Crispy Smoked Paprika Chicken Recipe
Juicy chicken thighs get a crispy skin thanks to a drizzle of olive oil and sprinkling of paprika spiced salt that takes just 5 minutes to prepare.
Ingredients
8-10

small bone-in chicken thighs

about 3 pounds

1 ½

teaspoon

kosher slat

¾

teaspoon

smoked paprika

¼

teaspoon

garlic powder

½

teaspoon

freshly ground black pepper

2

tablespoons

olive oil
Instructions
Preheat the oven to 400 degrees F. Line a baking sheet with aluminum foil and place a wire rack over it. Place the chicken skin side down on the rack. Stir the spices together in a small bowl and then sprinkle half of the spices over the chicken. Turn the chicken over, skin side up, and drizzle with the oil and sprinkle the skin with the remaining spices.

Place the chicken in the center of the oven and roast for about 50 minutes or until the skin is crisp and golden and the chicken is cooked through. Allow the chicken to rest for 10 minutes before serving.

Lightly adapted from The Weeknight Dinner Cookbook
Visit Mary and her blog at Barefeet in the Kitchen.
Purchase The Weeknight Dinner Cookbook: Simple Family-Friendly Recipes for Everyday Home Cooking here.
This post was compiled by Heidi and FoodieCrush contributor Hayley Putnam. Follow Hayley and her foodie tastes and other flights of fancy on Pinterest and Instagram.
As always, thank you for reading and for supporting companies I partner with, which allows me to create more unique content and recipes for you. All opinions are always my own.  
Are you following me on Instagram, Twitter, Facebook and Pinterest? 
Thanks for reading and subscribe to FoodieCrush to have each post delivered straight to your e-mail box.