We all know avocados are a fruit, not a vegetable, right? And we've come to realize avocados make salsas infinitely better by adding a touch of creaminess for the dipping.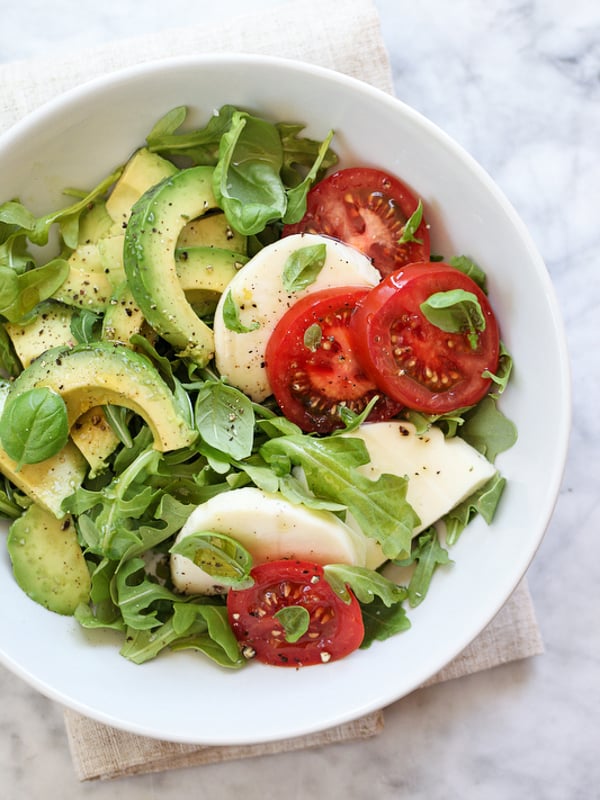 But crunchy? Avocados are wha, wha, what? Crunchy?
Okay, maybe avos themselves don't possess that potato chip crunch, unless of course it's deep fried and made into a taco. Now that's got some munch.
Caprese salads on the other hand are smooth. They're the cool kids in school. Creamy mozzarella slices paired with the freshest of juicy tomatoes.
So when another smooth operator like the avocado slides on in, it's time for a little texture. Welcome to class Mr. spicy arugula.
Avocados are full of magnesium and potassium, they're the nutrients that help reduce blood pressure. Tomatoes are filled with lycopene and help thwart colon cancer. Arugula and basil are antioxidants and helps with anti-aging and carry anti-cancer properties. And mozzarella…protein, calcium and just plain good.
It's just a big dose of health in a bowl.
Today I'll finally be planting my garden tomatoes. A variety of varietals. Super sweet 100s are a must, Early Girls will be taking root because of our short growing season and a few heirlooms will definitely be thrown in. My basil is going in and I bought a special gardening vessel for my lettuces including that spiced up arugula.
If only I could grow avocados in Utah, I'd be completely caprese-salad-self-sustainable. But since I can't and my produce is far from its garden ETA…I'll happily eat my crunch of store-bought caprese salad ingredients.
How to Pit an Avocado
Avocados are the pits. However combat uniforms are not required to remove said pit.
To remove the pit out of the avocado, cut it in half and with one firm chop of a large, sharp knife, embedding the knife into the pit until it sticks. Wiggle the knife back and forth and twist the pit out of the avocado half while holding the half in your hand.  Twist and pull the sides apart. Cut the avocado into slices. Take a large spoon and scoop the avocado slices away from the skin and layer on top of the vegetables.
Print
Avocado Caprese Salad
Ingredients
2

cups

fresh arugula

2-3

campari or cocktail style tomatoes

sliced

1/2

avocado

pitted and sliced

3

slices

fresh mozzarella cheese

fresh basil leaves

1

tablespoon

extra virgin olive oil

I prefer the fruitiest, lightest flavored

1 1/2

teaspoons

balsamic vinegar

generous pinch of sugar or dollop of honey

kosher salt and freshly ground black pepper
Instructions
Assemble the arugula, tomato, avocado slices and mozzarella in a serving bowl. Top with torn or slivered basil leaves. Whisk the extra virgin olive oil in a small bowl with the balsamic vinegar, sugar or honey and season with kosher salt and freshly ground black pepper to taste and pour over the salad. Toss to coat and serve.
Crunchy salads are my lunchtime staple. Avocado is an essential addition thanks to it's fat content so I  stay fuller longer. Here are a few more options for avocado salads with a bite.
Blood Orange, Fennel and Avocado Salad with Lemon Citronette
Great minds think alike! Kathryne posted this salad's super fresh flavors just days before I posted my own version, but I missed the note on coming up with a fancy sounding dressing. Just another reason to give her version a try.
Recipe here. 
Chopped Kale Salad with Pomegranate and Avocado
Parmesan cheese dusts this super healthy salad topped with a lemony vinaigrette and ruby red jewels plus a link to the secret to seeding a pomegranate.
Recipe here.
Feta Avocado Chicken Salad
This is one of those salads perfect for summertime weeknight eats with crunchy romaine, lean protein chicken and spunky feta cheese. Rummage through the fridge and dump everything into the bowl, and wha-la! Dinner is served.
Recipe here.  
Avocado Chickpea Salad
It's one of Erin's most popular recipes, probably because it's just so dang easy, fresh and flavorful. Bonus: A serving of brown rice is thrown in for the filling factor.
Recipe here.
Avocado Strawberry Spinach Salad with Poppyseed Dressing
This could be the be-all, end-all phytonutrient packed salad to end all salads. And it's totally easy on the eyes, too.
 Recipe here. 
Get munching people and happy crunching.
As always, thank you for reading and supporting companies I partner with, which allows me to create more unique content and recipes for you. This post contains affiliate links. As always, all opinions are my own.  
Are you following me on Instagram, Twitter, Facebook and Pinterest? Thanks for reading and  subscribe to FoodieCrush to have each post delivered straight to your e-mail box.