There's just something about bundt cakes. Here are 20 of our favorite recipes.
We like big bundts and we cannot lie. We like little ones too — they're adorable, and French looking, and we can always talk ourselves into eating more since they're so small.
But while there's certainly no reason to discriminate against any cake, there's just something extra special about bundts. Maybe it's their simplicity. We can drizzle, pour, or quickly drip our luscious icing over them, rather than worry about tedious crumb coats or flawless frost jobs.
Or maybe it's just that it's fun to say "bundt." We're giving you 20 good reasons to get your "bundt" on, plus some bundt cake goodies you can't resist.
And a-Bundting We Will Go
Does anyone think of that scene from My Big Fat Greek Wedding, where the American mother brings a bundt cake to the Greek mother's home, and she's totally confused? After several failed pronunciations, she muses, "This cake has a hole in it!" This might refresh your memory.
Perhaps the most fabulous thing about bundts is that they look like doughnuts. Cake that looks like a doughnut? The only way it could get more awesome than that is if you were to put a doughnut in the center of a bundt cake.
Here's your essential bundt cake collection.
clockwise: mini bundt and cake pan / does this apron make my bundt look big apron / bundt cake platter & dome  / heritage bundt pan / bundt measuring cups / disposable paper bundt cake baking pans / bundt cake embroidery / bundt cake thermometer
To start you off on your bundt journey, check out this Brilliant Bundt Cakes e-Cookbook from Sommer of A Spicy Perspective with 35 incredible recipes for just $2.99. The recipes are downloadable in full color right to your iPad, computer or even your phone for the convenience of having them all in one tempting spot and easily accessible. It'll make your holiday baking downright brilliant.
When In Doubt, Bundt!
All of these reasons are precisely why you need these 20 bundt cake recipes in your life right now. We've got decadent ones, swirly ones, big ones and small ones, but one thing they all have in common is they're  guaranteed to put a big smile on your face.
If they don't make you want to dash into the kitchen and grab your favorite bundt pan ('cause everyone has a favorite bundt pan, right? I want this 8-inch baby), then we don't know what will.
Blueberry Muffin Bundt Cake from A Spicy Perspective 
Zebra Bundt Cake from Bakers Royale
Pumpkin Cake with Maple Frosting and Apple Cider Caramel from Foodie with Family
Mini Almond Bundt Cakes with Blood Orange Glaze from Sassy Kitchen
Devil's Food Bundt Cake with Chocolate Espresso Ganache from FoodieCrush
Coconut Cream Bundt Cake from The Baker Chick
Dark Chocolate Chiffon Cake with Fluffy Rosewater Frosting from Sweetapolita
Lemon Poppyseed Mini Cakes from Edible Perspective
Turtle Flan Bundt Cake from Simmer & Shoot
Nutella Swirl Bundt Cake with Fluffy Cream Cheese Frosting from Butterlust
Chocolate Whiskey Bundt Cake with Whiskey Caramel Sauce from Love & Olive Oil
Gingerbread Bundts with Cinnamon Glaze from These Peas are Hollow
Zucchini Hazelnut Chocolate Chip Cake from Hip Foodie Mom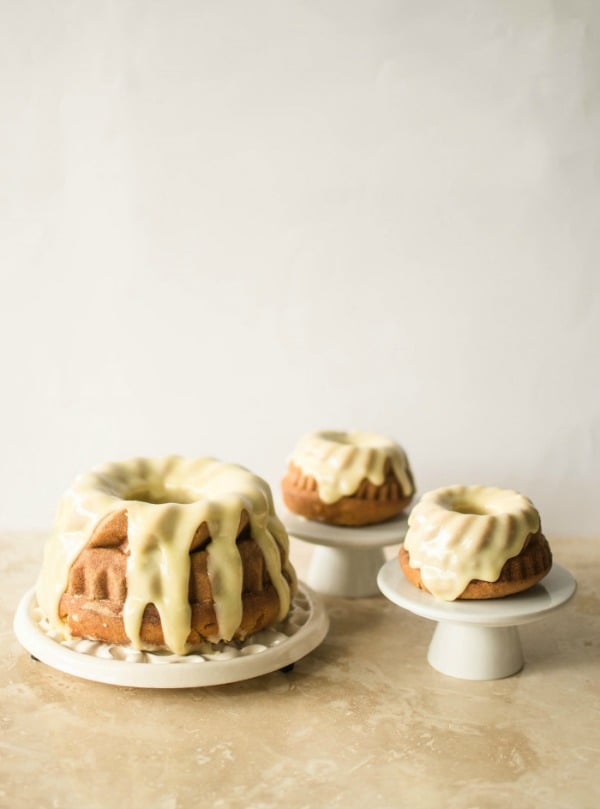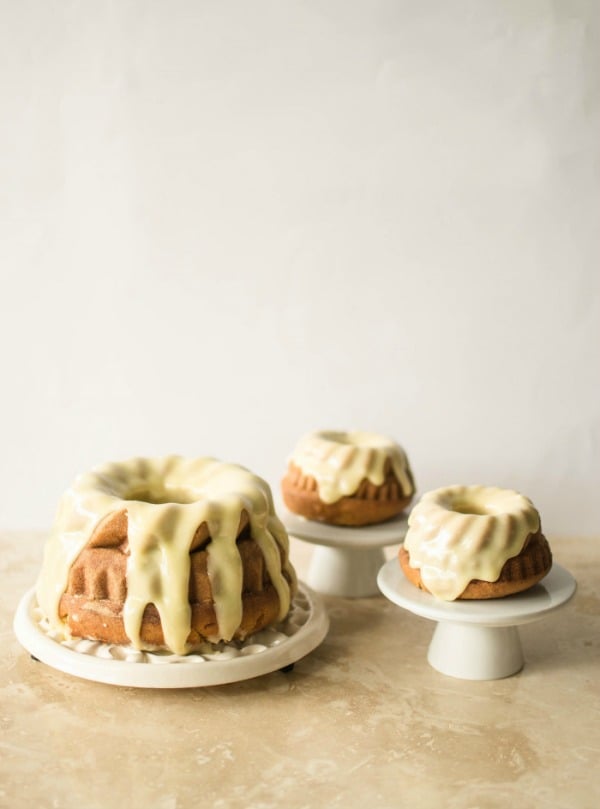 Vanilla Malted Bundt Cake with White Chocolate and Cardamom Frosting from Butter and Brioche
Blackberry Jam Donut Bundt Cake from Hungry Girl Por Vida
Banana Bundt Cake with Salted Dulce de Leche from Hummingbird High
French Cruller Bundt Cake from The Clever Carrot
Glazed Apple Bundt Cake from Sally's Baking Addiction
Lemon and Cherry Mini Bundt Cakes from FoodieCrush
Chocolate Peanut Butter Cake from Inspired by Charm
Can't Get Enough Bundts?
Check out this list of 50 Fabulous Bundt Cakes, completely organized by flavor. Bundt-tastic!
And buy your copy of Brilliant Bundt Cakes e-Cookbook to have all of the recipes in one convenient spot.
Thanks to contributor Hayley Putnam of Tip Toes in the Kitchen. Follow her foodie tastes and other flights of fancy on Pinterest and Instagram.
As always, thank you for reading and for supporting companies I partner with, which allows me to create more unique content and recipes for you. All opinions are always my own.  
Are you following me on Instagram, Twitter, Facebook and Pinterest? Thanks for reading and  subscribe to FoodieCrush to have each post delivered straight to your e-mail box.  
SaveSave