Happy Friday peeps.
I wish you could smell these flowers in person. Stargazer lilies beat roses every time. They're my all-time favorite and are titilating my nostrils as I write this. 
When was the last time your nostrils were titilated? Get on that, would you?
This week's faves are short and sweet because my Smudge is feeling a bit amiss and needs some snuggle time with her mama.
There's nothing like a sick baby to make a mama girl feel needed.
But she wasn't too sick to ask that we give you this…
What can I say? She's her baby.
I think I caught you smiling. And I think I caught her smiling.
But I can't really be sure. Oh, Pippa. You're quite the Pippa.
So let's get to it…the shortest month with the shortest intro. Okay, maybe not. Anyhoo…
Presenting, the last of February 2014's Friday Faves.
1. We're all going Oscar-crazee around the interwebs.
Intern Hayley matched the 9 best film nominations with 9 theme-matching party menus, check it out here.
2.  And there've been a few more Oscar-ized items to pop up this week,
like these Oscar party supplies,
these Oscar worthy appetizers,
these gold-loving, Oscar-plated manicures,
these Pixar characters reinvented as Oscar noms,
and this best Oscar GIF funnies.
3.   This is what happens when a middle-ager gets the Sports Illustrated swim catalog in the mail. My friend sent it to me and I couldn't quit laughing.
4.  On that note, I am all aobut this read: Permission to be unsexy at least 100 times a day.
5.  Forget HootSuite, step aside Buffer. I'm loving this new-to-me social media sharing app. What's your fave?
6.  My new favorite hair goo. Oh man, it smells ah-mazing.
7.  This is one contest where there are no losers. Jordan Catalano vs. Tim Riggins.
8.  I'm swiss cheese. What are you?  I wish I was burrata.
9. Hey bloggers, don't talk AT your readers, talk TO them.
10.  Oh my lusting. These rings. I love them all.
11. I got my toenails 'did'—I want these colors for spring.
12.  And thus, opinions please:
13. So. Should I get these sandals,
or…
These sneakers?
14. Or put what I'd spend on them in my retirement account? Dad, be quiet.
15.  My husband is finally watching old Seinfeld reruns because when it was keeping NBC in the top slot on Thursday nights he was too busy being a punk rock star—in his own mind.
so…
We can both relate. What the old Seinfeld gang would be like today.
16.  I am totally digging these and ordered them this week. I'm going to put them on my wall—one for each week—and just watch how things fall into place.
16.  How to turn your photos into watercolor paintings in under a minute.
17.  It's Oscar season and the Hollywood ladies aren't the only ones getting the fake and bakes. See the 35 orangest men to grace the red carpet here. Leo, you're looking more like John Boehner every day.
18.  For anybody who does anything online and needs to stay organized doing it, this list is AWESOME!
19.  Those little rugrats just don't hold still long enough to get a pic. Here's how to remedy.
20.  This was as much fun to look at as it was to read, and man, it made me thirsty.
21.  When I'm working out I'm all about listening to podcasts and watching videos on my phone. This week I liked…
22. This one on food photography for bloggers,
and…
Everything and just about anything she has to say.
23.  5 date ideas to beat the winter blues. I think I'll take #1 for a spin.
I saw citrus popping up all over the place this week so it's turning into a citrus kinda weekend.
I mean, who isn't looking in every corner for some sunshine?
Crepes with Whipped Meyer Lemon Ricotta
Oh my lordie. THIS I have to make. Because right now I have the BEST Wisconsin ricotta cheese, a box full of citrus waiting to be squeezed and a fear of making crepes you wouldn't believed. I know! I'm a wuss. Recipe here.
Spice-Rubbed Ribs with Citrus Barbeque Sauce
It may be cold outside, but that doesn't keep one from craving the ultimate summer BBQ food. I gotta get my fingers on these bad boys. Sticky, sweet and no grill required. Recipe here.
Lemon Curd
Top it on pancakes, mix it into yogurt. Heck, stick your finger in there, give it a swirl and go for it al fresco. I'm dying to make this. Because this stuff is where it's at. Recipe here.
Key Lime Magic Cake
There has never been a better reason for fleecing citrus from the neighbor's tree than this magic cake. Magic cake you ask? What is it? Hop over and find out. Recipe here.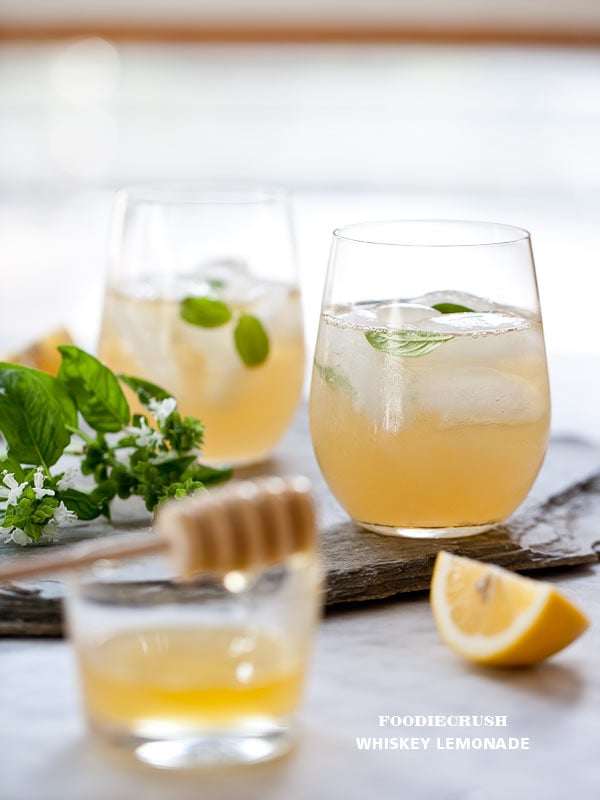 Whiskey Lemonade
Winter. Spring. The best flavors of both seasons. Or shall I say, all seasons. Recipe here.
Enjoy the Academy Awards and remember, we're all winners.
As always, all opinions are my own. Thanks for supporting companies I partner with, which allows me to create more unique content and recipes for you. 
Are you following me on Instagram, Twitter, Facebook and Pinterest? Thanks for reading and  subscribe to FoodieCrush to have each post delivered straight to your e-mail box.