Print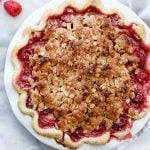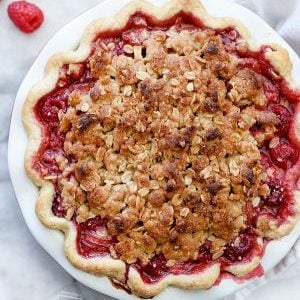 Rhubarb and Raspberry Pie With Oatmeal Crumble
Instead of traditional pie crust, this pie has a brown sugar oatmeal crumble that melts the hearts of pie and crumble lovers alike.
Roll the pie dough into a 12-inch round. Fit into an 8-inch deep pie dish or regular 9-inch pie pan and crimp the edges then place in the refrigerator.

In a medium bowl, combine the oats, flour, brown sugar, salt, cinnamon and ginger. Work the crumbs of butter into the mixture until it forms big clumps. Refrigerate until needed.

Place the rack in the oven to the lower third. Place a piece of aluminum foil or a a baking sheet in the oven over the rack and preheat the oven to 400ºF.

In a large bowl, gently mix the rhubarb, raspberries, brown sugar, granulated sugar, instant tapioca, lime zest and cardamom in a large bowl. Gently stir and allow to sit or 15 minutes.

Pull the crust from the refrigerator and fill with the rhubarb raspberry mixture.. Top evenly with the crumble topping. Place the pie on the piece of aluminum foil or on the hot baking sheet in the oven. Check the pie at 30 minutes to see how browned the crumble topping is getting and tent if needed. Continue baking up to 45-55 minutes or until the fruit filling is bubbling around the edges. Remove from the oven and allow to cool for at least 4 hours. Store in the refrigerator and serve with ice cream or whip cream.