Sugar-fine sand to dig your feet into, casual beach vibes and amazing dining, great shopping and stuff to do. My weekend vacation to Seaside, Florida was the best weekend getaway I've had in a while. And when you enter this giveaway for a weekend getaway in Seaside, YOU'll have the chance to enjoy it.
Man, we packed a lot into a long weekend, with tons of eating and sight-seeing. Enjoying it with a few food blogging friends made it all the sweeter. But after learning it was named Travel & Leisure's Best Family Beach, I must say, I can't wait to take the fam back for a visit. To see more of our food loving adventure, check out the hashtag #SeasideGirlsGetaway on Instagram.
Because the beach is where it's at! Am I right, or am I right?
Here's my guide of what to do, see and eat on a long weekend in Seaside, Florida.
Seaside is located in South Walton County, in the Florida Panhandle between Destin and Panama City Beach with a stretch of beach that is perfect for chilling out and relaxing. But the shopping, dining and the palm tree lined town square (or actually semi-circle) are a big part of Seaside's charm that features a world renowned architectural style.
At just 30 years old, this master planned community's commercial buildings maximum height is limited to just 3 stories so ocean views abound (smart!) and homes that feature large porches to encourage neighborhood visits, large windows to take advantage of afternoon sea breezes a look and a beach-y feel that is the epitome of beach living.
In fact Seaside possesses such an iconic beach vibe that it was the location for The Truman Show, starring Jim Carrey. And we got to see it all.
Getting There
The nearest major airport is Northwest Florida Beaches International Airport (ECP / KECP) and is just 32 miles from Seaside. Another major airport is Northwest Florida Regional Airport (VPS / KVPS) only 39 miles from town.
There isn't much need to rent a car when you're in Seaside since everything is within walking distance or beach bike bound. Sunshine Shuttle provides transportation to and from the airport to town with a variety of vehicles from town cars to vans, some even equipped with back seat USB chargers for your post-flight, power-hungry digital devices.
Where to Stay
We stayed in a beach front home from Cottage Rental Agency that was perfect for our gaggle of food blogging girls.
With 3 living areas, 3 floors complete with an elevator, 5 bedrooms, decks front and back and of course a gorgeous kitchen, there wasn't anything left for wanting.
While our place is meant for a large group or family, Cottage Rental Agency offers a big range of homes to fit any need. I think this would be a great pad for a family reunion. **Ding ding. I'm getting an idea here.
What to See and Do (or Sea and Do—DOH!)
The town was designed so all roads lead to the beach—just like I wish my life's destiny to be. A girl can dream, right?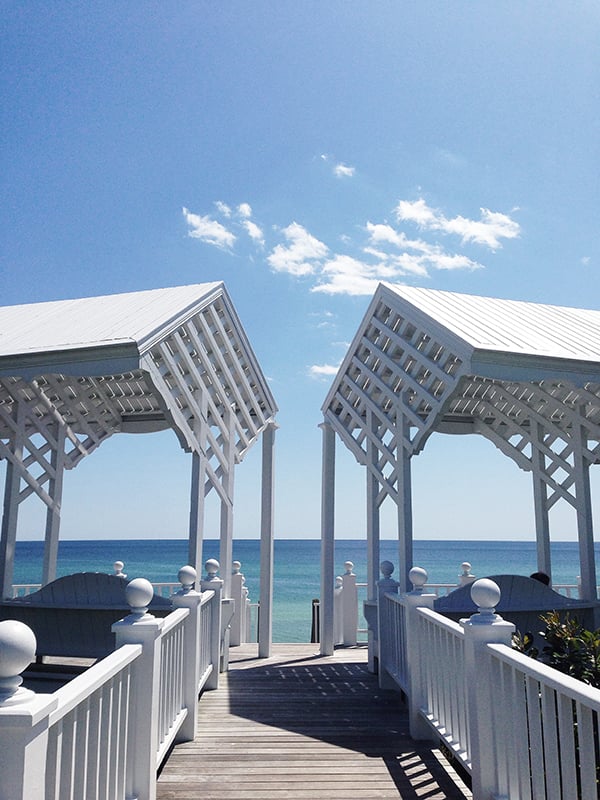 One of the unique features of Seaside are the individual pavilions that mark the walkways of stairs leading down to the sand. Each walkway has a pavilion designed by a different architect. The view down the beach with the pavilions dotting the way is just another charming, and well thought out, detail.
You're at the beach so get thee to the beach! Reserve beach chairs with a happy blue umbrella through Cabana Man. The guys set up and tear down for you so all you do is show up with no agenda and plenty of sunscreen. Unless you're one of those adventure types. And if you are, they offer rental sea kayaks and paddle boards to wear you down and out.
Beach bikes in Seaside are the best way to get around and explore the cottage (and million dollar homes!) that line their tree-lined streets. Go solo on a beach bike complete with a wicker basket and sweet dinging bell or go tandem-style from Seaside Transit Authority Bike Rentals. Fun fact: Every single fence in front of the homes must have a different design. Another distinguishing detail that is far from a homogenous master plan.
With over 500 pieces of ready-to-paint pottery, Fired-Up Pottery Painting is a fun way to spend the afternoon for kids of every age. Bring out your inner Picasso and create a sea-themed creation as a take-home treasure to remember your Seaside vacation by.
Of course this foodie couldn't wait for the Seaside Farmer's Market. Local farmers and artisanal food producers trot out their wares of honeys, produce, soaps and sweets plus something I'd never seen before but couldn't believe my tastebuds: the  Cruffin, a hybrid of a croissant and muffin. Summer Saturdays, 9 a.m. to 1 p.m.
Where to Shop
Retail therapy is at its best in Seaside. I was really surprised at the quality and variety of fashion, home and special interest shops this beachside community had.
Modica Market should be your first stop to stock up on sundries, groceries and drinks. The wine selection and deli case make this well-stocked boutique market perfect for beach snacks or fill up the grocery cart with pastas and fresh veggies to buff out your rented kitchen. Their selection of vinegars and oils rivals that of any big city gourmet finds and they make custom beach bound to-go boxes.
The Art of Simple is exactly the kind of store I wish I had in my city so I'm stoked I can also shop there online. Great curated home goods, kitchen items, favorite smelly soaps, Butter nail polish plus a large collection of decorative seashells because we're in Seaside afterall. Don't miss the Hybrid ceramics that feature half and half designs on each plate and cup.
Downstairs, Sundog Books offers tons of beach reads, a great collection of cookbooks and of course the classics. Upstairs you'll find Central Square Records where collectors can find new and used records, CDs and rarities plus one of a kind letterpress concert posters from fave bands. This is also the place to get your copy of Vanity Fair or Bon Appétit and other magazines to feed your addictions.
Oh man, I had a hard time leaving Willow and Woods. But not until I handed over my credit card for some great new duds where my favorite brands Tory Burch, Karle, Joie and Trina Turk were all well represented.
Other stores to check out:
Deja-Vu on the Beach for bright and trendy womens' wear and jewelry, Duckies for toys and kids clothes, Mercantile for a huge collection of leather boots and women's wear, Snap Tweens for girls-sized Roxy swimsuits, iPod accessories and pre-teen things, plus jewelry designer Wendy Mignot's La Vie Es Belle that combines Tahitian and fresh water pearls with leather and is a Seaside accessory statement piece.
Where to Eat
Oh lordie. Where does this food eating lover begin? The variety of Seaside's restaurants doesn't just start with their regions or cuisine style, it starts with their actual physical locations.
One of the first impressions I had when I hit Seaside was the row of converted Airstream trailers on the sidewalk of the main street, better known as County Road 30-A, right smack in front of town square. Casual and perfectly poised to take advantage of wandering eaters on bike and foot, these walk-up, no-longer-mobile diners feature some of Seaside's finest fare. 

Raw & Juicy Organic Juice Bar and Cafe features organic juices and smoothies, raw food and organic beach snacks and even a selection of yoga fitness wear.
The Meltdown on 30A creates everyone's favorite sandwich: the grilled cheese. From the Classic American Grilled Cheese to a Muenster Mushroom Melt and the Brie and Bacon on Cranberry Walnut Bread, every one of these melted goodies delivers.
Barefoot BBQ dishes up loads of Southern hospitality with organic Caribbean/Texan/Southern fusion BBQ smoked right there in the airstream. Don't miss the famous macaroni 'n cheese or Smoked Chicken BBQ Nachos. Bonus: They're open until 2 a.m. for late night cravings.
And two more not to miss: Hawaiian shaved ice at Frost Bites (we liked it so much they put us to work) and gourmet dogs at Wild Bill's Beach Dogs.
back row: Lori Smith of Seaside, Ali of Gimme Some Oven, myself, Amanda of Kevin and Amanda, Maria of Two Peas and Their Pod.
front row: Gina of Skinny Taste, Bill Dawson, Heavenly Dawson, Jenny of Picky Palate, Shelly of Cookies and Cups.
Just across the street from food-airstream row sits Pickle's Beachside Grill, an open-air diner where organic, free-range beef burgers and the Hangover Omelet reign supreme. Owners Bill and Heavenly Dawson make sure every diner, food blogger or not, has an experience to remember. True to Pickle's name, the deep fried pickles are a must try here. 
Amavida Coffee features fair trade coffee drinks to wake up your morning or perk up your afternoon with a cup of joe and pastries. Bonus: Dinner is served with Guatamalan arepas and empandas and dont miss the El gringo, chicken pesto sandwich.
Breakfast, brunch, lunch and dinner are all served at Great Southern Café where southern staples with an upscale twist are served in a relaxed and friendly atmosphere. Locally sourced meat and seafood is prime here with more than six variations on oysters to fit every flavor profile. I couldn't get enough of the Grits a Ya Ya: totally decadent blackened shrimp and smoked bacon on a bed of smoked Gouda cheese grits topped with sweet potato hay. Oh mama.
Crush offers lunch and dinner including sushi, fresh fish tacos and a daily cheese board (yes!) to go with 24 wines by the glass. Their outdoor patio sits right off the central square amphitheater and makes a great local for listening to the outdoor summer jazz concerts or good old fashioned people watching. Now that's my kind of happy hour.
Beach dining wouldn't be complete without a sunset dinner on the sand. Or in this case, on a pavilion on the sand. The Shrimp Shack offers exactly that where hosts Bill and Heavenly Dawson offer casual dining with big flair. Peel n' eat fresh Royal Red shrimp cook up to be as sweet as lobster and are exclusive to The Shrimp Shack. Do yourself a favor and save room for the lobster roll and fresh oysters.
Bud & Alley's Waterfront Restaurant and Rooftop Bar is named for a dog and cat so how could I not immediately have a fondness for the place? As South Walton's longest established and most lauded restaurant, this venerable establishment not only serves great food—hello amazing Crab Cakes and Steamed Cedar Key Clams—but the sunsets views are simply to dine for. (yep, just another bad pun.)
Now if you're interested in dining in the raw (oops, there I go again) the folks at Raw & Juicy Organic Juice Bar and Cafe  offer private catering gigs. We were lucky enough to score a one-on-one with owner Jennifer Kuntz and her team for a clean-eats gourmet meal of Avocado Zucchini Tartare, Beet Ravioli with Cashew Nut Cheese and the most chocolatey decadent Raspberry Parfait known to man.
Today, my Seaside Girl's Getaway food blogging friends and I are partnering with Seaside and Cottage Rental Agency to send YOU and your friends on your own 3 day, 2 night getaway to Seaside.
The Giveaway
One lucky winner will receive a 3-day, 2-night stay in a 3-bedroom Cottage (sleeps up to 5) from Cottage Rental Agency in Seaside, Florida.
How to Enter
Use the PromoSimple Widget below to enter.
Contest ends June 1, 2014 at 11:59 pm CST. Winner will be contacted via email.
*Lodging certificate valid 8/17/14 – 12/20/14. Subject to availability; not available during major holiday or major event weekends; additional restrictions may apply.
Check out the other bloggers posts who I joined on the trip and are participating in the giveaway.
Amanda's post on Kevin and Amanda
Maria's post on Two Peas and Their Pod
Ali's post on Gimme Some Oven
Jenny's post on Picky Palate
Shelley's post on Cookies and Cups
Gina's post on Skinny Taste
For up to date information about events and goings on in Seaside, FL, visit here.
Get more info about how Seaside's architectural development started here.
Learn more about South Walton County beach towns, events and more here.
Lodging, dining and entertaining were graciously hosted by Seaside. Thank you for such an amazing trip!
As always, thank you for reading and supporting companies I partner with, which allows me to create more unique content and recipes for you. This post contains affiliate links. As always, all opinions are my own.  
Are you following me on Instagram, Twitter, Facebook and Pinterest? Thanks for reading and  subscribe to FoodieCrush to have each post delivered straight to your e-mail box.