This is a guest post from my mom. We're on a family vacation in the iconic epicenter of the USA, Yellowstone National Park. While I was pondering what to write about this tasty Red White and Blue Salad, my mom helped me brainstorm what to write.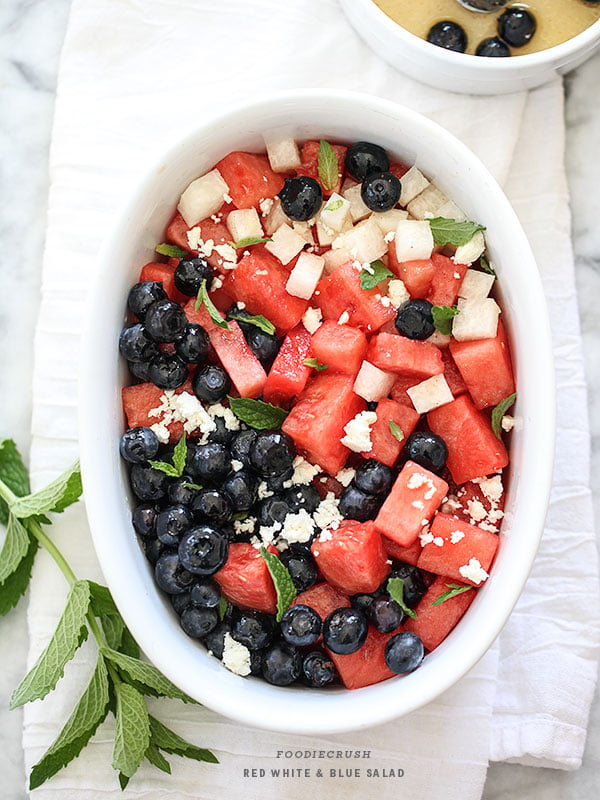 I think she pretty much summed it all up, so I'm writing it verbatim, from mom's mouth to daughter blogger's post. She's my biggest cheerleader, and in every way she can, makes my job as a blogger that much easier.
Take it away mom.
"We need to brainstorm this.
The 4th of July. Fireworks. Patriots. Red white and blue. But don't talk about the wars. John Adams. George Washington. Flags, Betsy Ross who sewed the flag. She was quite the seamstress. Life, liberty and justice for all. That's what it's all about, the forming of the Constitution and the love of the United States of America!!!
This Red White and Blue Salad will lead you to the pursuit of happiness. That's your title. There you go, I think your readers will like that. That's the 4th of July in a nutshell. Or maybe that isn't any good. I'm just brainstorming, we just need to throw it all out there.
So, what should we have for dinner? Hot dogs or burgers? You girls decide, I'm on vacation."
~contributed freeform, just brainstorming, from Miss P, my mom
Thanks for the guest post mom, I can now see where I get my so called writing skills.
Red White and Blue Fruit Salad
Ingredients
2 cups watermelon, cubed
1 cup jicama, peeled and cubed
1 cup blueberries
2 tablespoons lime juice
2 tablespoons honey
pinch of chili powder
½ teaspoon salt
¼ cup fresh mint, chopped
¼ cup feta cheese, crumbled
Instructions
Mix watermelon, jicama and blueberries in a large bowl. Mix the lim juice, honey, chili powder and salt in a small bowl and pour over the watermelon mixture. Add mint and more salt to taste and top with feta cheese crumbles. Chill for 30-60 minutes before serving.
Thanks for reading and please keep in touch by subscribing to FoodieCrush and follow me on Twitter, Facebook, Pinterest. This site includes affiliate shopping links of which I receive a small percentage of sales to allow me to create new and special content like this for my readers, so thank you for your support. All opinions are my own.
Subscribe and have every FoodieCrush post delivered straight to your e-mail inbox