'Tis the season aka the Golden Season. Golden bells, golden bubbly champagne and everything that sparkles turns to gold during the holidays. So let's embrace it loud and proud.
To celebrate the holidays I've teamed up with 7 other bloggers to each share a few of our favorite things with our readers and give you the opportunity to win one, or all, of our favorite loves. And as another present to you, with each entry on every blog you'll be entered to win a 16 GB Apple iPad Air.
Ready to see what else we're giving away? Oh, yes. Yes you do. Let's do this thing!
Every blogger's giveaway is different so make sure you hop around to see what awesome stuff you can win.
1. Love & Olive Oil | 2. Skinnytaste | 3. Reluctant Entertainer | 4. RecipeGirl | 5. A Southern Fairytale | 6. Gimme Some Oven | 7. Mountain Mama Cooks | 8. FoodieCrush
Now who wouldn't want Santa to show up with that in the sack on his back?
Here's how it works…
Scroll down and check out all of the things I covet.
Enter to win my list of loot using the giveaway Rafflecopter widget below ($75 value)
Take another look at the other other 7 bloggers and their giveaway items in the collage above, put your finger to the side of your nose and off you go to check out the other blogger's sites and enter to win their favorite things too. And more chances to win the 16 MB iPad Air.
Find yourself with a bunch of extra good karma because you're going to leave extra cookies by the tree and tell your friends to enter the giveaways too. Santa will approve.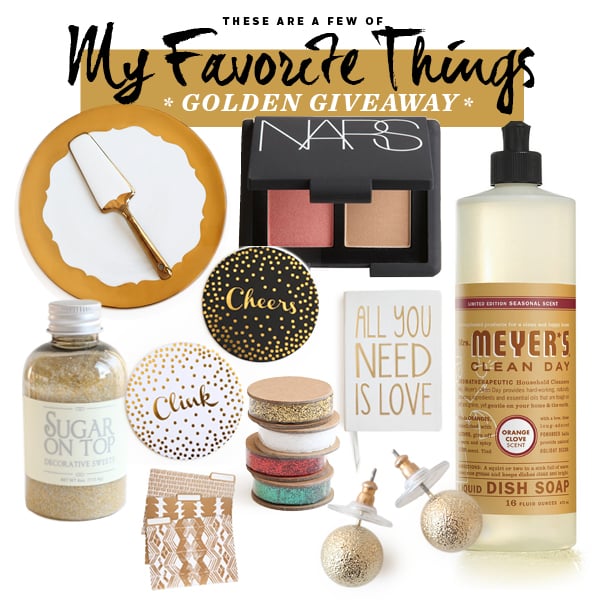 Ta-da! Here is the list of my favorite things. All with a golden hued theme. A lot of this is hard to find online since I actually SHOPPED with my own two feet to get this stuff for you. I know, it was hard but somebody has to fill the shopping bags. (clockwise)
Gold Porcelain Cake Plate and Server from Luxe by Ciroa. I originally bought this for myself. So it's a bone fide fave. // HomeGoods
NARS Orgasm  Blush and Laguna Bronzer duo. My NEVER WILL YOU BE REPLACED product in my daily make-up routine. You'll look like a golden Malibu Barbie all winter long. I swear this has changed my life. And it's not just because of the name. // Sephora
Meyers Clean Day Dish Soap in Orange and Clove. I picked this up about a month ago for myself and it's like a little aromatherapy session while doing the dishes. Probably the only way to make me willing to do the dishes at all. I'm betting it's a limited holiday run so don't dilly dally before you get some for yourself.  // Grocery or Amazon
Golden stud earrings. These little hammered studs look so much more spendy than they are. Take a guess. Come on, just a guess how much they are. $4.99 from Target. I know, right??? And bonus! They come with a pair of traditional gold studs. That's like…free. and you wouldn't believe the compliments I get on them. I took them with me on my recent beach trip because I was afraid I'd lose my nice druzy earrings. Good thing I did. Because I lost one of my Target faves! But Target once again came in for the save and I picked up another pair just the other day when I bought these for you. A must add to the everyday, or holiday wardrobe. // Target
All You Need Is Love Journal. This is what started this whole gold theme going. The cover of the journal is soft, leather-like but not. A fab pattern on the interior. I fell for the shimmering lettering the minute I saw it. I should keep it. Okay, I won't. Maybe. // HomeGoods
Glittered Ribbon. Hey! Who let these colors in here? Okay, we'll give them a pass since it's the holidays. And they're so dang fun. 4 rolls of 3 feet of mini sparkly to make your presents bling. // Target
Clink and Cheers Coasters from Roobee by Mara-Mi. Another find that combines my type geekness with letterpress and gold. 12 coasters waiting for cocktails. Geez, I think I'm in heaven. // HomeGoods
Assorted Golden File Folders. I have a serious fetish for paper products and well-designed file folders are just one element of my affection. Shouldn't everything you file away be golden? If not, off to the trash it goes. // Nate Berkus for Target.
Sugar On Top Decorative Golden Sugar. For cookies, cupcakes, anything that deserves the golden touch. Golden sweets for my sweets. Yes, that's you. // HomeGoods
Follow the instructions on the widget below to enter my Favorite Things Giveaway. One winner will be chosen to receive my Favorite Things Giveaway.
All entries on my blog will be added to the other bloggers' entry lists. From that list one Grand Prize Winner of the Apple 16 MB iPad Air will be selected via random.org.
Good luck and have a happy, happy holiday!
And make sure you hop over to the other blogs to see what else is being given away.
1. Love & Olive Oil | 2. Skinnytaste | 3. Reluctant Entertainer | 4. RecipeGirl | 5. A Southern Fairytale | 6. Gimme Some Oven | 7. Mountain Mama Cooks | 8. FoodieCrush
Want even more giveaway action? Enter to win a $250 VISA gift card here. I mean, why not? That's like 1 present for you, 19 for them!
Thanks for entering the giveaway and as always, for reading FoodieCrush. I know you have plenty of other things to do with your day so making this blog a part of it is a huge deal to me.
This giveaway is a list of stuff I love and is not sponsored by anyone but me and my wallet, just because I value you as a reader and want to say thank you. As always, all opinions are my own. Thanks for supporting companies I partner with—when I do partner with them—because it allows me to create more unique content like this and more recipes too. 
Are you following me on Instagram, Twitter, Facebook and Pinterest? Thanks for reading and  subscribe to FoodieCrush to have each post delivered straight to your e-mail box.