Last month we launched our new City Guide series, where food bloggers showed you how to eat your way through sunny San Diego. This month, we're excited to feature four bloggers sharing their favorite food and drink picks in the City of Roses!
Nestled in the evergreen-laden Willamette Valley, near the Pacific, Portland is surrounded by greenery, mountains and rivers. The sweeping views are enough to make you feel like Julie Andrews, singing on top of a mountain (only in this scenario, that mountain you're standing on is probably Mt. Hood, or Mt. Saint Helens).
Amid historic state parks, hiking trails and rugged terrain lies a vibrantly eclectic city. Portland definitely has its quirks (the city's motto is "keep Portland weird"), but there's so much more than what you see on Portlandia. True, you will find a good number of hippies, hipsters and perfectly coifed lumberjack beards, but you'll also find a friendly city with strong eco-friendly values, an impressive bicycling culture, and an even more impressive food scene.
Besides its breathtaking views and numerous outdoorsy activities, PDX is also famous for its quirky doughnuts, killer coffee and a vast number of microbreweries and wineries. Portland's also known for its food carts (there are currently over 600!), and happens to be one of the most vegan and vegetarian friendly restaurants in the country.
Ready to pack your bags yet? Read on to find out exactly where you should sip and sup throughout this wonderfully weird city!


Follow Kylie on Instagram, Facebook and Pinterest
Kylie has been wooing us with delectable cakes, pies and other exquisite treats on her blog since 2008. Her focus has since shifted from vegan baked goods to non-vegan baked goods, but we love them all, because Kylie is a gifted baker (as well as an awesome photographer).
Originally a Cali girl, Kylie decided to move to Portland a few years ago. She was visiting a friend, and quickly found herself falling in love with everything the city had to offer. She enjoys the low-key lifestyle in her neighborhood (in the east side of town), as well as her proximity to downtown, and to hiking and running trails. And of course she likes the infinite number of restaurants, coffee shops and bakeries at her fingertips.
Breakfast/Brunch
Sweedeedee is the cutest darn place in Portland and, dare I say, on the entire planet. They always have some oldies vinyl pumped up on the turntable, the pastry case is overflowing with salted honey pie and whiskey honey bread (you can see a similar recipe I made here on my blog, inspired from it), and the shelves are stacked with coffee mugs made by local potters. The atmosphere makes you feel like you just walked into someone's back porch in the South — a back porch full of all their favorite people, who are cooking rustic and healthy comfort food made with love. On their busiest days (which is most days), the food can take awhile, so be prepared with a not-so-empty stomach upon arrival. If you're into vinyl yourself, pop on over to Mississippi Records and peruse their wonderful collection while you wait!
Tip: Must order: Sweedeedee Breakfast Plate, Bacon Lettuce Beet & Avocado Sandwich, Salad Nicoise, Salted Honey Pie, Whiskey Honey Bread.
My first choice when I want something healthy, quick and rejuvenating, is always Harlow. With gluten-free, organic and vegan/vegetarian fare, it never fails, and they also have overwhelming smoothie and juice options. Since everyone has caught on, the line to the counter is always a little longer every time I visit, but for good reason. It always hits the spot and your body will thank you.
Tip: Must order: Farmer's Vegetable Scramble with Tempeh & Quinoa, Iced Chai made with coconut milk and honey, the "Revival" and "Warrior" smoothies.
Lunch
Anything that comes out of Duane Sorenson's head is pretty much pure magic: he is the one responsible for Stumptown Coffee (maybe you've heard of it?) Portland sincerely would not be the same without this guy. On top of Stumptown, he owns several restaurants and Roman Candle Baking Co is by far my favorite. Having an Italian heritage, I love any and all carbs, and this is the place to load up–the Roman-style flatbread, "Pizza Bianca" (kill me now) is simple, doughy, fresh, salty and flavorful — it's almost like dessert. And each slice comes with a pair of gold shears so you can cut your huge square of goodness any way you'd like. I could eat lunch here every day and be happier than a clam on the seaside of Italy.
Tip: Must order: Any Pizza Bianca, the "Chrissy" salad, any dessert (ie. tiramisu or red-wine poached fig cheesecake) from the rotating pastry case.
Once upon my very first visit to Portland, I fell in love with a food cart by the name of Moxie Rx. It was a little vintage trailer that served nut-butter smoothies, fig and anise goat cheese panini's and a salmon field greens salad. I fell pretty hard for it. But she shortly closed. Many tears and five years later, she returned with a vengeance and a new name in a brick-and-mortar location: Milk Glass Mrkt. Serving many old favorites and new ones to fall in love with, this is the cutest little spot in North Portland (besides Sweedeedee — similar vibes). This would be the perfect place to pick up sandwiches, cookies and drinks for a picnic, or even some herbal tea or locally-made soap to take home for later.
Tip: Must order: Fig & Anise Panini with Sheep's Milk, Eggs & Greens, anything on the special's board, Salted Chocolate Chip Cookie.
Happy Hour
I initially found the Sapphire Hotel while searching for a romantic setting for my boyfriend and I to enjoy. This hotel/brothel cocktail bar from the early 1900s is tucked away in an ex-shady hotel. Any place with a menu that's 90 percent cocktails and 10 percent food, should be a good enough indication that their bartender knows what's up. It's dark, swanky and full of candles and stiff drinks, plus there's live jazz on Sundays. What more could you want?
Tip: Must order: Friend-farmer, The Most Popular Drink, The Backhand, Roasted Beet Burger, Butternut Squash Enchiladas, dessert.
Oh Luc Lac Vietnamese Kitchen, how I love thee! It's my number one go-to on hot days, cold days and Fridays, it always hits the spot. And happy hour is super easy on the wallet. For about $15, including tip, I can get away with about four or five small plates and a Thai Tea Cremosa (housemade thai tea-kaffir lime syrup, topped with salted coconut cream), or a crisp beer on tap. I recommend getting into happy hour as soon as it starts, around 4pm, as the place is small and the line usually is out the door onto the sidewalk by 6 or 7pm.
Tip: Must order: All of the following small plates — fresh shrimp spring rolls, cream cheese wontons, coconut prawns, garlic string beans; Combination Vermicelli Bowl, Tom Yum, Thai Tea Cremosa or the Sassy Sour.
Dinner
There are so many fabulous places in PDX, but my tried-and-true favorite of all time is Tasty n Sons. I've probably eaten and Instagrammed dishes here 20-ish times, and it's always consistent and downright tasty. Everything is served family-style on small or large plates, so go with a few people to get a little bit of everything. It's also great for brunch!
Tip: Must order: Anything and everything! Really, just try to get at least one or two small plates, the Raddichio salad, Pasta Carbonara, Fried Cauliflower, a meat dish, house shrub sodas, and a dozen Chocolate POTATO Donuts for dessert (good lord!). Reservations are not accepted, so arrive early.
The one and only place in Portland to devour the best Swedish food (well, if you don't count IKEA) is Broder Nord. It's an uber popular brunch spot (I highly recommend you order a round of those aebleskivers with lingonberry jam), but if you can't get in for brunch, it's also great for dinner. We actually just went last night and we were seated immediately, with a gorgeous view of the Fremont Bridge and the industrial area. The dishes are wholesome, fresh and healthy, and they try to incorporate Aquavit in nearly every cocktail they serve, which makes them an A+ in my book. Also, it's a great spot to steal design ideas. Broder is always a good time.
Tip: Must order: Swedish Meatballs, 20 Min Roasted ½ Chicken, Cheese Dumplings, any cocktail, the Fika platter or Aebleskivers for dessert.
Coffee Shops/Bakeries
I'm kinda picky about coffee shops. I don't like them too busy and bustling, I don't like them playing super loud crappy music, and I like to be able to find a place to plunk myself for hours on end to spread out all of my books, laptop, etc. and not be bothered. Huge plus if it's decorated pretty cute and they serve really good coffee. TwentySix Cafe is my newest obsession. Their tall iced lattes, chilled rosé and back airy patio have been on point for the ridiculously warm weather we've been experiencing. I mean, look at how gosh darn cute it is!
Tip: Must order: Coffee! Vegan truffles! Rosé! They also have cheese boards and sammies available if you need a little something extra. Just make sure to take advantage of the back patio magic.
DONUTS. You cannot visit Portland without eating lots and lots and LOTS of donuts. There is much debate and debacle about whether or not to Voodoo (the answer is always yes, because you go for the experience and The Dirty Bastard peanut butter oreo donuts), but a donut is a donut in my book. I've become quite the connoisseur after living here for a few years now, and my ultimate favorite is Coco Donuts. Their donuts are light, fluffy, fresh, melt-in-your-mouth amazing traditional-style donuts. There are no fancy Captain Crunch or maple bacon bars, just straight up classic chocolate sprinkle, glazed old fashion, cinnamon sugar twists, and if you get lucky, lavender and rose-scented glazes on regular raised donuts. Plus they serve the best lavender and rosewater lattes that come with a complimentary glazed donut hole! WIN.
Tip: Must order: Chocolate sprinkle cake, cinnamon sugar twist, lavender and rose glazed, lavender or rosewater latte.

Follow Carrie on Twitter, Instagram and @CarrieCookMinns on Facebook
Carrie is a Northwestern girl through-and-through – she comes from six generations of Portlanders, and she loves the rain. She grew up on Whidbey Island, in Washington's Puget Sound, but has spent most of her life in PDX. Carrie is a beautiful storyteller, and her food and lifestyle blog often reads like a letter to a dear friend.
In addition to her musings on food, family and life, we're fond of her seasonally-driven recipes and inspiring photography. Carrie keeps busy with her blog, her photography business, and her family, and is in the process of writing her first book (out this fall). In her spare time, she enjoys perusing the Portland Farmers Market, browsing through Powell's Books, and taking the Mukilteo Ferry to Whidbey Island.
Breakfast/Brunch
Housed in a historic building on the site of Portland's 1905 World's Fair, Meriwether's Restaurant & Skyline Farm embodies all of the wonderful aspects of our city: preservation of a historic building, produce grown locally at Meriwether's own Skyline Farm, and outdoor dining set within beautiful lush gardens not to mention a scrumptious brunch menu with plenty of options to please everyone.
Tip: Make a reservation and ask to sit in the garden if weather is permitting.
For a sit-down breakfast experience with the creative food that Portland is known for, head to North Light on N. Mississippi Ave. The inside has a modern, elegant feel yet is still welcoming. I dream about Pastry Chef Julianne Richardson's house made crumpets and stuffed French toast for days after I've eaten there.
Tip: Leave time to peruse the shops up and down Mississippi Avenue.
Lunch
When you first meet salumist, Elias Cairo, you want to visit Olympia Provisions because he's such a darn nice guy but what keeps you coming back is his charcuterie crafted using old world techniques and the finest ingredients. For lunch, I frequent the Thurman Street location tucked into a hidden corner of northwest Portland. Before leaving, I always hit up the salami counter (like an ice cream counter for charcuterie lovers) and pick a few flavors to go — my favorites being the Sopressata and the Chorizo Navarre.
Tip: For that hard-buy-for person in your life, I recommend their Salami Bouquet.
Just walking into Maurice —a tiny luncheonette, where Norway meets France, is a treat due to Chef Kristin Murray's attention to detail. From the design of everything in her dream restaurant, to the plating of her dishes, to the creative combination of ingredients she puts together with delicious results, each plate she sets down in front of you is a work of art. Order the quiche if it's on the menu as well as one of her daily smørbrøds (like an open-faced sandwich).
Tip: Don't arrive starving as the portions aren't huge. Also, order a few of the Korova chocolate cookies to go, and munch on them while wandering the aisles at Powell's City of Books just a block away.

Happy Hour
RingSide Steakhouse is Portland's beloved 70-year-old steakhouse. The original Nob Hill location is the place my Granny always took my older cousin for special occasions, but not me because I wasn't old enough. Now, I'm plenty old enough and while I do find myself at the RingSide during prime time once or twice a year, I've learned that the secret to enjoying the RingSide's classic steakhouse menu without breaking the bank is to go during happy hour.
Tip: Definitely order the steak bites!
Portland City Grill is the place to go with a group of your best pals to enjoy live piano music, a tasty Happy Hour menu (especially the Ahi Tuna), and the views, views and more views. Situated on the 30th floor of Portland's US Bank Tower, every seat in the house looks out at some part of our beautiful city and the Cascade Mountains with our fair lady, Mt. Hood, at center stage.
Tip: Not recommended for a quiet, intimate conversation.
Dinner
One of my favorite spots, 23Hoyt, is sophisticated without being overly stuffy, and is known for its ever-changing menu that takes its cue from the seasons of the Pacific Northwest. They also have an extensive wine list and bar menu — my favorite is their weekly Nob Hill Frozen Cocktail special.
Tip: Leave time to stroll down a couple blocks to Salt and Straw for ice cream like-no-other.
I love downtown restaurant Tasty n Alder for its great vibe, its fun, family-style dining and Chef John Gorham's incredible meat and seafood dishes. I have yet to eat anything there that I didn't swoon over. I especially recommend the Cedar Plank Salmon, as well as their Skillet Corn Cakes.
Tip: Tasty n Alder is mostly a walk-in restaurant (reservations only for parties of 7-10), so be prepared to wait at peak times.
Coffee Shops/Bakeries
Lovejoy Bakers is a fabulous Pearl District spot for outdoor (as well as indoor) people watching. My usual routine is to order a 12 oz. Americano with room for cream, and a ciabatta roll with scrambled egg and butter, find a chair outside and watch the people go by while I "work."
Tip: Anything made with their ciabatta roll is worth ordering.
The Dragonfly Coffee House and Bakery is the quintessential neighborhood coffee house. I love to go here on a rainy day and sink down into the worn velvet couches while I enjoy my morning coffee and one of their gluten-free pumpkin, pear and walnut muffins. In addition to their coffee, they have a great tea menu and food items that will please everyone with gluten-free, vegan, and fully loaded pastry items.
Tip: Shhh…don't tell anyone else about this spot.

Follow John and Dana on Twitter, Instagram and Facebook
John and Dana are the talented husband and wife team that make up Minimalist Baker. They combined their skills, with John focusing on the technical side of the blog, and Dana focusing on the writing, recipes and photography. We're big fans of their vibrant photography and creative and approachable recipes that require minimal ingredients and time. Their blog is extremely diet-friendly, offering extensive gluten-free, dairy-free, vegetarian and vegan recipes, and is proof that following a specialty diet is anything but bland and boring.
John and Dana decided to move to Portland about two years ago, due to their undying love for the west coast, and the fact that Portland has always felt like home to them. The duo most enjoy the dining, craft and entrepreneurial scenes Portland lends. Be sure to check out more of their Portland dining recommendations here.
Breakfast/Brunch
Bijou Cafe is one of our favorites. The food is amazing and it's one of the original slow food/ocal restaurants. Dana gets the cauliflower kale hash and subs tofu for the eggs (it inspired her recipe here). I love the traditional breakfast because it comes with toast and they make their own preserves.
Tip: The only downside about Bijou is that the coffee is just OK. While you're waiting for a table, grab a coffee from the notorious Stumptown next door.
Tasty n Alder is a "family style" (code for "we bring it out when it's ready, not all at once") brunch and lunch spot. The patatas bravas are amazing and we've never had anything less than fantastic there. They make an excellent "Tasty Mary" as well.
Lunch
Hot Lips is a pizza chain you'll find all over town, and it's exactly what you'd think of for a Portland pizza chain. It's by the slice and there's always a vegan option or two ready to go. They use local ingredients and probably make the best pepperoni slice you could find. They make their own soda (yes, it's great), offer a great rotating selection of local beer, and have Dr. Brew's Kombucha (our favorite flavor is "love"). Two slices, a side salad (big enough to split) and two drinks never come to more than $20. And it's amazing.
¿Por Que No? is always great, but we prefer late brunch or lunch there. We personally like the margaritas (get the spicy rim), chips with salsa and guacamole, tacos and ALL OF THE SIX SAUCES.
Tip: There are two locations — both are great, and there's usually a line, but it rarely takes more than 15-20 minutes to order and grab a table.
Happy Hour
Bamboo Sushi is probably the best sushi in town, and it can get a bit spendy if you go during regular hours (although it's still worth it). However, if you go during happy hour, they offer a great sashimi plate, veggie roll, and the specials change every night. The east side location opens at 4:30 and the west side opens at 5:00. The happy hour only lasts until 6:00p at both places, and there's usually a small line waiting outside before they open.
Tip: If you go to the west side location, it's literally next door to Salt & Straw ice cream. You know what to do.
Another fun happy hour is The Observatory. Overall, it's delicious, but we usually go for drinks and an appetizer on the happy hour menu, and then split a main dish.
Dinner
Pok Pok is a Portland institution and is world-renowned for its Vietnamese style chicken wings. Whiskey Soda Lounge is its sister location (primarily a bar), which opened up down the street to serve people drinks while they endure the sometimes hours-long wait to get into Pok Pok.
Tip: The secret? They serve the same wings and jasmine rice and have a mean tamarind whiskey sour (in fact, we loved it so much that it is the inspiration for one of our very own cocktail recipes found in our upcoming cookbook). If you're still after the full Pok Pok menu, go to Pok Pok Noi (the northeast location) to get in much more quickly.

Lardo has two locations (one west and one east) and they're both great. They usually have some speciality items, but I love the burger and fries and Dana loves the brussel sprouts or kumquat kale salad (two more inspired recipes!)
Coffee Shops/Bakeries
Crema Coffee and Bakery has some of the best baked goods available. I love the am bun and Dana loves the zucchini muffin. They're usually serving Stumptown or Coava coffee (local gems), with great espresso options as well. It's probably the best way to start your morning.
Tip: It's become a bit busy and gets full Saturday and Sunday mornings, so show up early if you're craving something in particular.
Pip's Original Doughnuts & Chai is an up-and-coming donut shop that makes your donuts fresh to order, and they constantly update what's available. Think classic flavors like cinnamon sugar, Nutella and lemon curd. How could it be better? How about a whole menu of homemade Chai lattes? Go here. No need to reconsider.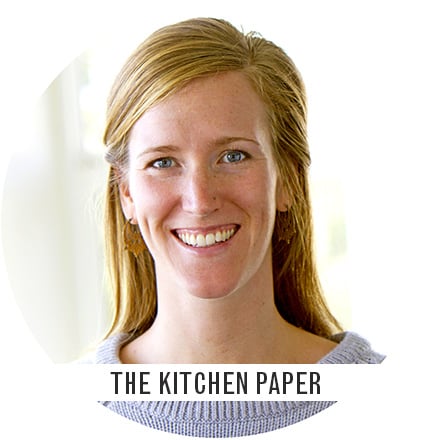 Follow Mary on Twitter, Instagram and Facebook
Mary's excitement for life is evident in each blog post she crafts. On her blog, she shares tales and photos of her travels, as well as an array of inspiring, mostly healthy recipes — both sweet and savory (though she has a knack for baking). We want to make everything she churns out of her kitchen!
Mary was actually born and raised in Portland, and just recently moved back, after a 10-year hiatus. She knew she always wanted to come back to her roots, plus the draw of living so close to the beach and the mountains, as well as the wonderful people there just couldn't keep her away any longer! When she's not creating in the kitchen, traveling, running, or practicing yoga, she loves exploring Oregon's beautiful coast and mountains.
Breakfast/Brunch
Brunch from Tasty n Sons is a highly sough-after meal on any given day in Portland — who can resist chocolate potato doughnuts and an impressive selection of Bloody Marys? They use local ingredients to create hearty meals in their airy, fun space.
Tip: Be ready to wait — but reassured that it's absolutely worth it!
Pine State Biscuits brings some Southern biscuit magic to the Northwest with their impressively filling menu. From biscuit sandwiches or biscuits and gravy, to chicken pot pie or shrimp and grits, these guys know their food.
Tip: If you have room after your meal, don't miss their homemade pecan pie to top it off!
Lunch
Oso Market + Bar needs no other explanation that this sandwich: Pork-belly, fried egg, garlic-chili aoli, on beer bread. To-die-for! This hip shop has a creative menu, impressive bar and a shop section so you can stock up on goodies before you go home! They serve brunch, lunch and dinner — all of which are absolutely worth a visit.
With three food cart locations around Portland, Wolf & Bear's gives you plenty of opportunities to dive into their flavorful vegetarian options. Their Middle Eastern menu features pita wraps and salads ready to be smothered by one (or more!) of their homemade sauces.
Tip: Go for the the "Our to Lunch" wrap for falafel paired with roasted red peppers, labneh and more!
 
Happy Hour
With a $2 happy hour menu, it's surprising Aalto Lounge isn't jam-packed every day of the week. More room for us! Enjoy their "Slow Burn" (Serrano-infused vodka, pineapple, lemon juice), and a $2 grilled cheese sandwich on their cute back patio, nestled in between other fabulous Belmont restaurants.
Tip: Don't forget to tip well, even with such great deals!
In addition to their killer arepas and spicy margaritas at Teote, the spacious back patio makes it the perfect place to sip away the afternoon.
Tip: Be prepared to wait in line downstairs to order, then head out back to the patio where you can take advantage of the second bar while you wait for your food to arrive!
Dinner
Sweet Hereafter is a gorgeous bar that makes you want to sit down and never stand back up — especially with their incredible vegan food options. The Thai bowl, Jamaican Bowl, or Banh Mi are some of my favorites, and you can't skip the antipasto platter! With plenty of room on their patio and inside, this place is perfect all year round.
Pambiche is a brightly-colored Cuban restaurant that knows how to deliver the goods! Try the traditional Plato Cubano (adobo-rubbed pork shoulder, creole gravy, rice and beans) or branch out for something a little different — maybe the Lengua en Salsa (yes, that means tongue!). Whatever you choose, it'll be hot, flavorful and plentiful!
Tip: Be ready to wait outside for dinner — it's a popular place!
Coffee Shops/Bakeries
Not only does Heart Coffee Roasters roast a killer coffee bean, but their two locations are both Instagram-perfect, clean and full of good vibes. In combination with their friendly service, it's easy to sit here all afternoon working in their trendy atmosphere!
Coava Coffee Roasters keeps it simple: no fancy lattes or triple-whip-whatevers — just great coffee made to feature the beans. Their staff help you choose between the two daily roast options, finding the one that you'll love, then leave you to enjoy it in their spacious, gorgeous shop. If one pour-over coffee isn't enough, try the other featured roast that day!

Bonus! Pearl District Eats from Lauren Brennan | Lauren's Latest
For an in-motion look at eats in Portland's Pearl District, Lauren of Lauren's Latest takes us on a video tour of her her favorite eats.


This post was compiled and written by FoodieCrush contributor Hayley Putnam. Follow Hayley and her foodie tastes and other flights of fancy on Pinterest and Instagram.
Kirby lives in Brooklyn, by way of Chicago. When she's not drawing, she can be found doing other's makeup, watching movies, cooking meals with five ingredients or less, and dancing! Follow her on Instagram and Twitter.
As always, thank you for reading and for supporting companies I partner with, which allows me to create more unique content and recipes for you. All opinions are always my own.  
Are you following me on Instagram, Twitter, Facebook and Pinterest? 
Thanks for reading and subscribe to FoodieCrush to have each post delivered straight to your e-mail box.