In a world where work is sometimes hard, long and sometimes unappreciated, it's important to give—and get—unexpected rewards along the way.
My workplace has changed in a big way over the past year. I've transitioned from 20 years of working for someone else to finally taking that plunge and working for myself. I don't have a commute—except from the kitchen where I do most of my foodie creating, to my office where I get the design work done.
I can wear what I want, even though I pretty much did that anyway. When I run out of olive oil or am craving a new white dish for a photo, I can run to HomeGoods in the middle of the day and not feel the least bit guilty about it. Hey, I may even stop at 7 grocery stores on the way home. Yes, I do that too.
Working for myself is something I wouldn't change for the world. But I do sometimes miss the company camaraderie, the daily interaction with co-workers (read that with a big emphasis on 'sometimes') because I really have the best set-up I could ask for. I work from home but I have the support of fresh ideas, willing hands and not yet jaded minds who are eager to learn.
I have interns.
For the past three years—has it been that long already?—I've been teaching Advanced Typography and Magazine Design at a local university. One night a week I meet up with senior college students about to embark on the transition of student to worker bee and teach them not only about design, but also about the real world, with real expectations and the hard work that will be expected of them once they get into it. Oh how I remember the days, my whole future was a glorious open field, ripe with opportunity. And it was so scary.
One of the reasons I enjoy working with these emerging careerists is not to teach them, but to teach me. To motivate me to be a better communicator and a wider thinker. To familiarize me with new technology I wouldn't know was available as I work in my pigeon hole of doing the same thing the same way like I always have. To give me ideas and inspiration in an effort to keep fresh and relevant, and keep me up to date on the slang and fashion forward so I don't seem like a total old fogie to my daughter and useful to my readers.
Each semester I have students who ask to intern with me. While I was at my previous job working for a publishing company designing magazines, these students would rotate in and out of a regular work environment consisting of a cast of characters, coffee breaks and listening to people complain about their job.
Since becoming a solopreneur, I now I have interns who work with me at home. It's definitely a different vibe since its more one on one and we sit right next to one another with nowhere to escape for either of us. But it's also a great way for the soon-to-be-employed that this is a working scenario to aspire to even though I tell them all they really should work for someone else, for a bigger company or at even three before going out on their own.
There's too much to gather, too much to learn—the right way to do things in business and also and the bad way to do things in business—that you aren't exposed to at the ripe old age of 23. I know there are exceptions for sure, and boy how I would have loved to have been one of them. But then I wouldn't be here talking to you now either.
So to celebrate the end of the semester and the nearing date of college graduation, I took my interns Annie and Jessica to brunch. Because everyone knows you can't work if you don't eat and we all need a little reward, a little break in the day. It's the name of the game.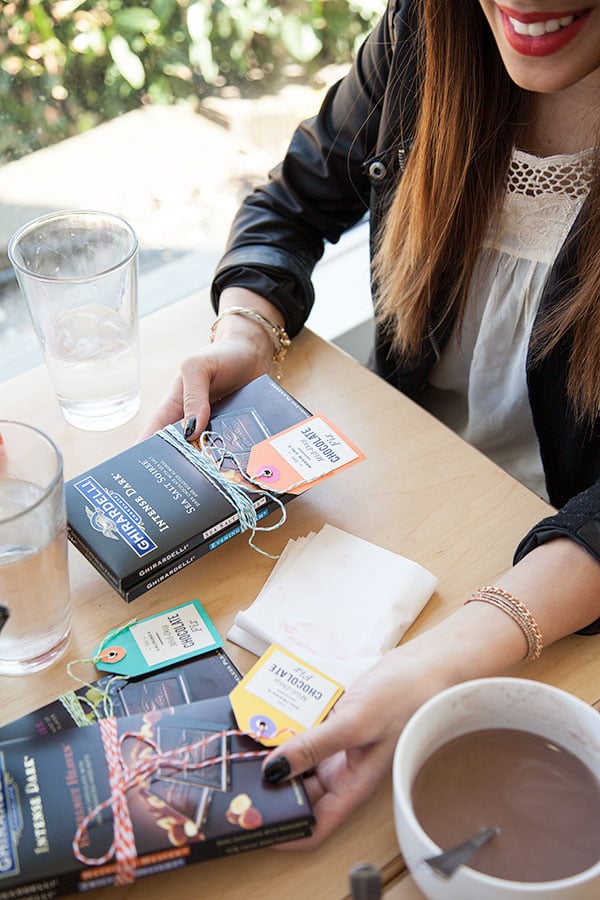 We talked again about their plans for the future, their dreams versus reality and as usual I was offering up all sorts of unsolicited advice. I'm good at that.
My advice to them? Three things:
1. It just takes hard work. Even if you aren't a naturally talented designer with an eye for the slightest difference in fonts or can discern each and every Pantone color known to man, if you work hard, really hard, and dedicate the time, you can learn anything—including the rainbows of Pantone—and you will succeed.
2. Listen. Just stop talking, and listen. Before interjecting your thoughts and knowledge to prove what you know and how good of a problem solver you are, button your lips up tight and just listen. Solving a problem starts with knowing what it is, and by letting your client, boss and even your partner share their thoughts with you, will give you the information to formulate a solution. If you don't know what they want, you can't give it to them. This has been the hardest lesson I've had to learn and up until about two years ago, I was failing miserably at.
3. Take a break. Whether its a week's vacation in France before you start your new job, a walk around the block during your lunch break or a much needed chocolate fix in the late afternoon, you need to walk away from a task or event to escape the day, refocus and reflect on what, and why, you're doing what you're doing. Why are you here? What do you love, and is this it?
As part of my thank you to Intern Annie and Intern Jessica—yes, I love nicknames—for their hard work these past few months, I gave them a simple escape from their day to be enjoyed from their desk or even on the airplane en route to France: an afternoon pick-me-up thanks to a decadent chocolate fix.
I keep a of dark chocolate in my desk drawer for my afternoon cravings, to take a break from staring at the computer and instead have a nibble and stare out the window to regroup. It's something I've done for years, my little reward for staying focused throughout the day. It's the perfect bite to get me through the day and a secret I'm happy to share.
Us workin' girls have to stick together.
Download the Mid-Day Chocolate printable.
Die cut tags from Target or similar here.
Sponsored by Ghirardelli Intense Dark Chocolate. Create your escape here.
All content, ideas and words are my own. Thanks for supporting these sponsors that allow me to create new content like this for FoodieCrush.
http://ad.doubleclick.net/ad/N7028.286925.SAYMEDIA/B7436402.17;sz=1×1;ord=[timestamp]