Let's just start with the fact that she gets up each morning at 4 a.m.
Then let's explore that she has a husband, a daughter who is turning 8 years old this week and a 4 year old son, all of whom constantly keep her on her toes. And of course there's the consistent creating, blogging and networking—of which she's become a social media master. Oh,  and did I mention she does it all sugar-free?
Who IS this woman who doesn't stop? Where can we get her Energizer Bunny stamina? It's pretty simple really, just read her blog and follow her lead. Follow her to Energizerland.
Gluten Free Pumpkin Pie Tarts > Family Fresh Cooking
Marla Meridith is the creator of the family-oriented blog Family Fresh Cooking. I found her because somehow through the internet webs, just as I was starting the blog in support of my online magazine, SHE found ME. She was quick to comment on my posts and tweet a friendly "hi." And for someone like me who's new to the foodie blogger niche, it confirmed the mission of FoodieCrush, of promoting food bloggers and not just their talents but their personalities, was spot on target. In turn, her actions and words have inspired me to do the same for other blossoming bloggers. Pay it forward.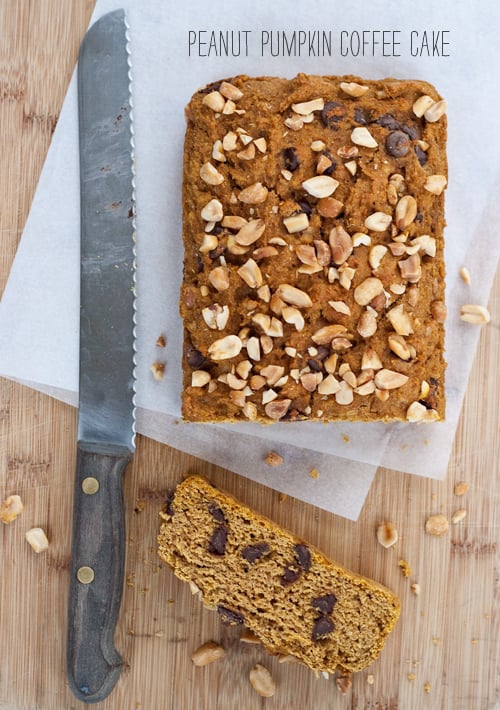 photo > foodiecrush // recipe > Family Fresh Cooking
Following down Marla's path of October pumpkin love, I was stoked to give one of Meredith's recipes a go. Super healthy with two kinds of flour, toasted peanuts and sweetened with stevia, Marla's Toasted Peanut Pumpkin Coffee Cake is a terrific choice for giving the kids—ahem, and yourself—and is a healthy breakfast treat or afternoon snack. I adapted it by adding chocolate chips. What can I say? Hey, chocolate is healthy too.
I could carry on with a whole litany of gushes and props to Marla and her blog, but I'm betting you'd rather hear more about her in her own words. Did I mention she's pretty funny too?
Thank you Marla for being our FoodieCrush!
I started my blog  Family Fresh Cooking as a re-birth of my creative ambitions. Prior to launching it in June 2009 I had not a clue what a blog even was. I worked in textile and graphic design – before I had kids. A few of the companies I worked with were Disney, Scholastic and Warner Bros. There was a focus on kids all along…
Chicken with Coconut, Lime and Peanut Sauce > Family Fresh Cooking
As a freelancer we were the first ones cut in the economic down turn. With that change I craved reinvention. Some how food, recipe development, photography and a blog came about. Family Fresh Cooking and everything associated with it has become a full time job that I love!
Everyone's Favorite Teeny Tiny Potatoes > Family Fresh Cooking
My blog has a family focus, but I write recipes to encourage all people of all ages to eat healthy, whole foods made at home. Making healthy food beautiful is a niche I felt was very natural for me. I love creating a helpful and fun online community. Some ways I do that on my blog are with Happy Posts and Project Lunch Box.
Project Lunch Box > Family Fresh Cooking
The recipes I develop run the gamut of gluten free, low fat, dairy free, vegan, not so vegan, meat loving and everything in between. The one constant is you'll find is there are virtually no refined sugars and flours on my blog. You will not find overly processed food either. I prefer whole foods that offer great flavor, real nutrients and keep us going with out crashes and unnecessary "stuff." We are not gluten free in our house. Many of my recipes are though. There is a need for great tasting healthy GF recipes. If the need is there I will go for it! Same thing applies to vegan recipes. I embrace all lifestyle choices.
This is one of the most favorite photos I snapped this summer of my hubs and kids ~ Marla
My blog goes way beyond food these days and I cover a great deal of travel too. It's a good thing as I cannot sit still!  If you are in the LA area on November 12-14th I will be speaking at the International Food Blogger Conference (IFBC) on Sunday at 9:30am. The topic is time management….stay tuned!
This portrait I took of my daughter this summer thrills me. Makes me feel very alive…~ Marla
Q&A with Marla and FoodieCrush
1. Describe your blog in 3 words:
Exciting, Bold, FUN…with a twist of Unexpected (it was unexpected for me to add a 4th description, right?!)
2. If you could be one food blogger other than yourself, who would you be?
 Matt Armendariz. He is sharp, witty, cute and he is great with an iron. His perfectly pressed gingham shirts always impress me.
3. Which 3 blogs do you follow/are obsessed with/can't live a day without?
Tartelette: Helene reminds me to be a caring and thoughtful person with her kind words and beautiful clicks. I need to be reminded to be nice…
La Tartine Gourmande: Stunning blog that takes me far, far away.
Matt Bites: Matt takes great pictures, makes me laugh. And makes me laugh more.
4. What is the one kitchen tool you could never give up?
Whisks of all shapes and sizes. I like the way they look and I like to stir the pot.
5. What dish are you obsessed with mastering that you just can't get quite right?
Fish on the grill. My favorite part is the skin and it always sticks to the hot grates. I pick it off and eat it like crispy chips. Hopefully I did not just gross anyone out.
6. What did you have for dinner last night?
Grilled Trout, Steam Veggies and Salsa. My go-to kinda meal.
7. What's one secret talent outside of the kitchen nobody knows about you?
I qualified and ran Boston Marathon back in 2005.  When training I lived on that vile sugar syrup called "Goo" I would never, ever do that again. The marathon or the Goo.
8. You're happiest when cooking/eating:
Grilled Salmon and Stuffed French Toast. Never ever together.
9. Your blog is a wonderful resource for families to live and eat healthy. What are your top 3 tips for parents trying to adopt a healthier lifestyle for their children?
a) Clean & prep fruits and veggies before you plan on using them so they are always ready to grab.
b)  Make a big batch of things like oatmeal so you can have a healthy breakfast ready on the fly.
c)  Eat 5-6 meals throughout the day to keep blood sugar stable and your mind & body running at peak performance.
10. The one secret ingredient to your success is:
Not taking myself too seriously and taking myself too seriously in mindful balance. Waking up at 4am to get stuff done.
Thank you Marla! When not blogging you can find Marla on Facebook, Twitter, StumbleUpon, Instagram and Pinterest too.
And when you're done stalking her, find more of FoodieCrush here: subscribe to foodiecrush and follow me on twitter, Facebook and Pinterest