"I have a recipe I want to make for all of you, it's delicious and perfect for a barbeque." That was the plan my new friend cooked up as we were scheming about our weekend menu for our group vacation.
And then she dropped the bomb.
She let us know that she isn't much of a cook, (warning, warning!) but that she was really starting to get into cooking (okay, she might know how to boil water) in part thanks to a food blog that had she found (cool, she wants to learn,) inspired by its simple ingredients and approachable recipes (NOW, we're feeling better about things!)
So when she showed me the recipe for Watermelon and Avocado Salad I chuckled as I once again realized the influence and reach food blogs have on cooks of all sizes, levels and tastes. The printout had Recipe Girl's logo splayed across the top. Lori had done it again.
A former teacher, Lori Lange—aka Recipe Girl—has been influencing home cooks across the world wide web. She creates and delivers recipes that inspire novices and veterans alike with original takes on favorite standards like Pop Rocks Brownie Bites to Pork Stew with Clams and Spicy Red Pepper Sauce.
But what draws droves of readers and passionate followers isn't just the fact that she's judged the Philadelphia Cream Cheese Cook Off alongside everyone's fav home-cookin' maven Paula Deen or that she's a favorite speaker at conferences like BlogHerFood and next week's TechMunch Boston.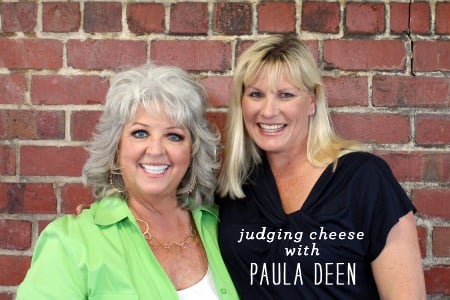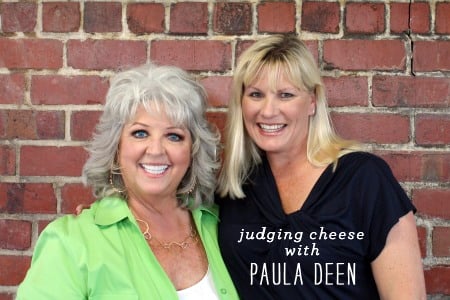 No, what makes us all keep coming back for more is Lori's easy writing style and step by step instructions. Add those talents to her awesome round-ups and theme menus (100 Best Chocolate Chip Recipes anyone?) and Recipe Girl is a daily destination for thousands.
So, what more could she possibly give us? How about a junior Recipe Girl in the form of Recipe Boy. Fans were tickled to hear of Lori's birthday present to her son Brooks, a food blog all his own, a spot to showcase Grandma's Cinnamon Toast and Twix Bar Cheesecake Pie. Looks like the passionate cook doesn't fall far from the tree.
We wanted to get to know Lori beyond the blog and we're sure you do too. Thanks Lori for being our foodiecrush!
1. Describe your blog in 3 words:
Simple, pretty, delicious

2. If you could be one food blogger other than yourself, who would you be?
Ree Drummond of The Pioneer Woman.  There's something about living on a ranch and cooking for your cowboy that sounds ultra-sexy to me.
3. Which 3 blogs do you follow/are obsessed with/can't live a day without?
Kevin and Amanda Gorgeous, gorgeous photography and tips and a variety of fun content.
How Sweet It Is Jessica is a gifted writer, and her recipes are perfect.  It's like she's reading my mind and knows what I'm craving.
Picky Palate If you've ever met Jenny, you know that she is super sweet, and she comes up with the best family-friendly, easy recipes.  I always love popping in to see what she has created.
4. What is the one kitchen tool you could never give up?
My rubber spatulas (I have like 15 so I am never without a clean one).  They're good for everything- cookie dough, scrambled eggs, and digging smudges of peanut butter out of the jar.  And zesters too.  I zest everything.
5. What dish are you obsessed with mastering that you just can't get quite right?
Steak.  I just can't do it.  I need "Steak 101" big time. (editor's note: check out Vivek's Steak 101, it's my fav way to cook the red meat.)
6. What did you have for dinner last night?
Spicy chicken tacos with fresh corn and guacamole, and a cool, crisp chardonnay.
7. What's one secret talent outside of the kitchen nobody knows about you:
I sing a pretty decent karaoke.  Mostly chick songs, but I love to sing everything.
8. You're happiest when cooking/eating:
When my family and friends are around.  I don't really want anyone helping me in the kitchen (in fact, stay out of my kitchen please!), but I love entertaining a full house, and cooking all day is fun for me.
9. Food seems to be a way for you and your family to come together. How did you instill such a love of food, cooking and nutrition in your son (it's such a challenge for so many of us!) and can you tell us how it led to the creation of your son's own blog, Recipeboy?
My son Brooks has watched me cook since he was a baby.  He has always seemed to take a natural interest in the process of cooking, asking questions about what I'm doing and why, and he's much more adventurous about tasting new foods than most kids.  When he was 5, I encouraged him to begin entering cooking contests.  He did.  He likes winning and continues to enter.  A couple of years ago he started asking about RecipeBoy.com.  When he was 10, we felt he was ready so we bought it for him for his birthday… had it designed and everything.  He's super motivated and excited.  I'm loving that, of course!
10. The one secret ingredient to your success is:
Loving every bit of what I do.  I work very hard and put my heart and soul into everything I do for my site- 24/7 for the last few years.  I'm exaggerating on that 24/7 part, but only a little  (a supportive family helps too!)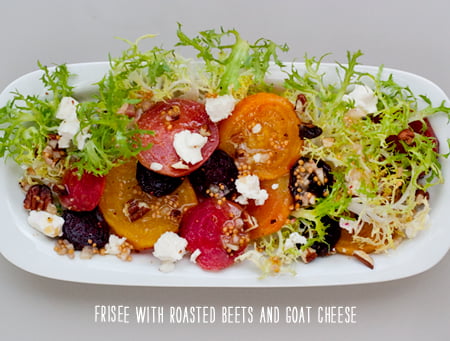 photo > foodiecrush
Try one of our summertime favorites from Recipe Girl for yourself: Baby Frisee and Beet Salad with Goat Cheese made with fresh-from-the-farmer's market beets glazed with fig jam and spiked with honeyed goat cheese.
photos courtesy Lori Lange
Thanks for reading. If you liked this post, please subscribe to foodiecrush and follow me on twitter and facebook