photo > foodiecrush
My daughter has two current food obsessions: waffles and pie. So after being awakened at 7:30 am on my only day to sleep in, thanks to the ravenous requests of Ali and her hungry little girlfriend, I dutifully filled their breakfast request for waffles. No, we weren't going to pull the Eggos from the freezer. Not on a weekend. No way.
I recently put my cheapie waffle maker into the giveaway and upgraded to a mid-level Waring waffle maker and its made a big difference in producing a crispy waffle instead of a steamed buttermilk-ey imposter. So now all I needed was a great recipe.

photo > Sugarcrafter
So on to the hunt for a basic buttermilk waffle recipe—after all I was trying to please two seven year olds. And bingo! I couldn't have found one more appealing than Tracy's version of Buttermilk Belgian Waffles from Sugarcrafter.
I'm not kidding when I tell you that the batter alone was like eating cake! I was wrestling the two girls for the scraper and licking the bowl like it was cookie dough. WIth the combination of both baking powder and baking soda, the batter was frothy and light and after folding in the whipped egg whites it was all over but for the eating. I didn't have enough buttermilk on hand so substituted 3/4 cup of non-fat milk but I'm sure it only helped in the crisping the waffle's goodness.
photo > Notes from My Food Diary
Pecan Oatmeal Waffles from Eliza at Notes from My Food Diary brings together heart-healthy oats, the toasted crunch of pecans, a bit of sourness from buttermilk and the surprise hit of pumpkin pie spice. Flavor explosion loveliness. And then she tops it all of with raspberry curd, but suggests blackberry as a perfect alternative.
photo > Add a Pinch
They're every kids favorite, an easy addition to any waffle recipe and they usually disappear in minutes with no chance of weekday leftovers. But Robyn's version of Add a Pinch's Chocolate Chip Waffles makes enough for a hungry, early-morning crowd and if you parcel out just right, a much better alternative Eggos. How could a day go wrong when it starts off with chunks of chocolate?
photo > Manifest Vegan
If it tastes good as a muffin, surely it will be just as tasty as a waffle. This vegan and gluten-free Lemon Poppyseed Waffle recipe from Allyson at Manifest Vegan uses a combo of potato and tapioca starch with sorghum and brown rice flour to replicate a crispy waffle with a lovely accent of citrusy lemon and hopping poppyseeds.
photo > Seven Spoons
Given this was just Tara's second time making waffles, her novice waffling skills certainly didn't show. Her recipe for Banana Bread Yeasted Waffles from Seven Spoons is an original alternative to standard banana bread when you find yourself with a couple of past due bananas on the counter. But don't procrastinate in the prep for these babies, thanks to the yeast they need to rest overnight before baking up crisp on the outside, soft on the inside come morning.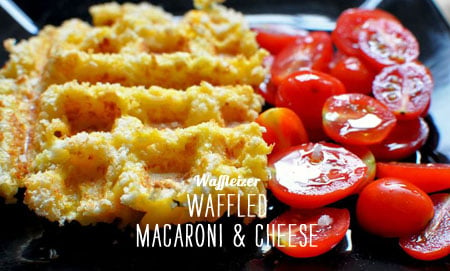 photo > Waffleizer
And just in case you want more than just breakfast waffles, check out this totally fun blog from Waffleizer where you'll find everything waffled from Waffled Macaroni and Cheese to Waffled Croque Madame.
Thanks for reading. If you liked this post, please subscribe to foodiecrush and follow me on twitter.