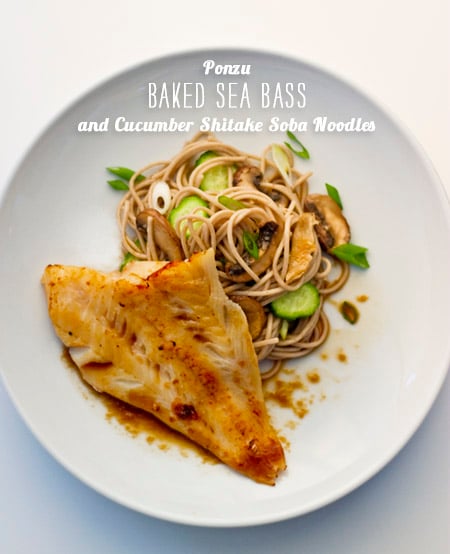 photo > foodiecrush
On a search for something to make for dinner and trying to keep it as so-many-say-usually-in-air-quotes "figure-friendly", we thought that a light Asian sauce would fit the swimsuit bill. So onto the web we went, searching for a fish recipe that could be marinated quickly in combination with one of my favorite condiments, the super-versatile ponzu sauce.
Not familiar with ponzu? Well, it's similar to soy sauce, but lighter, less salty and flavored with citrus such as orange or lime. It adds a more subtle saltiness to fish, chicken, meat and maybe even ice cream? (send us a recipe if you find one.) My favorite is my husband's version of broiled broccoli with shitake mushrooms.
photo > Rasa Malaysia
A quick trip to the store led us to fresh sea bass, the web led us to Baked Sea Bass from Bee Yinn Low of Rasa Malaysia, and the rest was delicious dinner history. We added a side of soba noodles, sliced cucumbers, shitake mushrooms, green onion and a bit more ponzu plus a shot of sesame oil for an over the top ponzu-love-fest (as shown in top of post photo.) To find more delicious recipes from the ever-talented Bee, pre-order her gorgeous new cookbook, Easy Chinese Recipes: Family Favorites From Dim Sum to Kung Pao.
photo > The Perfect Pantry
Carmelized. Sweet yet salty. Beefy. The Perfect Pantry's easy recipe for Grilled Flank Steak with Ponzu and Honey Glaze cut across the grain and served with her Asian Broccoli Slaw makes for a perfectly delicious, and quick, weeknight meal. Don't miss checking out the bottom of Lydia's post for several other ponzu recipes from a few other foodie bloggers.
photo > La Fuji Mama
Two of my all time tofu favorites are the simple Japanese dishes of Hiyayakko and Agedashi tofu, but I like to substitute the dashi for ponzu, and of course top it with sliced green onion and salty bonito flakes. This newly found version from Rachael at La Fuji Mama calls Ponzu Tofu Steak takes the basic Agedashi dish and blows if out of the water by frying tofu topped with minced garlic in a cornstarch crust, then adding Siracha sauce and topping it with sweetened ponzu. Yes, my mouth is at full drool. Yum.
all photos credited to accompanying blogs above
Thanks for reading. If you liked this post, please subscribe to foodiecrush and follow me on twitter.