A crunchy Triscuit cracker holds up to every flavor combination in these six bite size snacks using just 5 ingredients or less.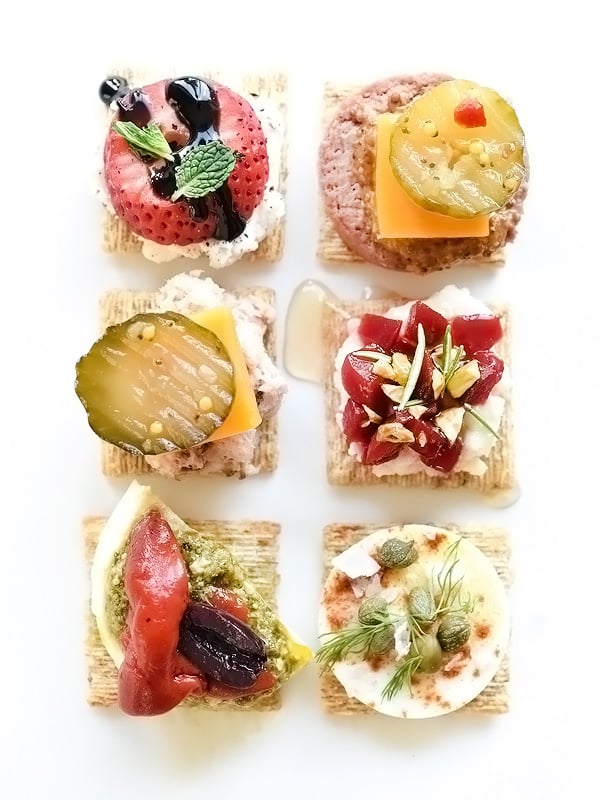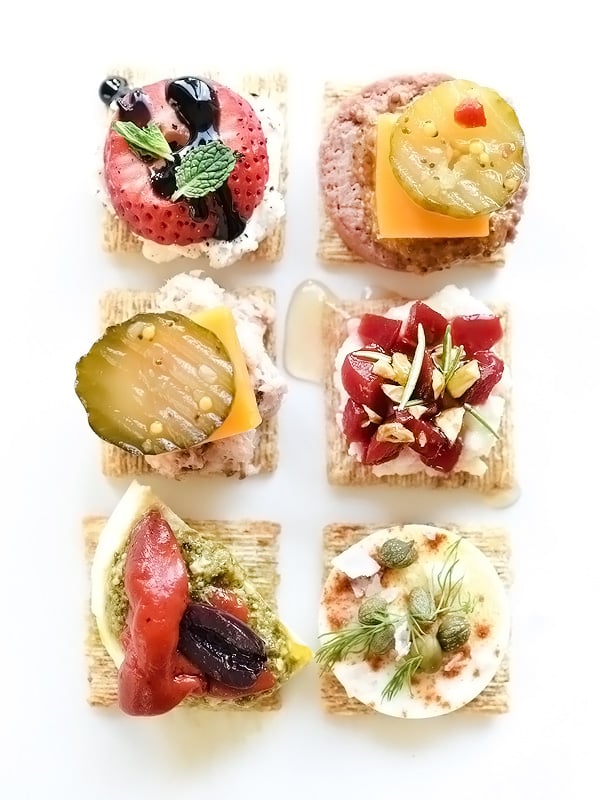 This post is in partnership with Triscuit and Refinery 29.
I'm a snacker. I think I get it from my grandma Mary Jane. She was never a big eater, but was always snacking on "just a little something."
My snacking habits started young. It was part of my daily routine, just as much as brushing my hair and mercilessly teasing my little sister.
Every day after school I would get out my homework, and then flip on the kitchen TV (ours was a black and white 13-inch number with rabbit ears and no remote) to watch re-run episodes of The Brady Bunch, Gilligan's Island, Leave It to Beaver, Eight is Enough, Bewitched and the occasional ABC After School Special.
Then it was time to start my snack fest.
I didn't grow up on peanut butter, in fact I don't think I had a PB&J sandwich until I was a teen. Instead, thanks to my German heritage, sausages, cold cuts and cheese were the kings and queens of our refrigerator's meat and cheese drawer. And liverwurst was my favorite of all of them.
Don't gag. Liverwurst, I've come to discover, is really the poor man's paté. As a kid, I loved it's creamy texture when it's topped on a crispy Triscuit cracker—like I mention here on #18—and I still love the combination just as much today.
I would pull out the box of Triscuit crackers, the liverwurst, mild cheddar cheese, mustard and pickles and start my stacks. I made open face Triscuit treats. I made mini Triscuit sandwiches. I made Triscuit towering infernos.
Sometimes I'd eat three of them, other times I'd make a dozen, or until my mom came in and broke up my Triscuit tinker toy creations to leave room for dinner. As if.
I've definitely passed the snacking gene onto my Smudge. But the liverwurst gene? She's yet to come around.
I'm still holding out hope, but in the meantime, I'll keep to my favorite after school snack while she devises her own creations, which of late have started with Triscuit and her beloved ham salad spread. And pickles and cheese, of course. She's such a mama's girl.
Easy to Epic: 6 Bite Size Triscuit Treats
One thing that's essential to me in creating a bite size snack is to pull a tapas treat together from whatever happens to be in my fridge or pantry. So Smudge and I put our collective tastes together and came up with 6 different bites that go from low brow to high brow to satisfy any occasion.
Since I was a kid I've loved the flavor of Triscuit crackers with each hearty, salty bite. As a mom, I totally appreciate the fact they're made with whole grains so they're another sneak attack of goodness for my growing Smudge.
Below are 6 different recipe ideas to spark your bite size inspiration, but this is just a start. The variety of flavors you can build upon a Triscuit cracker, is, well, limitless. I like that Triscuit crackers hold up the the heartiest of toppings but the flavor doesn't compete with more delicate fare. They're simply a great base to build any bite size snack on.
Heidi's Classic Liverwurst & Pickle Triscuit
This is my all-time favorite and was probably the bite that set my taste buds up for a future of contrasting textures that mix well with savory and sweet and pickled to boot.
Ingredients: Triscuit, liverwurst slice, stone ground mustard, mild cheddar cheese and sweet pickle slice
Smudge's Ham Salad Spread Triscuit Treat
Ham salad spread is one of Smudge's favorites. Ground ham combined with sweet pickles, a small amount of mayo then topped with another pickle slice and mild cheddar cheese.
Ingredients: Triscuit, Ham Salad Spread, mild cheddar cheese, sweet pickle slice
Pickled Beet and Ricotta Cheese with Honey Triscuit
Smooth ricotta cheese is the creamy base for vinegary-brined beets, chopped small and offset by a drizzle of sweet honey on the salty cracker.
Ingredients: Triscuit, ricotta cheese, pickled beets, chopped pistachios and fresh rosemary
Egg, Caper and Smoked Paprika Triscuit
A more dressed up appetizer that starts with the incredible, edible, hard boiled egg. Smoked paprika adds a subtle, smokey punch to each bite.
Ingredients: Triscuit, hard boiled egg slices, capers, smoked paprika, sea salt flakes, freshly ground black pepper and fresh dill
Mozzarella and Pesto Triscuit
Mediterranean flavors show off their flavor filled flair with a garlic studded, store-bought pesto I keep in the pantry.
Ingredients:  Triscuit, fresh mozzarella cheese slices, store-bought pesto, roasted red bell pepper, kalamata olive slices
Goat Cheese, Strawberry and Balsamic Glaze Triscuit
I use lemon flavored goat cheese for a tart bite to this sweetened up dessert-y cracker bite.
Ingredients:  Triscuit, lemon flavored goat cheese, strawberry slices, store bought balsamic glaze, fresh mint
For more Triscuit snack ideas, visit the Triscuit Pinterest page or follow them on Instagram, Twitter or Facebook.
Thanks for stopping by and visiting FoodieCrush. Have something to say? I'd love to hear from you. Let me know in the comments below.
Have a great day, and make something good.
This post is a partnered post with Triscuit and Refinery 29. As always, thank you for reading and for supporting companies I partner with, which allows me to create more unique content and recipes for you. All opinions are always my own.  
Are you following me on Instagram, Twitter, Facebook and Pinterest?
Thanks for reading and subscribe to FoodieCrush to have each post delivered straight to your e-mail box.  
SaveSave