I love my bubbly so when Carson Daly is counting down the final minutes of 2011 as we all wait for the big New Year's Eve ball to drop, you can bet I'll have a cold flute of Champagne or Prosecco in my hand, ready to toast in the new year. I may even be making up the 51st language to toast in before I'm done.
When I'm hosting a festive holiday party, I like to offer my celebratory guests something a little more special than the old standbys of wine and beer. Is it just me or have we totally forgone the tradition of cocktails?
2011 did see somewhat of a resurgence of the cocktail glam thanks to shows like Mad Men and Pan Am, but as a host I want to spend time with my guests, not trying to impersonate a mixologist behind the bar.
So come on, lets do this. Let's make 2012 'The Year of the Punch.' Yep, I said it, starting a trend, right here, right now.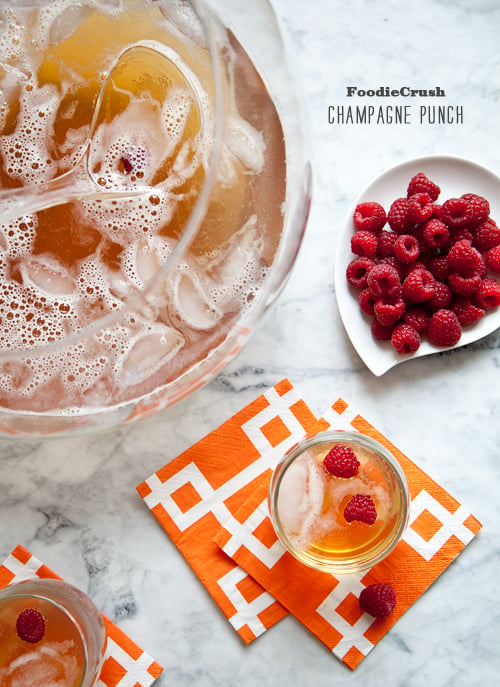 Why punch? Punches are easy to prepare, lighter on the pocketbook and let your guests know that you put some time and thought into their drinking selection. That you didn't make that last minute rush to the liquor store for the same old beers and wine.
This champagne punch is one I've made for one holiday party or another over the past 10 years (yep, ahead of my time on the trend) and its always been a crowd pleaser.
I usually buy enough booze for at least 3 batches, because the glasses aren't overly sweet so they go down smooth and easy. Keep in mind when preparing the drink that the recipe calls for the main ingredients minus the champagne to be chilled for at least 4 hours prior drinking, keeping it nice and chilly with no ice cube dilution. But in a pinch, I've made it and drank it on the fly. And its still delish.
When choosing your fizzy component, choose a reasonable—no, I did not say cheap—bottle of champers or prosecco, and save your Veuve and Dom for the midnight toast.
Looking to make it non-alcoholic? Substitute the triple sec with a simple syrup, the brandy with orange juice and the Chambord with pomegranate or raspberry juice and Martinelli's Sparkling Cider is a perfect sub for the bubbly.
Champagne Punch
Ingredients
1 cup triple sec or Grand Marnier
1 cup brandy
½ cup Chambord, or other raspberry flavored liquor
2 cups unsweetened pineapple juice
1 quart chilled ginger ale
2 chilled (750 ml) bottles dry Champagne
2 cups raspberries
Instructions
In a large bowl or pitcher, combine the triple sec, brandy, Chambord and pineapple juice and chill covered for at least 4 hours or overnight.
In a large punch bowl, combine the triple sec mixture, the ginger ale, Champagne and ice cubes if desired.
Garnish punch with raspberries and serve.
Notes
adapted from Gourmet Magazine, 2003
Check out a few more New Years ringers in FoodieCrush magazine: like Cookin' Canuck's traveling fondue pot and amazing fondue recipe to go in it (check out page 62) and Champagne inspired items I totally covet (page 12). Speaking of coveting, this punch bowl has been on my list for at least the last 7 years, and I finally broke down and bought it this fall when Crate & Barrel opened a store in SLC. It's a much prettier alternative to the large clear plastic job I served the punch in prior to its arrival.
Cheers, prost and salud. Now let's party! clink clink
photo > Cocktail Remedy
Nick's Easy All-Occasion Punch brings together all the 'gins': ginger syrup, gin and ginger ale creating Coctail Remedy's proven, penny-pinching, party pleaser (whew, now thats some alliteration)
photo > Verses from My Kitchen
Beyond his wondrous recipes and photography, Michael is always moving us with his thoughtful blog writing, and his year end post is no exception. Raise your glass and cheer in the new year with the spiced rum and orange based Spiced Orange Crunk Punch from Verses from My Kitchen.
photo > Inspired Taste
If you're hosting a smaller crowd, Inspired Taste's Cranberry Sparkle adds a perfectly festive reason to clink your crystal champers flutes and toast that special moment as the Times Square ball drops. Adam and Joanne create individual servings but his recipe could easily be doubled for a punchy crowd.
photo > Sweet Life
Hitting all of the citrus notes—grapefruit, orange and lemon—Sweet Life's Sparkling Citrus Punch adds a touch of fizz with the addition of prosecco for a tingling good toaster.
photo > The Kitchn
And lets not forget our designated drivers or guests who just plain prefer to ring in the New Years with a clearer head but still like the fizz factor. For some great alochol alternative punches, check out The Ktichn's round-up of Non-Alcoholic (Yet Special) Sips for the Holidays.
Thanks for reading. Keep in touch, please subscribe to FoodieCrush and follow me on Twitter, Facebook and Pinterest and check out FoodieCrush magazine