The air is crisper. The mornings are sadly getting darker and darker. And there's a scent of pigskin in the air. No, not cooking. But litterally flying through the air.
It's college football baby!
And what do we do when we watch football? We eat. A lot. And nothing that's good for us.
One of my favorite recipes is a little ditty my man came up with, a teeny-tiny bit healthier thanks to his tenaciousness in removing the skins from the chicken. Are we talking wings? Well, sometimes. But these days, we like them on the leg. Meatier, more tender. More gooder.
Pass the napkins please.
Blackened Chicken Buffalo Drumsticks with Blue Cheese Dressing
Ingredients
For the Chicken
1 dozen chicken legs, skinned*
⅛ cup cajun blackening spice blend, available in the spice aisle
2 T grapeseed oil
½ cup Franks Red Hot Sauce
½ stick butter
carrot and celery sticks for garnish and cooling effect
For the Blue Cheese Dressing
1 cup regular mayonnaise
1 cup sour cream
1 T wine vinegar
1/ 2 tsp pepper
½ tsp kosher salt
8 oz crumbled blue cheese, we like it chunky
Combine all ingredients and chill until ready to serve.
Instructions
Remove skin from chicken legs. Coat skinned legs with blackening spice. Place in refrigerator for one hour and up to 8 hours. Heat oil in a deep sided fry pan over medium high heat. Cook for 10 minutes, turning occasionally. While legs are cooking, in a small saucepan or in the microwave, melt butter in the hot sauce and simmer. Pull legs and pan from heat and add hot sauce mixture to pan. Coat legs well and serve immediately.
*If you're feeling fancy, make the chicken drumstick look like a lolipop. While removing the skins, score the skin and meat around the bottom of the drumstick in a circular motion. Pull the meat and skin to the top of the drumstick so the bone is exposed.
And as always, few different versions for your football viewing pleasure.
photo > Sips & Spoonfuls
Don't be fooled by the number of ingredients giving Sukaina's wings their high notes of spice, once the marinade comes together it's just a few minutes to wing high heaven with Sips & Spoonfuls Spicy Chicken Wings.
photo > Cook Republic
Drop the tailgate and pull up a cushion, you're going to need to take a seat once you've set eyes on Cook Republic's gorgeous wings. Sneh's Asian-inflected Golden Chicken Wings with Ginger Caramel Chili Sauce have been marinaded, then baked and are best savored one delectable, finger-licking morsel at a time.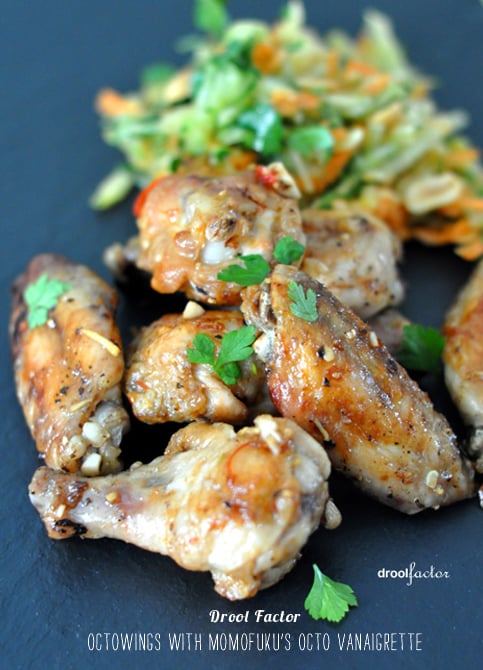 photo > Drool Factor
Looking for the easy way to game day? Give Drool Factor's Octowings with Momofuku's Octo Vanaigrette that are baked instead of hitting the steaming hot tub of oil and then 'dressed' in a rice wine vinaigrette. And is the winner of this posts most adapted recipe via Steamy Kitchen via Momofuku
photo > Sea Salt with Food
Dipped in egg and then bathed in sweet potato flour and fried for a terrific crispy crunch, Angie's Crispy Soy and Ginger Chicken Wings bring a bit of fried chicken with an Sea Salt with Food's Asian flair to a day dedicated to the pig skin. I mean chicken skin.