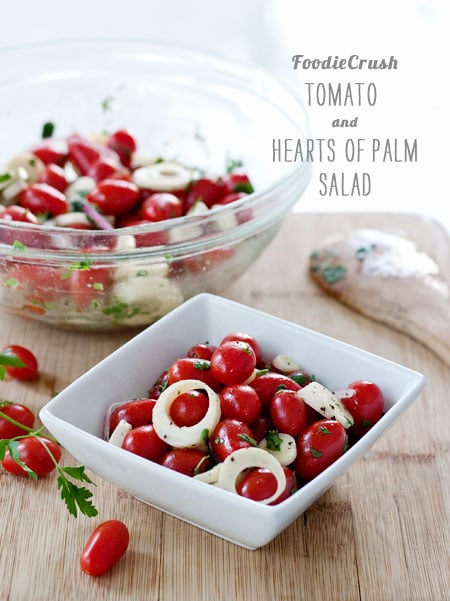 Yes, I'm a meat eater—minus my 8 month stint as a wanna-be vegetarian. But for me, weekend barbeques aren't really about what side of red meat is going to be charred to perfection on the bar-B. I like to get little (or big) tastes of lots of different dishes, and sides are my favorite—creamy, crunchy or tangy. A BBQ-side-dish-smorgasbord is more my style.
So with a weekend barbeque on our social calendar, I'm ready to grub. My brother-in-law—a self-proclaimed BBQ smoker extraordinaire—will be throwing his annual birthday BBQ with meat and more meat slowly smoking to perfection—ribs, sausage, chicken and his specialty: salmon. And so of course I go to the obvious BBQ side dish: potato salad. But this time I'm in the mood for something with a little flair and a few less calories.
I'll be bringing a dish inspired by a deli case salad I used to get at Bristol Farms in Los Angeles: Cherry Tomato and Hearts of Palm Salad. Dressed in a simple vinagrette, this salad is quick to pull together and minus the mayo and sour cream gooeyness, it can sit safely until the party moves from cheers to chow.
If you haven't tried hearts of palm or aren't sure where to find them, I like the Sun Pik brand from Costco or Trader Joe's brand . They're budget friendly and never woody. Once sliced, rings of the hearts of palm will break apart if not mixed gently.
Cherry Tomato and Hearts of Palm Salad
Ingredients
3 cups cherry tomatoes
1 15 oz. can hearts of palm, drained and sliced in ¼ inch rings
¼ cup thinly sliced or shaved red onion
¼ cup chopped Italian parsley
¼ cup vegetable oil
1½ T red vinegar
1 tsp sugar
1 tsp salt
½ tsp pepper
Instructions
Combine tomatoes, hearts of palm, red onion and parsley in a large bowl. In a small bowl, mix vegetable oil, vinegar, sugar and salt and pepper until sugar is dissolved. Pour vinaigrette over tomato mixture and gently mix. Add more salt and pepper to taste. Serve at room temperature.
And for more side inspiration, here are some great options to wow your BBQ chow crowd.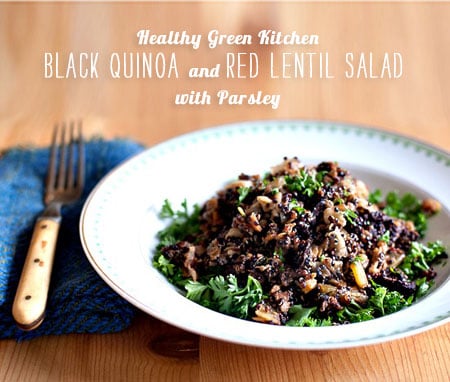 Two words: Power packed. Dr. Winnie's Healthy Green Kitchen Black Quinoa and Red Lentil Salad with Parsley combines one of the world's great superfoods, quinoa, with protein charged lentils and is tossed with a generous dose of  parsley—the herb that Dr. Winnie shows is so much more than a decorative garnish—keeping your digestion system poised for a weekend of possible overeating. Serve as a veggie or gluten-free main dish or pair with a protein that's definitely lighter than a porterhouse, like skewered shrimp and fish .
Chickpea & Orzo Salad with Piquillo Pepper Vinaigrette is a recipe that I could eat everyday, main, side or I maybe even opt for a midnight dessert. Why? Because I am obsessed with piquillo peppers. When I discovered Melissa's side salad dressed in a piquillo pepper vinaigrette from her blog Bitchin Camero (she gets an awesome blog name 'cause it's her last name!) I knew I was done, done and done. Chickpeas and the tarty-heat of the piquillos add a nice balance to marinated flank steak with chimichurri sauce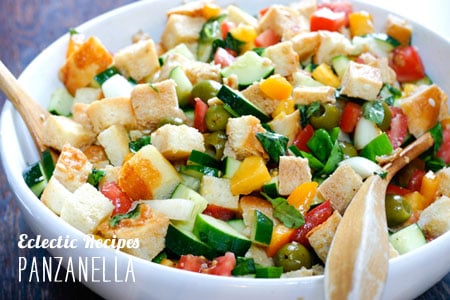 Fresh, crunchy, puckery. Eclectic Recipe's Panzanella salad is the perfect foil (and complement) to pretty much anything that hits the coals. Angie used parmesan focaccia but any sturdy bread will work to avoid the sog. A great partner for the grill: grilled greek chicken skewers
*****GIVEAWAY WINNER *****
And now for the winner of our cookbook giveaway from our interview with Matt Armendariz from Matt Bites. The winner of his new cookbook On a Stick! is ………………
Amy who commented: "I have been dying to get this book…why I haven't yet is beyond me.  Oh wait-I can win it!  I lurrrvvve Matt and all of his blog and photo goodness.  What an inspiration he is!" Thanks for joining in the giveaway Amy, congrats!
Thanks for reading. If you liked this post, get foodiecrush by e-mail and follow me on twitter.