Maybe it was all of that tropical sun beating on my brain while I celebrated Thanksgiving  at the equator. Or maybe it's just my die hard love of coco-nut—Almond Joys have always been my weak in the knees sweet treat.
Either way, these Coconut Waffles with Pomegranate Syrup just hit the top of my koo-koo for coco-nut list. And it's all a part of Gold Medal Flour's Virtual Bake Day.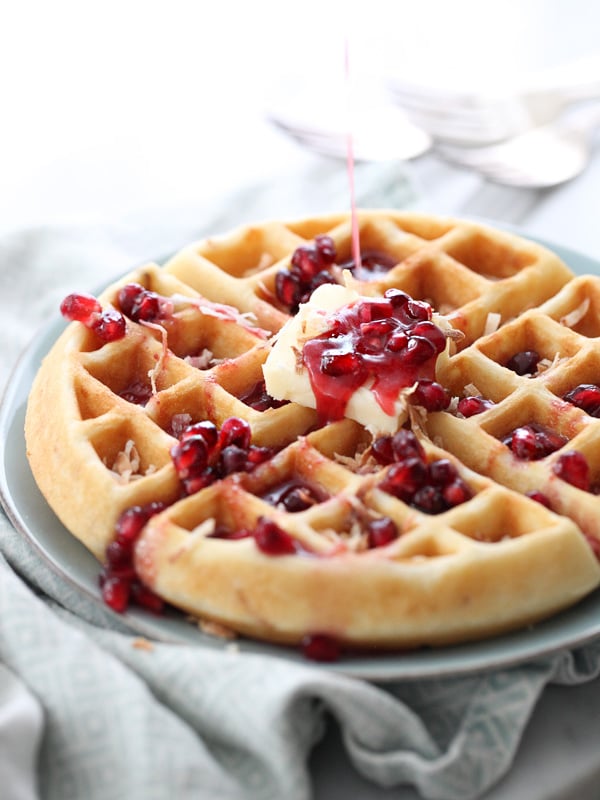 Breakfast. It's the meal that can sometimes get overshadowed by the big guns with tons of variety in the lunch and dinner time menus. I say, rise up breakfast! Let your flavor buds show their flair!
And let's add coconut to waffles.
Like most red-blooded Americans I spent Thanksgiving with my family. Unlike most red-blooded Americans I spent it in the British West Indies sucking down Mango Mambos, fresh from the sea Conch salad and digging my toes in the sand while my girl savored every second of cousin time.
Meal times were just about the only thing that kept us in touch with the time of day. Breakfast > beach > lunch > beach > 4:00 rainbow > cocktail on beach > dinner > bed. Then up to do it all again the next day.
Oh what a glorious groundhog day we were in.