Here is the thing about eating seasonal: You eat it while it's fresh and you eat it 'til it's gone.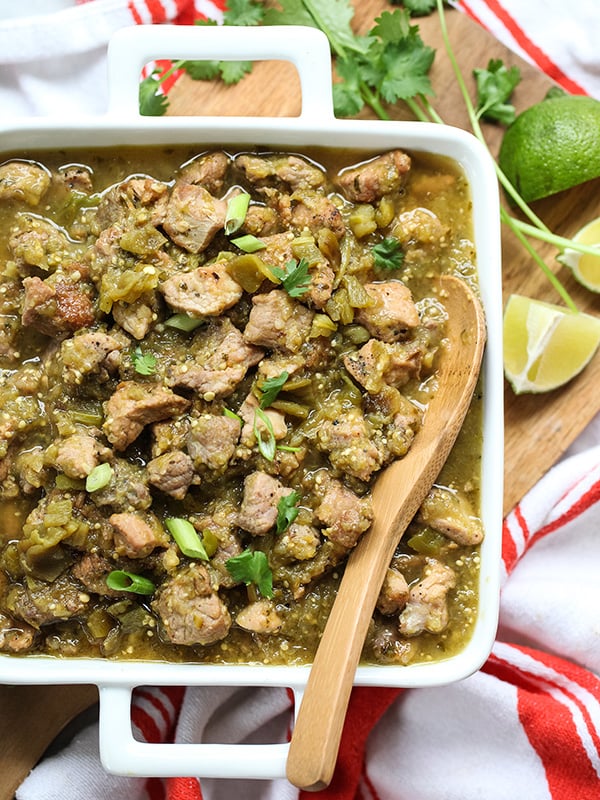 I've pretty much been living this mantra all week long thanks to a batch of Hatch chiles I was gifted that resulted in an unofficial Hatch chile week in my kitchen, on my dinner table and here on the bloggity blog.
I was gifted these pretty little peppers by my friend Amanda, who brought them to me from New Mexico where Hatch chiles are authentically grown. Because it's hard to get them fresh and locally here in Utah, I was thrilled! What a great hostess gift for a heat seeking foodie, don't you think?
With so many options of how to put these chiles to work, I took to my Facebook page and asked you what recipes you wanted to see. Along with the favorites chile topped cheeseburgers, chile rellenos and enchiladas, here's what you had to say:
Lisa said: "Green chile stew. I use the recipe from the Santa Fe school of cooking. Delish!" (I'm freezing some chiles so I can make Amanda's version of this in the slow cooker this winter after a chilly ski day.)
Heather asked for: "Salsa verde!" Check that! Get my recipe for Hatch Chile Salsa Verde here. P.S. You'll need it for this recipe, too!
Faye requested: "Hatch Chili and Chorizo Frittata." I'm putting it on a to-make list.
Desiree commented: "I made a Hatch chile pull apart bread," and doesn't it look good!
Christopher may have been the most adventuresome of the group and a dyed in the wool Hatch chile lover. He said: "I roasted 25lb. I use them in eggs, smoothies, ice cream, hot and sour soup, stews, rice and bean burritos. I go through about a 1lb every week." 

The man likes it spicy.
In then end, I had some great ideas to work with. But my husband ended up trumping them all with his request for a homemade Chile Verde.