Pop the champs and break out the Yahtzee. Here are the top 5 reasons we're celebrating at Casa del Larsen this week.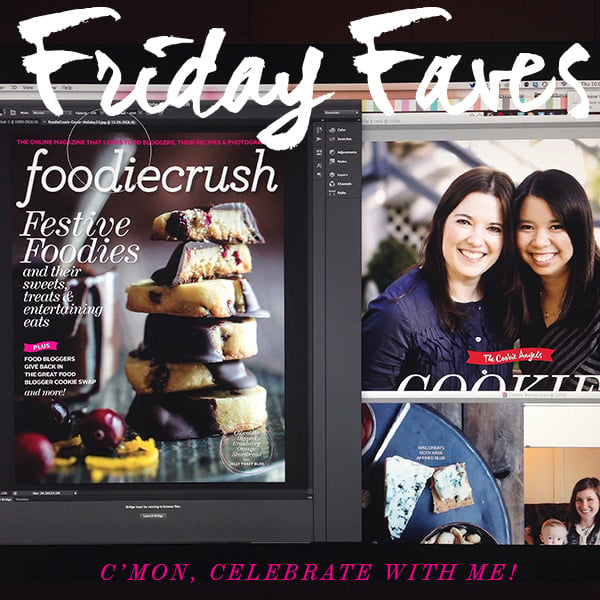 #1 reason to celebrate, and the most important, is my husband and I celebrated another wedded bliss anniversary. How many years? Let's just say we gave each other china last year (as in a trip to Chinatown.)
#2 So what did I get him this year? I birthed him a magazine. Another reason to celebrate! As you can imagine, he was thrilled. No seriously, he was.
And so am I. Many, many and even many more thanks again to all of you who participated in the Holiday 2013 issue of FoodieCrush mag, to those who read it, shared it, entered the killer giveaway and hopefully will be baking from it. You all are the only reason I keep creating it, and I'm so appreciative you spend your valuable time perusing it. Please be sure to visit the link throughs to the bloggers sites within it's pages, there are so many great foodies doing great work and they would love to count you as a new fan.
#3 reason for celebrating was an email from reader Katrina who won this giveaway. She let me know she printed the entire new issue out and shared it with her friends last night over wine. Oh how that makes me feel good. Wine, cookies and blog crushing. I think I'll join her now.
#4 The Summer 2013 issue of FoodieCrush magazine to date has almost 1,000,000 views! I know! Can you believe it? For some blogs that's just normal, but In magazine speak, that's a lot of views. So I'm counting on you to help me spread the word about this issue and push us past even that amazing stat.
And #5 is…