This post is sponsored by Tabasco as part of its 10-Ingredient Challenge. Thanks for supporting companies I believe in, which allows me to create more unique content and recipes for you.
Adults love it, kids loathe it. For better or for worse, spinach is a mainstay super food that just cannot be ignored in today's diet and my Spinach Salad with Hot Bacon Dressing and Spicy Roasted Chickpeas is yet another reason to add it to your lunch or dinner menu plans.
This recipe combo is the final installment of my Tabasco 10-Ingredient Challenge, following up my Tabasco Brined Spicy Drumsticks, Tabasco Chicken Meatballs in a Spicy Tomato and Apricot Sauce and Tabasco Braised Chicken with Chickpeas and Kale.
Spicy and we love it.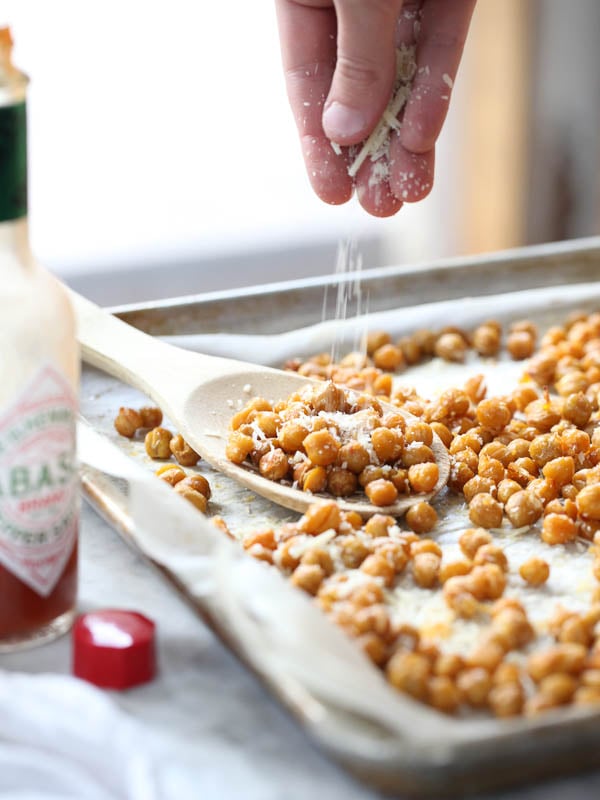 First lets start off with the chickpeas, or as most of you know them as garbanzo beans. Why the distinction in name? The French first initiated the word chickpea and then the English followed suit by putting their swag stamp on the legume by switching the name to garbanzo.
Personally I'm going to assert my authority and give this protein packed powerhouse a totally new title: Welcome the chickabanzo. Catchy, right?
To make these chickabanzo beans special this time around I answered my urge to kick up the flavor. What better way than adding a little spice, via a quick coating of Tabasco Original Red Sauce, and then tossing them into the oven to mutate flavors with a nice toasting bake.
What I love about these guys is that they are the perfect snack. They're great for entertaining thanks to the spicy, saltiness that pairs so well with a little cocktail in one hand and a handful of chickpeas in the other or perfect for a snack when you're running out the door.And who wouldn't like these as a hostess gift? What? The holidays will soon be here? Note to self: make these again.
And then lunchtime rolled around. I almost always have a salad for lunch, something I can take a serious crunch out of, and chickpeas are always included to the party. These spicy nuggets would be the perfect addition.
With a bag of spinach sitting in my refrigerator alongside some leftover bacon, I suddenly craved an old school hot bacon dressing, the kind that perfumes the kitchen and adds just enough warmth to gently coat each vitamin packed leafy green.
Layering the spice of Tabasco in both the dressing and the Spicy Roasted Chickpeas was a no-brainer. And let us not forget the bacon. Oh baby, bacon. It moves this recipe into the something especially craveable column.
But when I decided to throw on some sweetened but still a tad tart cranberries to give it an extra zing…sign me up for lunch and/or dinner. Heck, throw an egg on this sucker and we have breakfast. Oh mama.
Give it to me spicy or not at all. That's just one of my food mantras.
Thank you for supporting me and my partners which allows me to create new and special content for my readers. As always, all opinions are my own. 
Are you following me on Instagram, Twitter, Facebook and Pinterest? Thanks for reading and  subscribe to FoodieCrush to have each post delivered straight to your e-mail box.